What are the best day trips from Bologna, Italy? Bologna is a fantastic city to explore and call home base. You can plan Bologna day trips from here to other iconic Italian cities nearby by train or, if you're feeling adventurous, by car. 
Bologna is located in the Emilia Romagna region of Italy, about an hour away from crossing into Tuscany.
It is a lively city with a beautiful old town with porticoes that go on for miles and some of the best food. It's also an excellent jumping-off point for day trips to other destinations in Italy.
It has a train station with several lines that make Bologna day trips easy. You can also drive to many places if you're up for a road trip.
We loved Bologna, and while we were only there for a brief time, we found it an amazing city with a lot to offer. We recommend spending at least a few days here or more.
Not only can you take the time to explore Bologna and eat your way through the foodie capital of Italy, but you can also plan to take any of these day trips from Bologna.
Sometimes finding a city to call home for an extended time and day-tripping from there is the best way to travel. It cuts down on travel time and costs, and you can keep your luggage in one spot rather than dragging it from city to city.
Disclosure: This post may contain affiliate links. If you decide to make a purchase from one of those links, we may get a commission at no extra cost to you. We appreciate your support.
This article lists delicious and amazing day trips from Bologna, Italy. You can have a tasty itinerary and visit world-famous cities like Florence, Milan, and Venice or explore charming villages in the Tuscan hills.
And, most importantly, create amazing experiences in Italy that you'll never forget.
Bologna Day Trips: What You Need to Know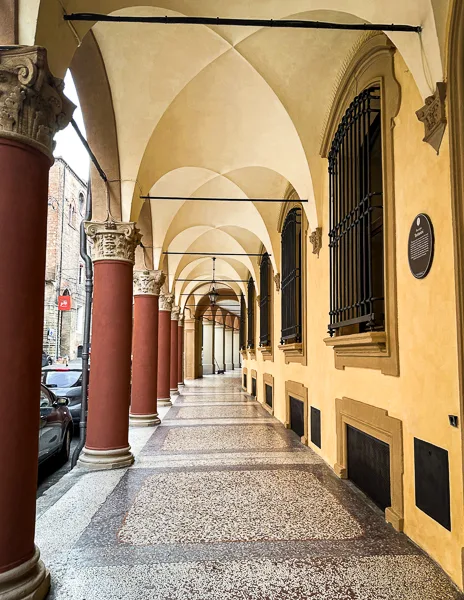 What is there to do next to Bologna?
Near Bologna, the next city over is the city of Modena, which is only about 30 minutes away by train or an hour by car. You can also visit other nearby cities like Emilia Reggio and Parma.
How many days do you need for Bologna?
You need at least two full days to explore Bologna and enjoy the top things to do. If you want to do day trips from Bologna, we recommend adding an extra day or two to your itinerary, depending on what cities you plan to visit.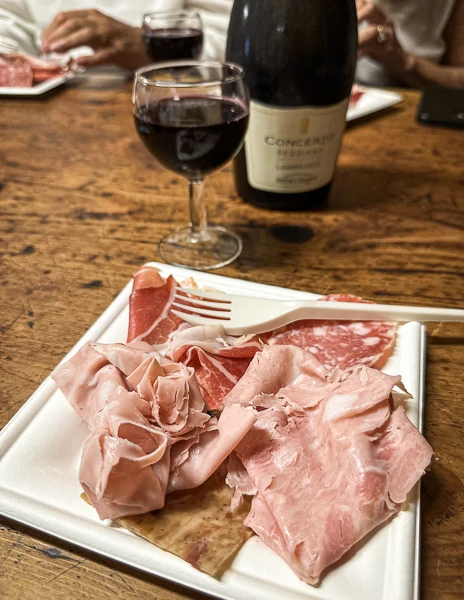 Is Bologna a good day trip?
Bologna makes for a great day trip. Since it's known as the foodie capital of Italy, we highly recommend taking a food tour during your one day in Bologna.
What is the main train station in Bologna?
Bologna's main train station is Bologna Centrale, located on Piazza Medaglie d'Oro. You can check the outbound and inbound times, book your train tickets, and plan your trips: here.
Tip: If you plan on making three or more journeys during your trip, you may want to consider a TreniItalian Pass.
How far is the train station in Bologna from the city center?
Piazza Medaglie d'Oro, where Bologna Centrale train station is, is a 20-minute walk to Piazza Maggiore in the historic center of Bologna.
Best Day Trips From Bologna
While planning these day trips from Bologna, consider booking walking or food tours during your short time there. Tours help maximize your time and teach you a lot about each city's culture, food, and architecture.
1. Modena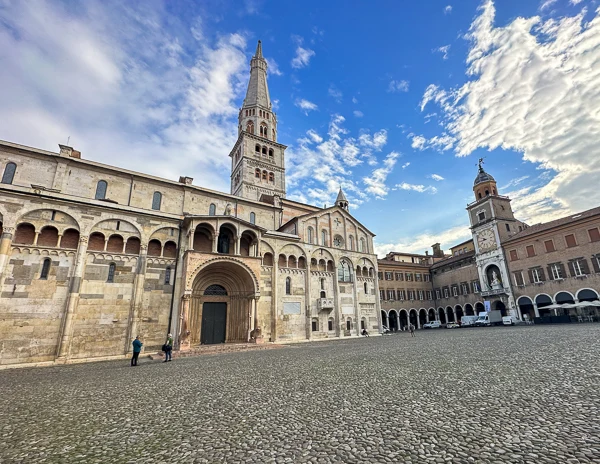 Train: 30 mins
Drive: 53 mins
One of the easiest day trips from Bologna is Modena. This city is only 30 minutes away by train and is a lovely place to explore. Plus, it is where the traditional balsamic vinegar of Modena is from.
Modena is one of the top three cities in Emilia Romagna and a popular city because it is home to the Enzo Ferrari Museum. However, there is more to Modena than fast cars and balsamic vinegar.
Modena's historic center of this city is lovely and worth exploring, starting with Piazza Grande, UNESCO World Heritage Site. The Duomo di Modena, one of Italy's most significant Romanesque cathedrals, is located here.
Did you know the best restaurant in the world is in Modena, Italy? If you're a foodie, maybe you can snag a reservation at Osteria Francescana.
What foods to eat in Modena? You'll want to taste balsamic vinegar while in Modena and maybe buy a bottle to take home with you. We took a food tour in Modena and tasted various local foods, like gnocco fritto, tigella, and other delicious foods.
Read more: 10 Wonderful Things to Do in Modena, Italy
Tour Ideas:
Modena Private Walking Tour [book here]
Modena Half Day Tour [book here]
2. Parma
Train: 58 mins
Drive: 1 hr 10 mins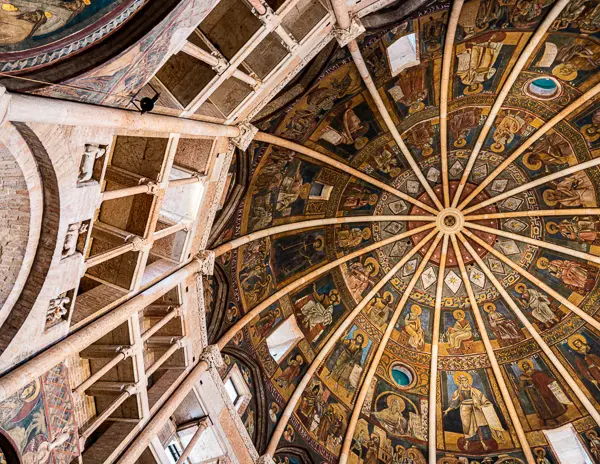 The city of Parma, where Proscuitto di Parma and Parmigiano Reggiano reigns, is another excellent day trip from Bologna.
Parma is a beautiful city to explore, and you must visit the Cathedral and Baptistery of Parma, a UNESCO World Heritage Site. The octagon-shaped Baptistery with its Verona marble exterior is as stunning outside as it is inside.
One of Italy's most significant opera houses, Teatro Reggio, is in Parma. If you time your day trip, you could plan to see an opera performance.
If you have a car, you can make plans to visit Torrechiara Castle in the countryside of Parma. Or, for a fun and unique thing to do in Parma, visit the world's largest maze, the Masone Labyrinth.
What foods to eat in Parma? Proscuitto di Parma and Parmigiano Reggiano, of course! If you see Tortelli di Zucca on the menu, order it.
Read more: A Fabulous One Day in Parma, Italy
3. Reggio Emilia
Train: 1 hr
Drive: 32 mins
Between Modena and Parma is the city of Reggio Emilia, where you can visit Sala del Tricolore where the Italian flag was first used, and learn how it came to be.
Reggio Emilia is a charming city that can be explored in less than a day. One thing is for sure, as a city in the middle of some of the best foodie cities in Italy, you will eat well.
Did you know that Reggio Emilia makes its own balsamic vinegar? The vinegar is made in almost the same as in Modena, but it has its differences.
Visit Piazza Fontanesi, where there are a number of restaurants and cafes to choose from for lunch or aperitivos.
What foods to eat in Reggio Emilia? Try the local balsamic vinegar and see if you like it better than the vinegar from Modena. Don't forget to have some with Parmigiano Reggiano, the region's cheese. Another typical local food is Erbazzone, a pastry filled with cheese and veggies like spinach.
4. Florence
Train: 40 min
Drive: 2 hrs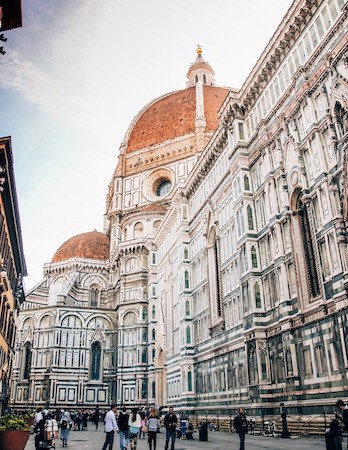 Book the high-speed train, Frecciarossa, from Bologna to Florence, and you'll be in the city of Renaissance art in 40 minutes.
Florence is one of the best day trips from Bologna and vice versa. It is a popular destination in Italy and one of our favorite cities for its art, culture, and food. There is also something magical about Firenze that you can't help but fall in love with.
How to spend one day in Florence, Italy? You can choose to spend your day in Florence in various ways.
Yet, with only a day and your first time in Florence, we recommend just walking around and taking it all in.
Seeing the Duomo alone for the first time is an incredible sight. You can see David and Neptune's fountain at the Piazza Della Signoria. Admire the artwork painted by local artists outside the Uffizi. Continue on the Arno River, and walk alongside it till you reach the Ponte Vecchio.
The center of Florence is compact but full of sites, churches, and piazzas you could spend your day just enjoying what the city offers.
What foods to eat in Florence? You must have gelato, of course! You can also check out: Tantalizing Florence Foods to Eat in preparation for your time in Florence.
Tour Ideas:
Electric Cart Tour of Florence [book here]
Small-Group Florence Food Walking Tour [book here]
Things to do in Florence, Italy
Looking for the best things to do in Florence, Italy? We've got your back. Visit attractions like The Duomo and Ponte Vecchio. From eating gelato at every opportunity. Read all the things you should not miss when traveling to the beautiful city of Florence.
5. Ravenna
Train: 1 hr 15 mins
Drive: 1 hr
So this is one of those instances where driving may be better suited for a day trip from Bologna. You can take a direct train from Bologna to Ravenna, but once you arrive, you still have to take the bus or a taxi to reach the city center. Just keep that in mind as you devise your plans.
Why would you want to visit Ravenna? Because Ravenna is a city by the sea in Emilia Romagna known for its stunning mosaics. The mosaics in Ravenna are some of the best-preserved in the world and date back to the 5th and 6th centuries.
Ravenna has eight inscribed monuments that are part of the UNESCO World Heritage Site. You can see most of these sites in the city center.
What foods to eat in Ravenna? Passatelli is a typical pasta in Ravenna. It is pasta made from breadcrumbs, Parmigiano Reggiano cheese, and eggs and served in a broth.
6. Milan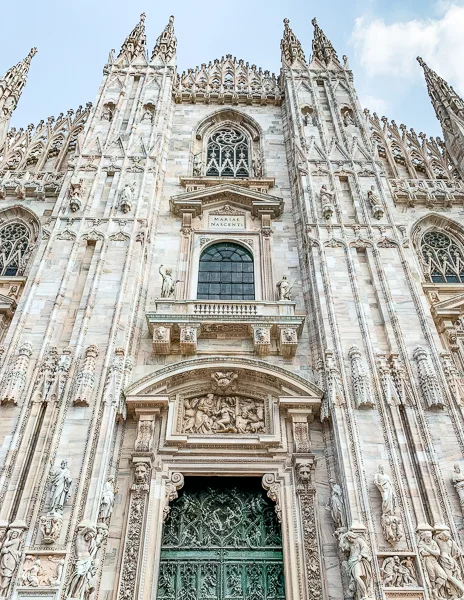 Train: 1 hr 15 mins
Drive: 2 hr 33 mins
Book the high-speed train, Frecciarossa, from Bologna to Milan, and you'll be in the fashion capital of Italy in 1 hour and 15 minutes.
Milan is a great day trip from Bologna if you want to shop or see some world-renowned sights like the Duomo di Milano.
The Milan Cathedral is one of the largest Gothic cathedrals in the world. It took over six centuries to complete and is adorned with 3,400 statues. Worth traveling an hour by train to see this magnificent structure.
If you're a shopaholic, you'll find plenty of stores to keep you busy in Milan at Galleria Vittorio Emanuele II. You'll find whatever you're looking for in Milan, from high-end fashion designers to more affordable options.d
What foods to eat in Milan? Try the Risotto alla Milanese , a popular dish made with arborio rice, butter, onion, white wine, and beef broth. It is then finished with saffron. Did you know that it is said that Milan is the birthplace of panettone?
7. Ferrara
Train: 30 mins
Drive: 48 mins
Ferrara is a beautiful day trip from Bologna that can be reached by train in just 30 minutes. Ferrara is a UNESCO World Heritage Site because of its Renaissance-era historic city center.
Are you a castle lover? The Estense Castle is one of the main attractions in Ferrara. The castle was the home of the Este family, who ruled Ferrara from the 13th to 16th centuries. The castle has four massive towers, and you can climb the Lion Tower for an additional cost. Reservations are recommended.
Walking around the city center is a must if you want to see more of Renaissance architecture. The Cathedral of Ferrara and the Palazzo dei Diamanti are two more examples of Ferrara's beautiful architecture.
What foods to eat in Ferrara? Try the cappellacci di Zucca, a type of ravioli filled with pumpkin.
8. Verona
Train: 52 mins
Drive: 1 hr 30 mins
There is a 52-minute Frecciaross high-speed train from Bologna to Verona, which makes Verona a great day trip from Bologna.
Verona is most known for William Shakespeare's Romeo and Juliet. You can visit Juliet's House and take a photo of Juliet's bronze statue. There is also a balcony inside the house where you can stand and pretend to be Romeo declaring your love for Juliet.
Another popular attraction in Verona is the Arena di Verona, an ancient Roman amphitheater still used today for operas, ballets, and concerts. The amphitheater can safely seat up to 15,000 people at present times and is one of the largest in Italy.
What foods to eat in Verona? Try the typical dessert of Verona, Torta Puina, a sweet cake whose main ingredient is ricotta.
9. Venice
Train: 1 hr 33 mins
Drive: 1 hr 40 mins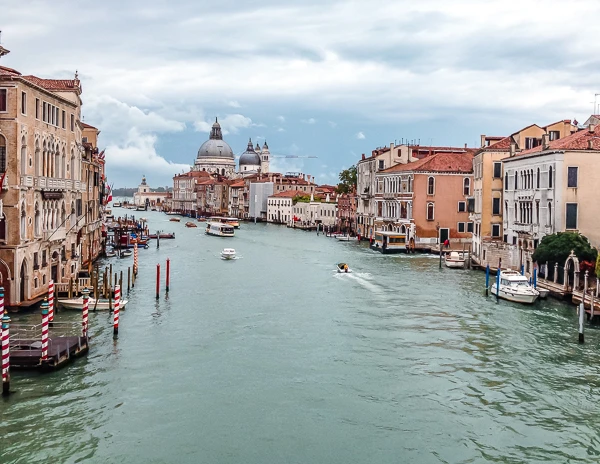 Can you make a day trip from Bologna to Venice?
Yes, a day trip from Bologna to Venice is possible! The high-speed train from Bologna to Venice is a little over 1 hour and 33 minutes. If you book an early train, you can easily spend a day in Venice and return to Bologna later in the evening.
We made a similar day trip from Florence to Venice and spent a beautiful day exploring the canals of Venice. Some of the must-see attractions in Venice are the Rialto Bridge, St. Mark's Square, and the Basilica di San Marco.
With only a day, you'll want to walk around and explore Venice at your own pace. Take time to wander the narrow alleyways, get lost, and find your way back again. With every turn, it is one beautiful photo opportunity after another.
If you have time, consider taking a gondola ride down one of Venice's canals. It is a quintessential Venice experience!
What foods to eat in Venice? Venice is known for its cicchetti, which are small bites served in bars.
10. Padua (Padova)
Train: 1 hr
Drive: 1 hr 23 mins
In the Veneto region, Padua is another day trip from Bologna that can be reached by train in just 1 hour. It's one of the less touristy day trip destinations, but no less beautiful.
Padua is known as the city of St. Anthony. The Basilica di Sant'Antonio is a large church built to honor him; his remains are buried here.
Another must-see attraction is the Palazzo della Ragione, one of the largest covered markets in Europe. The medieval Palazzo was built in the 13th century and has an amazing wooden roof that is a sight since it is an engineering masterpiece of its time.
What foods to eat in Padua? Try Bigoli in salsa, a traditional Venetian dish with thick spaghetti-like pasta and anchovy sauce.
11. Rimini
Train: 56 mins
Drive: 1 hr 15 mins
Rimini is a day trip from Bologna that you can make by train in just 56 minutes.
Located on the Adriatic coast, day trips to Rimini offer a chance to relax and enjoy the sun, sand, and sea. Beach resorts in Rimini attract thousands of locals and tourists daily during the summer months in Emilia Romagna.
Piazza Tre Martiri is located in the city's heart and is a great place to explore Rimini. Today, the square is home to several important monuments, including the Tempio Malatestiano, a church built in the 15th century.
Piazza Cavour is another centrally located square that is worth a visit. The square is named for Camillo Cavour, one of Italy's most important political leaders of the 19th century. Today, the square is home to a number of cafes and restaurants, as well as a monument to Cavour himself.
A popular day trip activity in Rimini is to take a boat ride along the coast and view the colorful town from a different angle.
What foods to eat in Rimini? Piadina is a flatbread that is typical in Ravenna. It is usually filled with ham, cheese, and vegetables or sometimes served with spreads.
12. Arezzo
Train: 1 hr 50 mins
Drive: 2 hrs
Arezzo is a day trip from Bologna by train that takes about 1 hour and 50 minutes. If you want to explore more of Tuscany and visit a charming city, it is a great day trip choice while staying in Bologna.
If you're looking for a picturesque Italian city to add to your travel list, look no further than Arezzo. This Tuscan gem is filled with winding cobblestone streets and beautiful piazzas, like Piazza Grande. The central square of Arezzo is surrounded by a mix of renaissance and medieval buildings.
It's also home to some incredible Renaissance artwork, like the frescoes in the San Francesco church.
We had a wonderful meal in Arezzo at La Cantina del DOC. Possibly the best Panna Cotta we've ever had.
What foods to eat in Arezzo? Pappardelle all'aretina, which is ribbon-like pasta served with their local sauce.
We hope that these day trips from Bologna give you an idea of how to best make the most of your tasty itinerary in Italy. Whether you're day-tripping or staying for longer, exploring and eating your way through these incredible places is sure to be an unforgettable experience.
Which of these Bologna day trips have you added to your travel list?
Need more inspiration? Here are Inspiring Quotes About Italy: Your Next Foodie Destination
Don't forget to share the love on Pinterest: