Normally at this time of year we'd be posting our annual Best Gifts for Travelers guide, showcasing all the best travel gear for your 2022 adventures.
But between COVID concerns, inflated airfare costs, issues with flight delays and cancellations, and the success of our Blue Ridge Mountains Travel Guide, this year most of our travel has been within a 2-hour drive of our house!
So, while our luggage gathers dust in the attic and we dream of the ecotourism destinations we're dying to visit in 2023, this year's Holiday Gift Guide will focus on things we enjoy when we're not traveling the world.
From gifts for Christmas lovers and nature lovers to health/wellness and tech gifts, each of these items was selected to help bring a little joy to everyone on your holiday shopping list.
READ MORE: The 125+ Best Gifts for Travelers
2022 HOLIDAY GIFT GUIDE
Gifts for Christmas Lovers
Gifts for Nature Lovers
Clothing Gifts
Shoes & Accessories
Active Outerwear
Health & Beauty Gifts
Travel Gifts
Tech Gifts
READ MORE: 90 Cool Christmas Traditions Around the World
Gifts For Christmas Lovers
Shinesty Clothing
As serious as we are about trying to live and travel responsibly and sustainably, we also like to cut loose and embrace silliness and shenanigans, especially at Christmas time!
This year my favorite holiday outfit is Shinesty's new Poinsettia Ugly Christmas Suit, which we'd consider anything but ugly.
The embroidered poinsettias cascade along the shoulders and down the pants of the stylish black suit, which is cut in a more form-flattering style than many of Shinesty's previous suits for men. 
We also love their The Quilty Pleasure Christmas Pajamas, which are made from a super-soft polyester/spandex blend with a festive red and green Afghan-style print.
Not only do the stretchy PJs have regular pockets, but there's a hidden pocket in the sleeve cuff for hiding special holiday surprises. 
Lastly, we tried their "Ball Hammock" Pouch Boxer Briefs, which come in an array of fun seasonal prints for the holidays. They're among the most comfortable underwear I've ever worn, with a soft, moisture-wicking fabric. 
READ MORE: 40 Recycled Christmas Decorations & DIY Christmas Crafts to Make

Old World Christmas Regal Father Christmas Light
Many kids grow up infatuated with Santa Claus, but some of us never grow out of it as adults! 
My ever-growing collection of Santas runs the gamut from traditional representations from Scotland and Norway to iconic images by Coca-Cola illustrator Haddon Sundblom and folk artist Jim Shore. 
The Limited-Edition Regal Father Christmas Light from Old World Christmas makes a great addition to my collection, with its classic European design and colorful mouth-blown glass. 
They use a hot liquid silver to add vivid color and exceptional vibrance, with all the paint and glitter done by hand to capture remarkably intricate details.
It's no wonder some collectors make buying these beautiful Christmas lights an annual holiday tradition! 
READ MORE: The History & Names of Santa Claus Around the World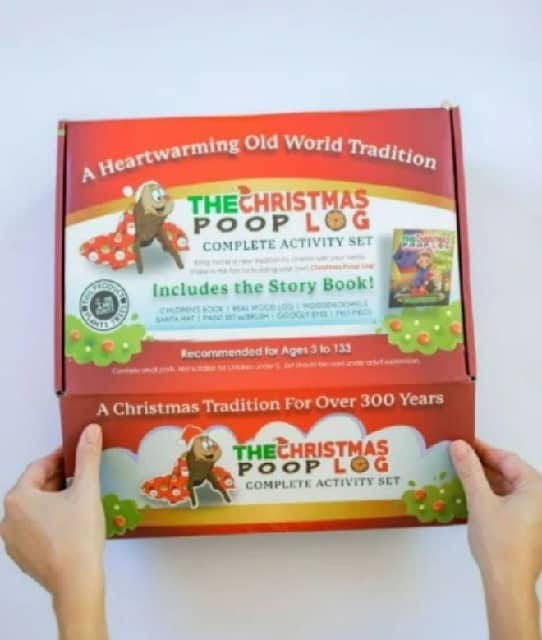 The Christmas
Poop

Log

Story Book & Activity Set

If you have any sort of appreciation for weird Christmas traditions, you simply must learn about the Christmas Poop Log custom observed in the Catalonia region of northern Spain. 

Known as the Caga Tió, the pooping log is made by children, who decorate the little log by adding a face, wooden legs, and clothing (often including a Catalan hat). 

After "feeding" the log small pieces of fruit or nuts daily, they hit it with a stick on Christmas Eve or Christmas Day while singing a special song encouraging him to poop out sweets, such as turrón (a popular nougat). 

This Christmas Poop Log Story Book & Activity Set includes a book about the tradition, as well as a wooden log, dowels, Santa hat, felt blanket, googly eyes, and more to make your very own Poop Log. 

It's a wacky way for families to celebrate the holidays, and way less creepy than the Elf On A Shelf!

READ MORE: 20 Fun Christmas Eve Traditions Around the World
IDentity Lingerie Christmas Silk Pajamas & SAXX Vibe 2-Pack
Buying pajamas for the woman you love can be difficult: Most are either too basic or barely there (and clearly not designed for sleeping). But the UK-based IDentity Lingerie nicely treads the line between sweet and sexy. 
Their elegant Christmas Silk Pajamas are handmade using a mixture of Japanese silk and a polyester blend that is sensually soft on the skin. The jewel-toned green and red fabric is festive, letting her know she made your "Nice" list.
For men, I'm a huge fan of SAXX Vibe boxer briefs, which are moisture-wicking, made from super-soft material, a feature a hammock-shaped pouch and mesh panels that offer ultimate all-day comfort. 
Best of all, they're available in myriad colors (including options with Christmas symbols such as peppermint sticks, Christmas trees, etc.), so you can choose the perfect pattern to suit the receiver's personality.
READ MORE: 30 Symbols of Christmas: The History & Meaning of Traditional Xmas Decor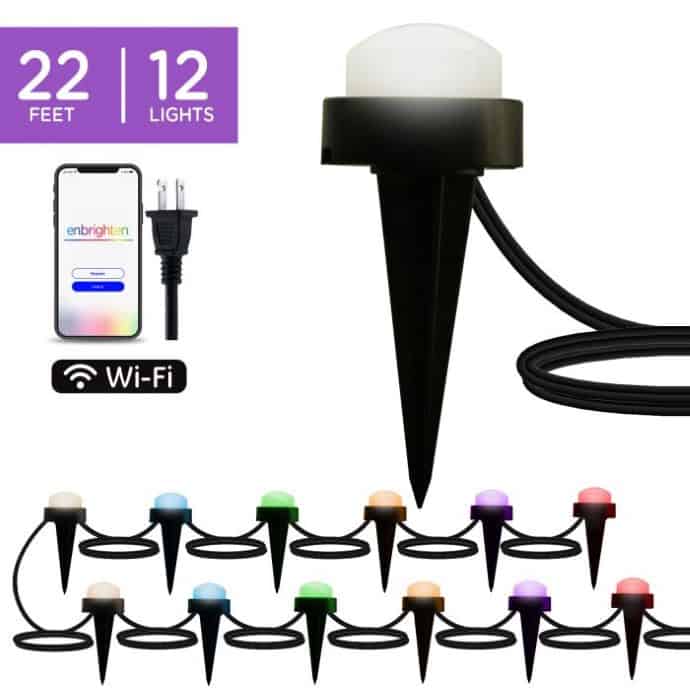 Jasco Enbrighten Seasons Mini LED Smart Landscape Lights
I'm so enthusiastic about covering my house in Christmas lights every year, some friends called me "Sparky" (á la Clark Griswold in National Lampoon's Christmas Vacation). 
But as much as I love putting up those lights every year, I hate taking them down even more. Which is precisely why I love the Enbrighten Seasons Mini LED Smart Landscape Lights from Jasco.
With 12 vividly colored LED lights on a 22-foot cord, the lights can easily be mounted on your house, along the driveway, or staked in the ground. The cord is burial grade, and mounting hardware is included.
There are 56 colors, including presets for popular holidays, that you can choose from when you pair it with the free Enbrighten Wi-Fi app. You can also use voice control through Amazon Alexa and Google Home for full automation!

Erzgebirge German Christmas Pyramid Forest
Growing up visiting the Bavarian-inspired town of Helen GA, with grandparents who collected Hummel figurines and cuckoo clocks, German cultural influences were pretty common for me. 
So perhaps it's no surprise that I'm drawn to traditional wooden Christmas pyramids handcrafted by artisans in the Erzgebirge region of Germany, which are a common sight at European Christmas markets. 
This beautiful German Christmas Pyramid Forest features Santa, a reindeer, and children playing on skis and sleds around a Christmas tree. The heat from votive candles helps the propellers spin the festive scene. 
Though this is a simple one-tier Christmas pyramid, the Erzgebirge website features more ornate options that range up to 3 and 4 tiers, with some that cost nearly $1,000! 
READ MORE: German Christmas Cookies – Lebkuchen Recipe (aka German Gingerbread
Gifts For Nature Lovers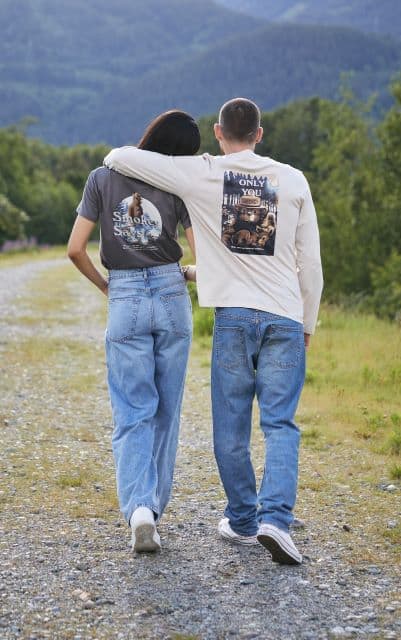 tentree Smokey Bear Collection
Growing up in the 1970s, characters like Smokey Bear, Ranger Rick, and Woodsy Owl were among the earliest inspirations for my interest in nature and wildlife conservation.
Catchphrases like "Give a hoot, don't pollute!" and "Only you can prevent forest fires" made it easy for even kids to understand our role as stewards of the natural world. 
Now tentree, one of our favorite sustainable clothing brands, has launched a new Smokey Bear Collection in honor of wildfire prevention and forestation efforts around the world. 
Made from 100% sustainably sourced organic cotton, the stylish collection includes short- and long-sleeved t-shirts, hoodies, and hats reminding folks to "Prevent Wildfires" and "Keep Our Forests Green and Growing." 
Each design comes in vivid colors, and the brand will plant ten trees for every Smokey Bear Collection, making this a Christmas gift you can feel GREAT about giving! 
READ MORE: The Best Fair-Trade Clothing & Ethical Clothing Brands
National Wildlife Federation Christmas Blankets
The only downside of the Christmas holidays is that the frigid winter weather tends to make outdoor recreation a bit less enjoyable. 
But the Festive Animals Cozy Throw and Snowy Forest Cozy Throw from the National Wildlife Federation are a great way to bring the beauty of nature indoors. 
Both of these adorable blankets are made from a warm, cozy polyester fleece that's perfect for snuggling up next to the fireplace with a warm mug of hot cocoa. 
And, as with any purchase you make from the NWF store, these great Christmas gifts help support the environmental charity's mission to protect nature and wildlife for future generations.
READ MORE: 20 Best Environmental Charities & Animal Charities for Holiday Donations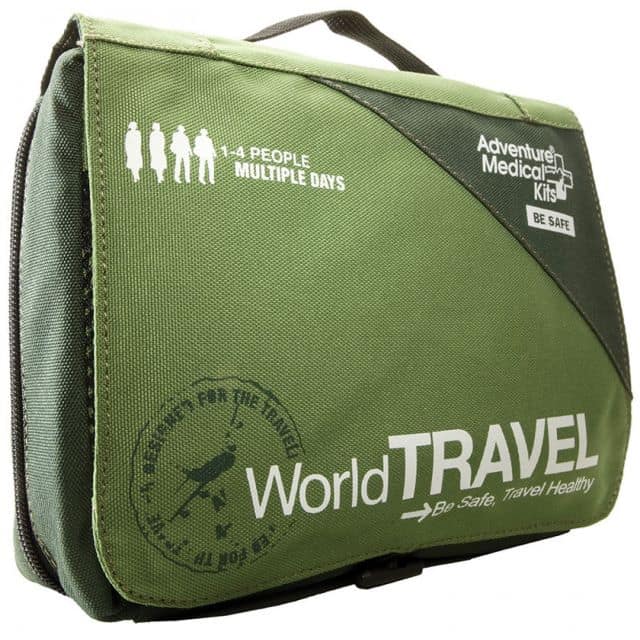 Adventure Medical Kits World Travel Medical Kit 
As a boy in the Cub Scouts, one of the first things we learned about exploring the great outdoors was the importance to always "Be Prepared." 
And whether it was getting "Montezuma's revenge" in Isla Holbox, stung by Ghost Wasps in the Amazon Rainforest, or suffering heat stroke in Costa Rica, we've learned the value of that motto for travel. 
Adventure Medical Kits makes it easy with their World Travel Medical Kit, which measures 8″ x 8.5″ x 3.75″ and contains countless medical supplies, from bandages and burn/wound care to medication and more.
It also comes with a book, Comprehensive Guide to Wilderness & Travel Medicine by Eric A. Weiss, M.D., all in a TSA-approved 3-1-1 bag for liquids and cosmetics.
READ MORE: 45 Fascinating Christmas Traditions in Mexico
Hyggelight | The Growing Candle
From permaculture gardening and growing mushrooms to composting and harvesting rainwater, we've been documenting our journey towards sustainability for 12 years now. 
Our belief in the "Reduce, reuse, recycle" mantra has grown from a budding interest to an obsession, such that we're always looking for ways to maximize ROI on anything we do. 
The Growing Candle from Hyggelight is a great example of that idea in action. At first glance, it just looks like a 100% soy candle hand poured into lovely ceramic planter pots. 
But once the candle has burned down, just fill the pot with soil and plant the label (which has wildflower seeds embedded inside it). Give it a little sunlight, a little water, and soon you'll have a lovely little flower garden! 
It's an ingenious gift that will keep on giving as winter turns to spring and summer. 
READ MORE:  The 20 Best Christmas Lights in Atlanta
Canon PowerShot Zoom Monocular & Maven C.1 Binoculars
We weren't what you'd call avid birdwatchers until we traveled to the Peruvian Amazon and the Galapagos Islands, where we saw an incredible array of avian species.
But unless you have a long-range zoom lens, spotting little birds in the dense tropical forest can be a bit like searching for a needle in a haystack. 
The Canon PowerShot Zoom Monocular makes a great gift for bird-lovers, weighing 5oz and fitting in the palm of your hand.
It offers fast Auto Focus, One-Touch Telephoto Magnification (100-400mm Optical and 800mm Digital), Image Stabilization, and shoots 12MP photos and full HD 1080px videos at 30 frames per second.
If you're shopping for someone who's not a photo buff, the versatile Maven C.1 Binocular is another good option.  
Features include multi-coated 42mm objective lenses with extra-low dispersion ED glass, which offers clear, bright images with high contrast. They're also waterproof, tripod-adaptable, and covered by a lifetime warranty!
READ MORE: Atlanta Christmas Events: 50 Things to Do for Christmas in Georgia
Clothing Gifts
Toad & Co Heartfelt Sweater Skirt & Merino Heartfelt Hoodie
We've been fans of the California-based Toad & Co's ethos (which includes partnerships with Conservation Alliance, the National Park Foundation, and Planet Access Company) for years.
We also love their Heartfelt Sweater Skirt and matching Merino Heartfelt Hoodie, which help solve the problem of buying Christmas-y clothing that you can wear long after the holiday season is over. 
The hoodie is available in 8 different vibrant color options, but the red-dominant, striped Winterberry and plaid Camp Green patterns both give off that fun, festive holiday vibe without going over-the-top. 
The jersey knit wool is remarkably soft, lightweight, and moisture-wicking, and the pencil silhouette and elastic waist of the matching skirt make for an adorable outfit you'll want to wear all winter. 
READ MORE: The 25 Best Places to Spend Christmas in the USA
prAna Slope Tapered Pant & Westbrook Flannel Shirt 
I'll be the first to admit that I can be difficult to buy clothes for.
My fashion taste is decidedly left-of-center, and my 6'3″ linebacker build requires ample shoulder width and more form-fitting waistlines to avoid looking bulky. 
The Westbrook Flannel Shirt and Slope Tapered Pant from prAna suit my style perfectly, offering a flattering fit and some interesting color options (the Sunray and Soft Pine shirts being my two favorites). 
Made from a sustainable blend of recycled cotton and recycled polyester, the Fair Trade-certified flannel shirt is lightweight and has a Slim Fit option. The tapered pant also fits like a glove, yet it's stretchy, sweat-wicking, and super comfortable for hiking. 
READ MORE: 40 Ways to Celebrate New Year Traditions Around the World
Hot Chillys Micro-Elite Chamois Pocket Print Tight & Micro-Elite Chamois Zip-T
While we're on the subject of fit, Mary's body can also be difficult to buy clothing for. 
She has a large bosom and wide hips, but a slim waist and petite height. In the winter she likes to be warm, but doesn't want bulky clothing that makes her look blocky. 
This matching set of thermal tights from Hot Chillys flatters her form perfectly.
The Micro-Elite Chamois Pocket Print Tight and Micro-Elite Chamois Zip-T offer 4-way stretch for unrestricted movement, with a moisture-wicking fiber blend that is guaranteed to keep you warm and dry even when the weather outside is frightful. 
They're also downright sexy, available in two wild animal prints and an "urban camo" look. 
READ MORE: 20 Endangered African Animals You Can See on Safari
Orvis Mid Mountain Tech Flannel & Outdoor Quilted Snap Sweatshirt
Orvis is generally associated with hunting, fishing, and other forms of outdoor recreation. 
But in recent years they've expanded their target audience considerably, with clothing that appeals to a more broad spectrum of men and women.
Their Mid Mountain Tech Flannel Shirts rank among my favorite winter tops, thanks to some cool color options, supremely soft MarinoWul+ cotton/spandex blend, and comfortable fit.
The Outdoor Quilted Snap Sweatshirt is another winner, offering two insulated layers of cozy cotton jersey, a mock neck style with snap closures, stretch trim cuffs, and 6 color options. 
READ MORE: 10 Latin America Ecotourism Adventures (Bucket List)
Royal Robbins Backcountry Pro Winter Legging & Venotur 1/2-zip Sweater
Named after one of the pioneers of American rock climbing, Royal Robbins offers perfectly stylish travel clothes for men and women on the go.
The 56-year-old adventure apparel company is also dedicated to social responsibility, being Bluedesign partners and encouraging less waste through their Rewear program.
Made from recycled polyester knit fleece, their Backcountry Pro Winter Legging offers soft warmth, excellent insulation and an unrestricted stretch that is made for winter outdoor adventures.
They pair perfectly with the Venotur 1/2-zip Sweater, which boasts a breathable, odor-resistant merino blend, open-stitch construction for ventilation, and ribbed side panels for free movement. 
READ MORE: The 25 Tallest Mountains in the World By Continent
Icebreaker Merino 260 Tech Long Sleeve Half Zip & 250 Vertex Long Sleeve Crewe
Despite growing up near the North Georgia mountains, I never really understood the value of base layers until we started traveling to cold climate destinations like Alaska, Antarctica, and Norway.
Whether we were taking small ship cruises through fields of massive icebergs or climbing up a glacier in the middle of a sleet storm, layering proved the secret to staying comfortable no matter how bad the weather got. 
Icebreaker were one of the innovative brands who popularized the value of base layers made from ultra-soft, ultra-warm merino wool, and they remain at the forefront of their field today. 
Available in men's and women's styles, the 250 Vertex LS Crew is one of the brand's most fashionable, breathable tops for women, regulating body temperature beautifully.
Layer it with the versatile mid-weight 260 Tech Long Sleeve Half Zip available for men, women, and kids for the ultimate warmth/comfort combo!
READ MORE: The 20 Best Places to Spend Christmas in Europe
Shoes & Accessories
Deckers KO-Z EZ Cabrio & X-scape Coupe
Slippers are one of the more common gifts given in our family, but until this year I've never had a pair that I was truly in love with. You know the kind I mean– the ones you just can't wait to put on when you get home? 
 The KO-Z EZ Cabrio from Deckers X Lab is, in my opinion, the perfect slipper/sneaker hybrid.
It's got a 4-way stretch collapsible heel, cozy shearling lining, and an ergonomic recycled EVA footbed layered with memory foam and a cushy wool top sole for arch support and moisture management. They're so comfortable, I rarely take them off!
We also love Deckers' X-scape Coupe, a similarly plush slip-on shoe that features a removable recycled EVA footbed,  a natural gum rubber outsole with 30% recycled content, and (like the KO-Z EZ Cabrio) an EVA Midsole with a refined squaretail rear with Meta-Rocker cushioning. 
Both are available in men's and women's styles, made in a factory that supports women via HERproject (which creates brand partnerships to empower/educate women in the workplace). So it's a gift you can feel great about giving! 
READ MORE: The 30 Best Hiking & Walking Shoes for Men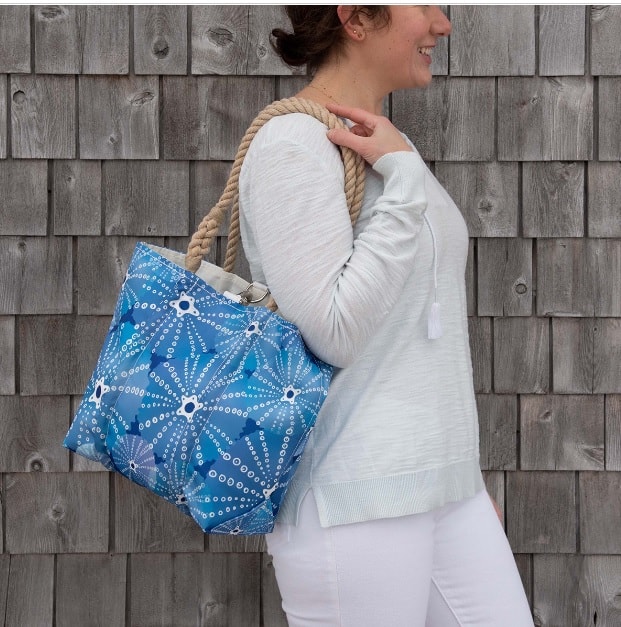 Sea Bags Purse 
We love this Blue Sea Urchin Purse from Sea Bags for three reasons.
First off, the Sea Urchin is one of the most unusual marine animals we've seen during our myriad adventures while snorkeling and SCUBA diving around the world. 
Secondly, we love Sea Bags' eco-friendly ethos. All of the Maine-based company's unique products are made from recycled sail cloth, so they help to reduce waste and make for incredibly durable bags.
Lastly, just look at it! It's a beautifully vivid image of a crazy-looking creature, making this beautiful bag one of our favorite accessories we've seen this year.
READ MORE: 30 Cool & Weird Ocean Animals Around the World
Andoze Imaginative Slip-Ons & ECCO MX Low 
In the 12 years we've been sharing our journey towards sustainability, it's been amazing to see the diverse array of eco-friendly products developed, including vegan boots and shoes.
These Imaginative Slip-Ons from Andoze are a perfect example, offering colorful unisex patterns that use sustainable materials such as farm straw for the insole, organic cotton in the upper, sugarcane in the outsole.
They're PETA-approved, ethically made, and comfortable enough to wear all day, with a light weight and a water repellant fabric that can be thrown in the washer after a long day on the trail.
Though ECCO's MX Low GTX is not a vegan shoe, it is equally rugged and durable, with a motocross-inspired PU outsole and GORE-TEX technology making them breathable and waterproof.
We love the enhanced support and stability provided by ECCO's FLUIDFORM™ Direct Comfort Technology, which uses fluid materials that follow the foot's natural shape. They're great shoes for hiking.
Sanuk Boatie ST & Cozy Vibe
The only thing we love as much as traveling the world is spending time in our pontoon boat on a lake about 20 minutes from our house. Where travel for us is usually an adventure, our lake time feels more like a vacation!
So naturally I'm digging the new Boatie ST shoes from Sanuk. These unisex boat shoes boast quick-drying, 50% recycled polyester mesh uppers, grippy Vibram rubber outsoles, and 20% repurposed algae BLOOM foam midsoles.
They're incredibly comfortable, and machine washable.
While the Boaties are made for the water, Sanuk's Cozy Vibe Slippers are made for lounging at home. They're available in men's and women's styles, the main difference being the women's styles have a backless silhouette.
Both styles are super soft and fuzzy, with a fluffy wool blend (featuring recycled ReWooly™) that keeps your feet cozy in the cold and moisture-wicked dry when it's warm.
They're also eco-friendly, using recycled materials like renewable sugarcane EVA Foam, responsibly sourced leather, recycled wool, recycled polyester, Tencel, and RPET. 
Active Outerwear
Patagonia Granite Crest Jacket & Micro Puff Hoody 
We've loved Patagonia for years, both for its quality outdoor gear and its progressive conservation initiatives (especially in Chile, where they've preserved more than a million acres of wilderness).
Of course it doesn't hurt that they use responsible manufacturing processes, with a "planet over profit" approach we wish more big corporations would adhere to. 
Their Granite Crest Jacket is a fine example. Designed to withstand the most inclement weather, the Fair Trade Certified jacket is made with 100% post-consumer recycled nylon ripstop (from recycled fishing nets), with a PFC-free DWR finish.
The 2-way adjustable hood, 2-way pit zips for venting, and stylish design are just a bonus.
For cold winter climates, their Micro Puff Hoody offers excellent protection from the elements. But it's made with an ultralight Pertex Quantum shell fabric and PlumaFill insulation, so it's incredibly warm without the bulk.
It's also made with eco-friendly NetPlus shell and 100% recycled insulation, and packs down into its own pocket! 
READ MORE: Real Christmas Trees vs Fake Xmas Trees: Which is Better for the Environment?

Cotopaxi Capa Insulated Jacket
With its "Gear For Good" tagline and commitment to making durable gear ethically and sustainably as a way to support local communities in need, Cotopaxi is another one of our favorite eco-friendly brands. 
They've also produced my favorite coat of 2022, the Capa Insulated Jacket. The windproof, water-resistant shell is 100% recycled, and filled with Primaloft Gold P.U.R.E. 100% recycled synthetic insulation. 
So the jacket is incredibly warm, even when it's wet. But it's also lightweight, breathable, and packable, with smaller baffles that avoid bulk and allow for a full range of movement. 
But beyond that, it just looks cool, with elastic binding at the hood and cuffs, an adjustable drawcord waist, and 5 gradient color patterns that remind me of the Houston Astros' throwback jerseys. 
READ MORE: Maasai Mara Conservancies, a Model for Community-Based Tourism
Maloja Baselgam Moonless Jacket & Steinbock Jacket 
Maloja Clothing was inspired by the mountains of Engadin in the eastern Swiss Alps, an area beloved by adventure seekers and sports enthusiasts alike.
Launched in 2004, the brand offers gear for activities ranging from cycling and climbing to running, Nordic skiing, and yoga. They also have a cool Streetwear Collection for less athletic pursuits. 
Mary was immediately drawn to the lovely design of their warm, multi-sport Moonless Jacket. Sleek and stylish, it also features cozy Primaloft Gold insulation and windproof Stormshell material for protection against the elements. 
Their Steinbock Jacket for men isn't quite as flashy, but it is wind- and waterproof, with graphic quilting and 700-fill ReDown insulation that keeps you cozy in almost any climate.
Note that the European brand recommends upsizing on the regular and slim fit apparel. 
READ MORE: Beautiful European Birds: A Guide to 10 Endemic Species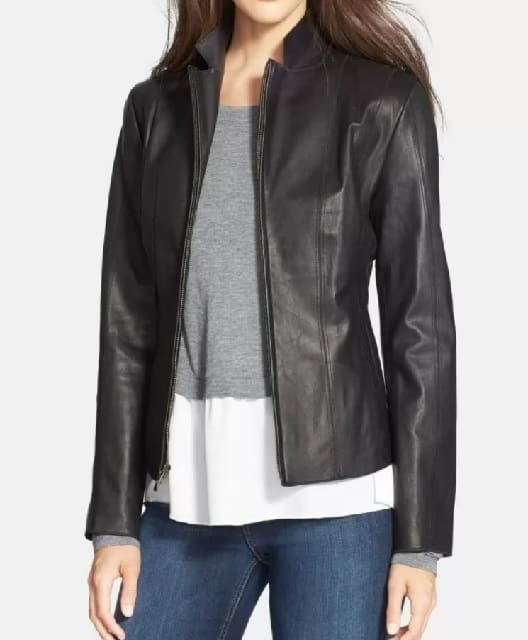 ZippiLeather Elegant Black Leather Jacket 
As someone who chooses experiences over money, I've never been able to afford luxury material things. The idea of buying tailored clothing always seemed like something reserved for the 1%. 
So we were surprised to discover ZippiLeather, which specializes in custom leather clothing that won't break the bank. Their Elegant Black Leather Jacket for Women, for example, currently sells for just $239. 
The process was fairly simple: You send them around a dozen measurements (making sure they're skin-tight), and within a few weeks you have a jacket (or pants) which are expertly tailored to fit your form. 
The jacket Mary chose was soft sheepskin leather, with full satin lining and a standup collar. Their work was impeccable, fitting her curvaceous body perfectly. They can also make custom clothing designs as well!
READ MORE: 7 Simple Tips on How to Save Money for Traveling
Artilect Divide Fusion Stretch Hoodie & El Dorado Merino Jacket
Described as "a performance brand that excels in the outdoors," Artifact is a creative apparel studio that was culturally influenced by punk rock, hip-hop, skateboarding, and the digital revolution.
So their style seems at once urban and urbane, combining the sleek sophistication of a metropolitan city with a rugged durability that's designed to withstand jungles, whether concrete or natural. 
Their ethically crafted Divide Fusion Stretch Hoodie is made from a 4-way stretch woven fabric with Ultra Dry Down and Lavalan Sport European wool for moisture management.
I love the tailored fit, the thermoregulation properties, and the adjustable hem and hood. 
The El Dorado Merino Jacket features a slim tech fit that allows for maximum stretch and flexibility.
The Bluesign- approved Nuyarn merino fabric offers an exceptional warmth-to-weight ratio, drying 5 times faster than normal fabric and built to last long-term.
READ MORE: The 25 Biggest Forests in the World
Health & Beauty Gifts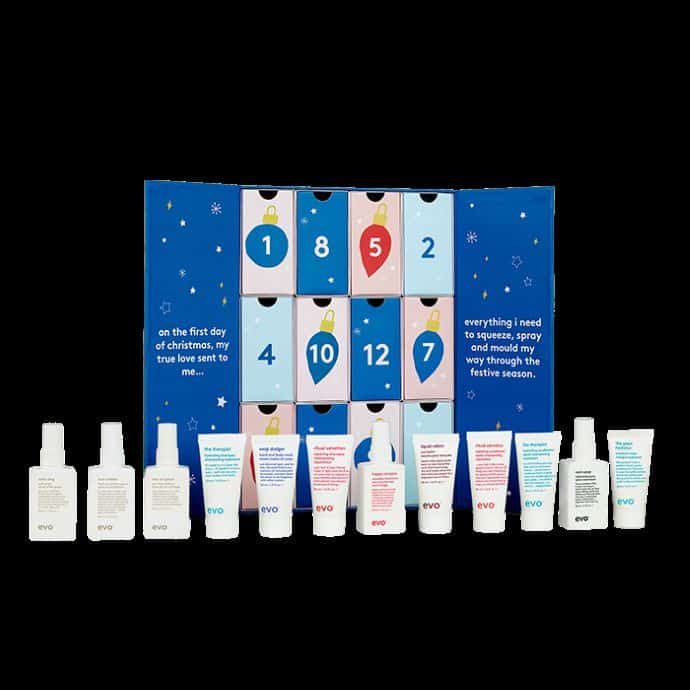 evo 12 Days of Glory Advent Calendar 
My hair has become increasingly difficult as I get older. I went silver/grey in my 30s and started swimming laps regularly in my 40s, and the combination of chlorine and central heat does my dry scalp no favors whatsoever. 
The 12 Days of Glory Advent Calendar from evo offers excellent salon-quality hair care solutions in a lovely, limited-edition holiday package designed by artist Julie White.
The stylish gift set includes 1 oz samples of The Therapist Hydrating Shampoo and Conditioner, Ritual Salvation Repairing Shampoo and Conditioner, The Great Hydrator Moisture Mask, and Happy Campers Wearable Treatment. 
It also includes styling products such as Root Canal Volumizing Spray, Liquid Rollers Curl Balm, Icon Welder Heat Protection Spray, Day of Grace Pre-Style Primer, etc. Basically, everything you need to repair dry holiday hair!
READ MORE: The Best Food Gifts From Around The World
Herd Supply Co Kit & Caboodle Sheep Milk Soap Set & Gatherwise Body Trio Set
Like most men, I never really gave soap much thought until Mary and I started swimming laps regularly. The smell of chlorine on your body is unpleasant to say the least and taking care of my increasingly dry skin became a priority. 
The Kit & Caboodle Sheep Milk Soap Set from Herd Supply Co is designed to provide a year's worth of soap, with 8 superb scents ranging from cedar and citrus to lavender mint and Earl Grey tea.
The small, woman-owned business uses milk from the family's sheep, which is revered for its moisturizing properties. Some of their soaps are exfoliants, which are great for removing the chlorine smell and leaving skin soft and supple.
The Body Trio Set from Gatherwise is also great for women's skin care. The luxurious set includes their 3 best sellers– a 4 oz Rose Body Oil, a 2 oz All Heal Salve, and a Cardamom Lip Balm– packaged in a beautiful gift box.
READ MORE: 10 Green Products For a More Eco-Friendly Home

Cozy Earth Bamboo Sheets Set
Getting good sleep has been challenging for me ever since I was a teenager, but it's also considered one of the most important factors in living a healthy lifestyle. 
Cozy Earth's Bamboo Sheets Sets were named one of Oprah's Favorite Things back in 2018. They're made with 100% Viscose from Bamboo, and she referred to them as "the softest [bedding] EVER!" 
We have to concur: the sheets and pillowcases are unbelievably soft, breathable, moisture-wicking, and temperature-regulating. Which is great for someone like me, who tends to burn hot under the covers. 
Interestingly, the company has made Oprah's list 5 years in a row, with their Waffle Bath Bundle, Plush Lounge Socks, Bamboo Joggers & Pullover Crew, and Women's Bamboo Pajama Set also earning her accolades. 
READ MORE: Mountain Gorilla Trekking in Rwanda with Dian Fossey's Porter
Uncle Bud's CBD/Hemp
It's amazing how popular CBD has become over the past 10 years, but the surge seemed especially noteworthy during the COVID era. Stress, isolation, and depression turned many of our friends into CBD and Delta 8 fans!
Uncle Bud's has emerged as one of the fastest growing brands in the CBD/hemp industry, offering an expansive array of products ranging from gummies and tinctures to pain relief balm, bath & body products, and more. 
CBD beginners may want to start with Uncle Bud's CBD Anytime Gummies or Sleep Gummies, the latter of which is infused with 2mg of melatonin and has been recommended by US Magazine. 
We also love using their 240mg CBD Oil Body Revive Gel and Roll-On Pain Relief after a hard workout to help the muscles relax, and their moisturizing Hemp Massage & Body Oil has a delightful coconut scent and feels amazing on the skin after a hot shower.
The Art of Shaving Travel Kit & Trendhim Beard Starter Set 
I recently shared a photo of myself after shaving off my beard for the first time in a decade. I got many comments about my "baby face," with female friends asking questions about how my skin looks so young at age 54. 
The truth is, I simply take a few minutes every night and morning to take care of my skin, and I groom my facial hair regularly to avoid that wild and wooly Grizzly Adams look (or Duck Dynasty, for you younguns). 
If you want the man in your life to do the same, get him the TSA-approved Art of Shaving Travel Kit.
Available in Sandalwood or Unscented, the Art of Shaving kit includes Pre-Shave Oil, Shaving Cream, a 5-Blade Razor, a Signature Shaving Brush, and After Shave Balm, all packaged in a sleek black Dopp Kit bag. 
The Beard Starter Sets from the Denmark-based Trendhim are another good gift idea for men. Available in 5 different scents, they include organic Beard Shampoo, Conditioner, Beard Oil, Beard Balm, and a boar-hair brush.
The juniper, ginger and lavender scent of the Toscana Set is my personal favorite. 
READ MORE: An Introduction to Norse Gods & Viking Mythology 
Whispering Willow Lavender Luxury Gift Box & H. Honeycup Luxury Bundle 
We're extremely frugal for most of the year, so the Christmas holidays are the only time we splurge on luxury items. But when it comes to health and skin care, those luxury indulgences become more important as we age. 
The Lavender Luxury Gift Box from Whispering Willow infuses one of Mary's favorite scents into an array of products, including Hand & Cuticle Salve, Bath Salt, Body Oil, Linen Spray, and an Eye Pillow.
The smell is truly divine, and the elegant packaging makes it a special treat I know she'll adore. 
The Luxe Skincare Gift Bundle from H. Honeycup is even more impressive, offering 9 full-size products from the non-toxic skincare line.
They include 8 0z Orange Sunflower Body Scrub, Jasmine Chamomile Body Lotion, and Coriander Lemon Hand Wash; 2 oz Palmarosa Pomegranate Body Oil, Light Citrus Hand Cleanser, and Lime Ultra Soothing Body Lotion; 1 oz Lime Ultra Soothing Body Oil; and a 0.5 oz Aloe Coconut Lip Scrub.
It's a heavenly Christmas gift package!
Viking Beauty Secrets Holiday Trio & Earth Melody Bundle
Even if you've never visited countries like Iceland and Sweden, you're probably aware of the natural beauty of the Scandinavian people. 
The Viking Beauty Secrets skincare line uses sustainable Nordic ingredients (including sea buckthorn, cloudberry, and rowanberry), a 100% green energy plant, and recyclable packaging to create their lovely new Holiday Trio.
The gift set includes an Omega-3-rich Reviving Day Cream for hydration, a Night Cream that will leave your skin glowing, and an Exfoliating Face Scrub with mineral-rich volcanic Icelandic sand and "super antioxidants."
The Melody Bundle from the Asian-American-owned Earth Melody Skincare is another excellent gift set. This one features a Beauty Cleansing Bar, Pro-Cereamide Face Cream, Camelina Facial Mask, Beauty Berry Face Oil, and a 4 oz bottle of Rose Essence.
It's like giving someone a complete skin care regimen in a box!
Travel Gifts
Monos Luggage Carry On Plus & Rollink Flex 360° Spinner Suitcase
In the debate over checked luggage vs carryon luggage only, we're obviously on the latter side. Not just because it's more eco-friendly and economical, but because we don't want our luggage (and valuable gear) getting lost.
That's one reason we love the Carry On Plus Suitcase from Monos Luggage, a Climate Neutral Certified brand that is also a member of 1% For the Planet (meaning they give 1% of their revenue to conservation-focused NGOs). 
But we also appreciate the rolling bag's sleek (and unbreakable) polycarbonate shell, TSA-approved lock, whisper-quiet 360º spinner wheels, and stylish vegan leather details. 
For those who absolutely must have a bigger bag, there's the Flex 360° Spinner Suitcase from Rollink, which is billed as "the world's slimmest collapsible suitcase." 
At just 5″ thick, it boasts a durable polycarbonate hard shell, silent and smooth double spinner wheels, a built-in TSA-approved lock, and loads of interior pockets, with 26″ and 29″ long options available. 
READ MORE: 40 Green Travel Tips: The Ultimate Guide to Sustainable Travel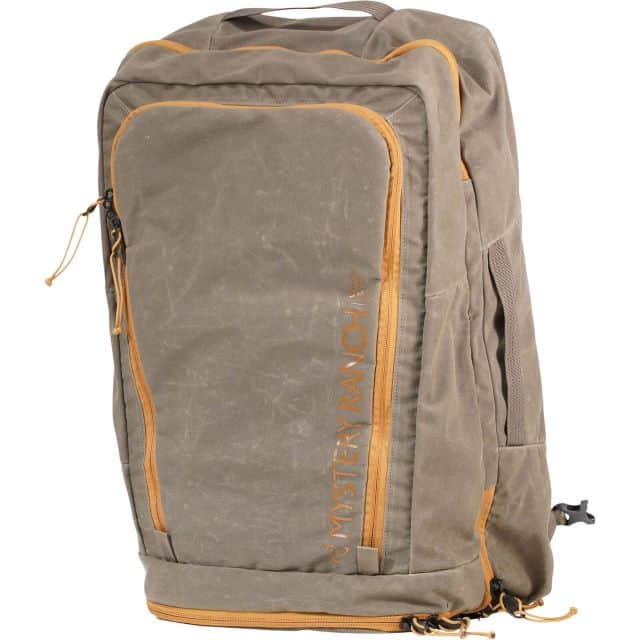 Mystery Ranch Mission Rover 45L & Mission Control
Based in Bozeman MT, Mystery Ranch has been hired to create custom packs for Navy SEALs, which led to work for other high-level organizations in the military, wild land firefighting, and mountaineering fields.
We've been fans of their durable backpacks for several years now, and love the balance of comfort, function, and quality their designs offer. 
They're best-known for rugged packs aimed at hikers and backpackers, but the Mission Rover was designed for travel, easily fitting in the overhead compartment.
Available in 3 sizes (30L, 45L, or 60L), it offers clamshell zippered access to contents, zippered dividers for organization, a footwear compartment, and a laptop sleeve.
Their Mission Control packing organizer (sold separately) makes keeping all of your gear organized a cinch.
It comes in 4 colors and 3 sizes, with the Large offering a whopping 245 cubic inches of storage, with 2 internal pockets and porting docks for charging while you're on the move.
READ MORE: The 30 Best Hiking Backpacks & Daypacks

GOT BAG Rolltop (Coral Gardeners)
GOT Bag was founded in 2016 with a simple mission to tackle the advancing plastic pollution of our oceans and encourage a more conscious use of natural resources.
They started by collecting plastic from the ocean, recycling it, and processing it into backpacks, focusing primarily on a network of 2,000 fishermen and women on the north coast of Java, Indonesia. 
The company has also partnered with environmental NGOs such as Sea Shepherd and Coral Gardeners, which focuses on coral reef restoration in and around the island of Moorea, Tahiti. 
GOT BAG's collaborations include this sleek Coral Gardeners Rolltop Backpack, which is made from ocean impact plastic and offers plenty of storage space (including a removable 15-inch laptop sleeve).
Every purchase comes with a free Coral Adoption Card and benefits the NGO's projects. 
READ MORE: 30 Awesome Plastic-Free Products
Tech Gifts
Pocketalk Plus Voice Translator 
One of the most consistent issues American travelers struggle with is their inability to speak the local language when they travel abroad. 
Sure, you can probably pick up a few simple phrases here and there. But learning a language well enough to have an actual conversation with a native speaker takes time most of us do not have. 
The Plus Voice Translator from Pocketalk is a handy 2-way translation device that helps travelers communicate in 82 languages. One-button translation makes conversations easier, and the camera can even translate text on signs! 
This model boasts a 40% larger touchscreen and 1.5X longer battery term life than their basic model, and includes noise-cancelling microphones, two powerful speakers, and a 2-year cellular data plan that works in 130+ countries.
READ MORE: The Important Role of Community Tourism in Responsible Travel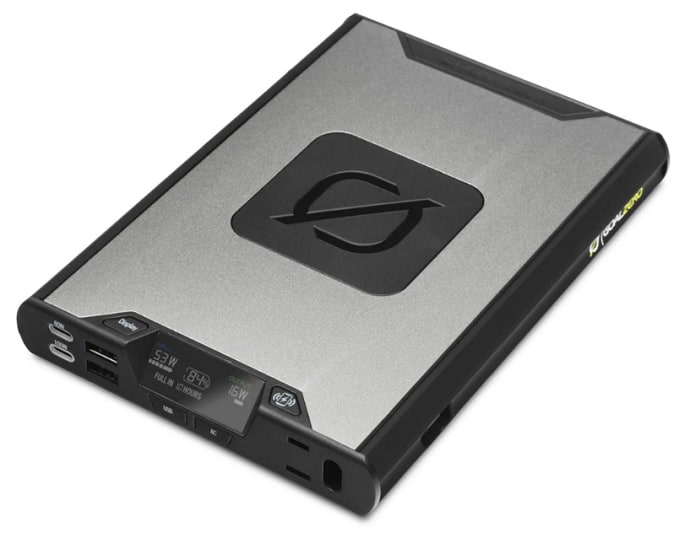 GOAL ZERO Sherpa 100AC Power Bank
Whether you're on safari in Kenya, chilling with polar bears in the Canadian Arctic, or exploring the beautiful islands of the Philippines, travel to remote places can be extremely rewarding. 
But it can be difficult to stay connected in places where there's no WiFi signal, especially if there's limited access to an electrical outlet. 
The new and improved Sherpa 100AC Power Bank from Goal Zero offers a great solution, charging your phones, tablets, and laptops 60% faster (via USB-C) via 95 watt-hours of power. 
The airline-approved device includes an AC port and best-in-class 15W wireless charging for smartphones, And the rugged unit is backed by GOAL ZERO's 2-year warranty. 
READ MORE: 15 Simple Recycled Christmas Card Crafts for Kids

Fusion4Home Max
As we prepare for a potential move to one of our favorite North Carolina mountain towns next year, one of the main considerations is the availability of high-speed Wifi and cell signals.
The Fusion4Home Max from Surecall is billed as "the most powerful cell phone signal booster for suburban and rural homes," boosting 4G and 5G signals from all the major carriers. 
The device uses Extended Range Technology and their patented 2XP technology, which essentially doubles the uplink transmission power to the tower. 
A 2022 CES Innovation Awards nominee, the Fusion4Home Max is arguably the best performing cell signal booster for remote areas. Every purchase includes a 3-year warranty and lifetime US-based tech support.
READ MORE: The 20 Best Places to Spend Christmas in North Carolina
 Pale Blue Earth Home Conversion Battery Kit
There's a good reason why the word reduce comes first in the "Reduce, Reuse, Recycle" mantra. Reducing the amount of new things we buy helps to reduce the amount of waste we create, which helps to lower our carbon footprint. 
Single-use batteries are not only wasteful but disposing of them can lead to toxic chemicals in landfills, which then get into our soil and waterways. 
The Home Conversion Battery Kit from Pale Blue Earth has everything you need to ditch single-use batteries for good. It includes 12 rechargeable AA Batteries, 8 AAA Batteries, 4 9V Batteries, 4 D Batteries and 2 charging cables. 
The fast-charging Lithium batteries should last for 1000+ charge cycles, with a built-in LED charging indicator to let you know when they're ready. They also come with a Limited Lifetime Warranty!
READ MORE: 15 Ways to Reduce Waste & Adopt a Waste-Free Lifestyle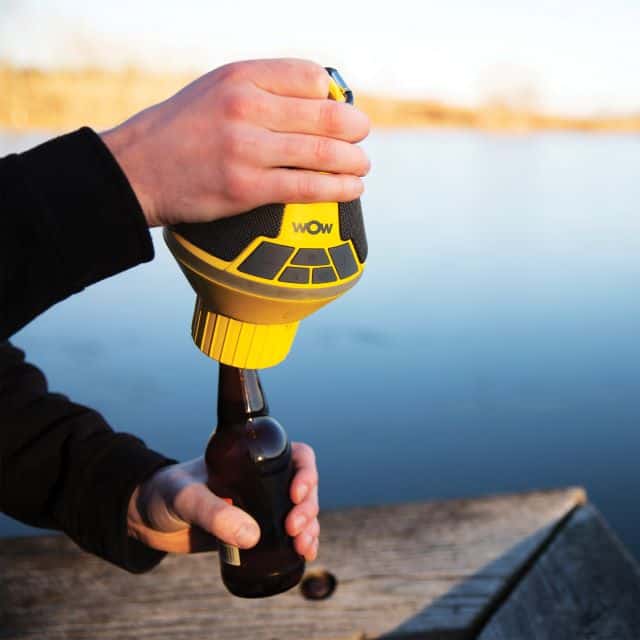 WOW-SOUND Buoy Bluetooth Speaker
The older I get, the more I appreciate the quality time we spend on our pontoon boat at the lake, surrounded by natural beauty (including birds, turtles, fish, and forest). 
But I also find that I've grown increasingly annoyed by others who do not respect the tranquility of nature, blasting their music so loud you can hear it from a mile away. 
That being said, we do love listening to mellow music that matches our mood. The Buoy Bluetooth Speaker from Wow-Sound makes it easy to listen to your tunes at a reasonable volume, because it floats! 
Connected to any Bluetooth-enabled device, this waterproof speaker provides omnidirectional sound, with a rechargeable battery that lasts 20+ hours on a charge. It's also backed by a 1-year warranty. –by Bret Love