Looking for a list of the best Virginia Music Festivals in 2023? Well, look no further, because I've got all of them covered!      
"Virginia is for lovers." – That's the well-known slogan the gorgeous state of Virginia has claimed as their own since 1969. And it's true.
Virginia is for lovers. Lovers of soul-stirring food. Lovers of beautiful landscapes. Lovers of small towns full of friendly locals. Lovers of big cities with so much to offer.  And of course…lovers of music and festivals.
With its own deeply entrenched cultural and musical identity, Virginia boasts an impressive number of music festivals, both big and small. And it's a state that offers every setting you could hope for to act as a backdrop to your favorite tunes. Coastal festivals at Virginia Beach, bluegrass jams in the Blue Ridge Mountains or city parties in Richmond. And everywhere in between.
Be sure to add my shortlist of the best 25 music festivals in Virginia to your ever-growing U.S bucket list.
And check out my articles on Festival Hydration Backpacks, Festival Camping Packing List, Festival Shoes, and Festival Gadgets to enhance your experience by having all the best gear!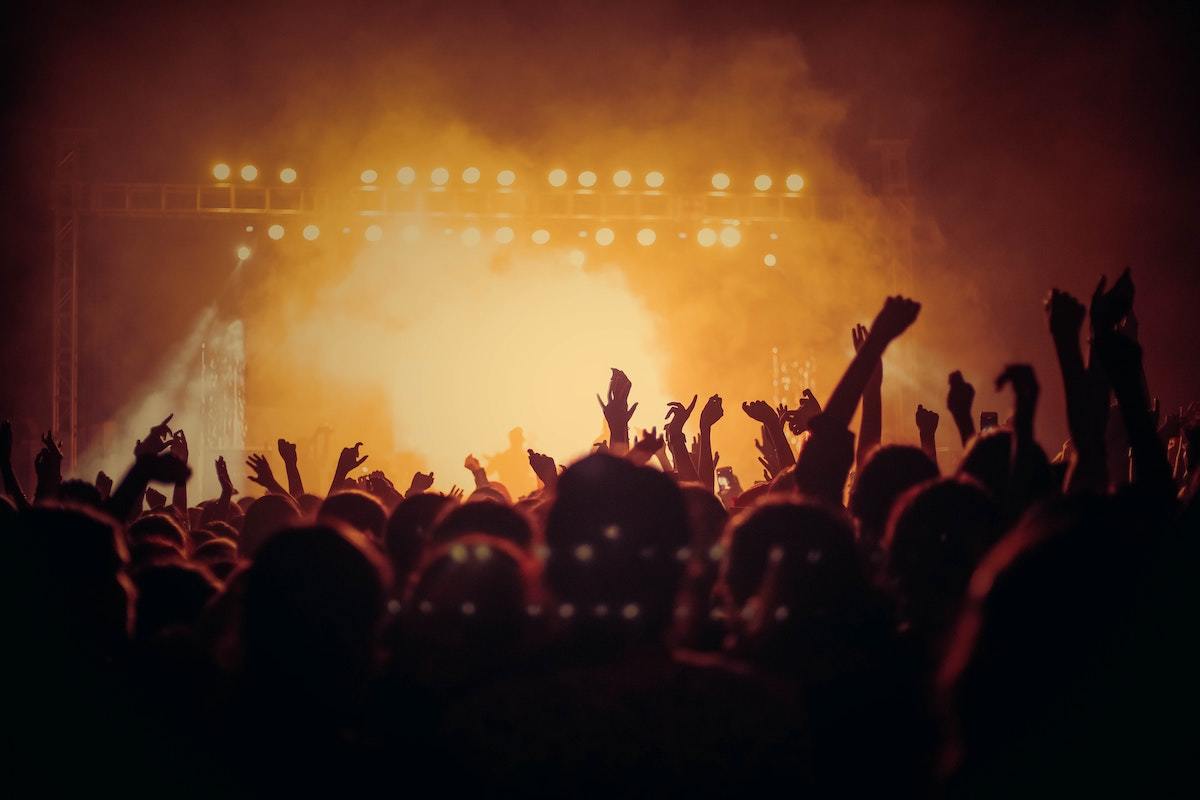 ---
1) FloydFest 2023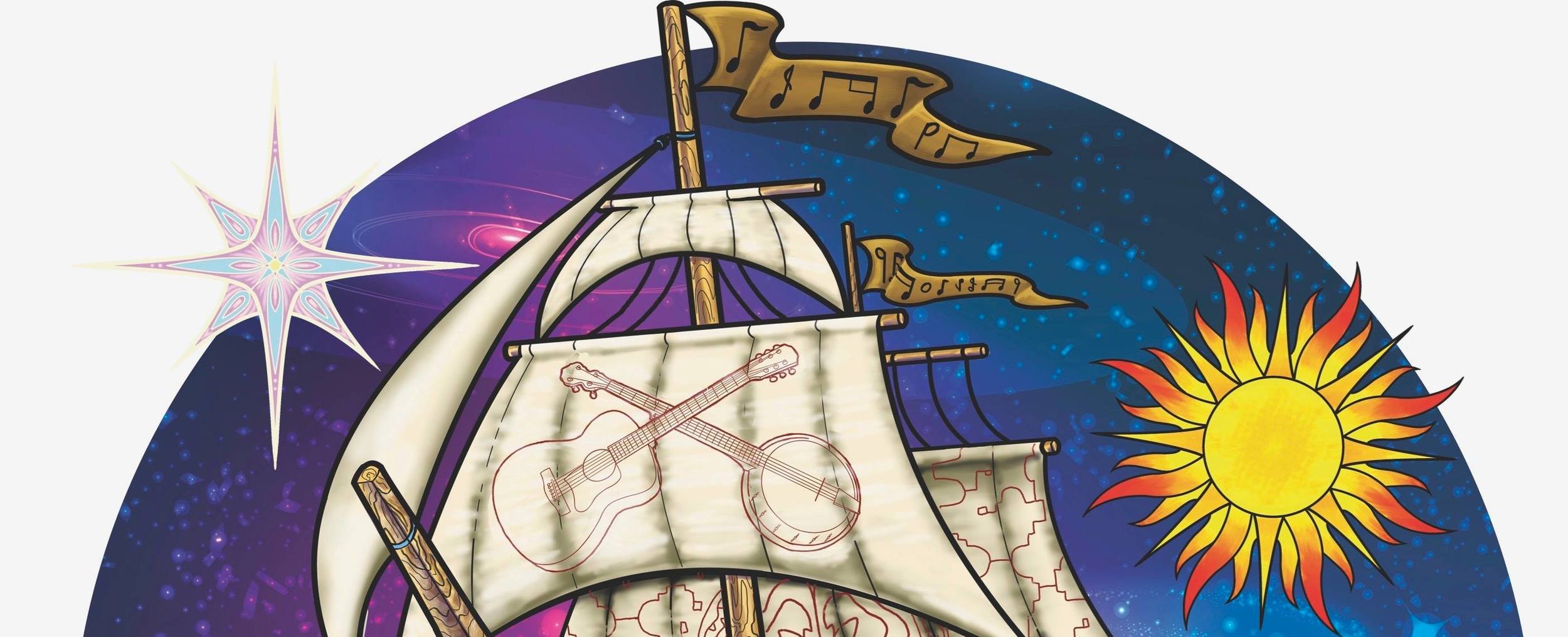 When: July 26-30, 2023
Where: Floyd, VA
Genre: Rock / Bluegrass / Reggae / Folk
https://www.facebook.com/FloydFestVA/
"FloydFest is a 5-day celebration of music & art nestled in the beautiful Blue Ridge Mountains of Southwest Virginia featuring over 100 performers across 8+ stages. The event began in 2002, and spans five days each year with on-site camping and multiple stages featuring rock, bluegrass, reggae, folk, Yiddish, Cajun, or Zydeco, African, Appalachian, and world music performers."
Join the FloydFest 23~Forever (July 26-30, 2023) for line-up, details, tickets + more!
---
2) Rooster Walk Music & Arts Festival 2023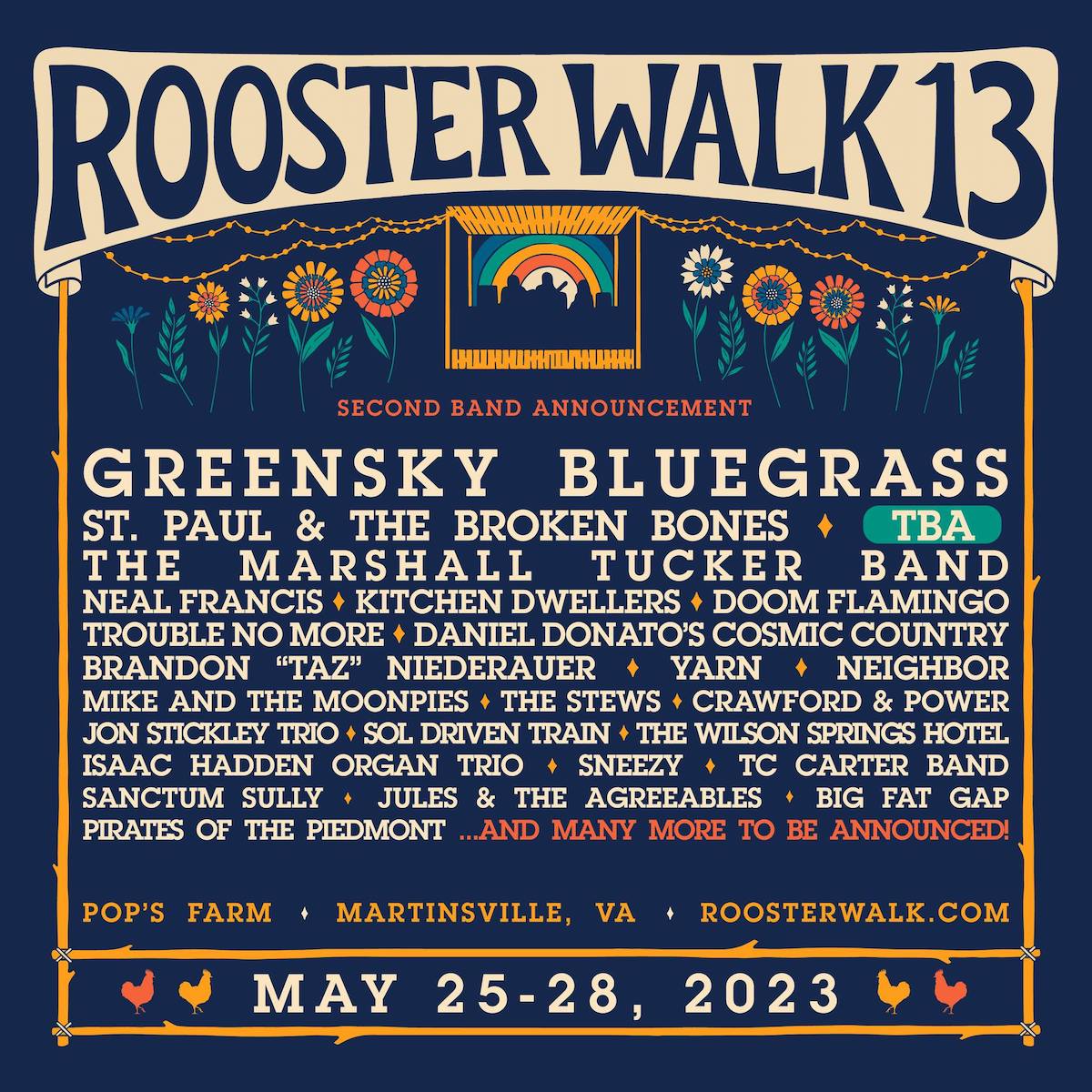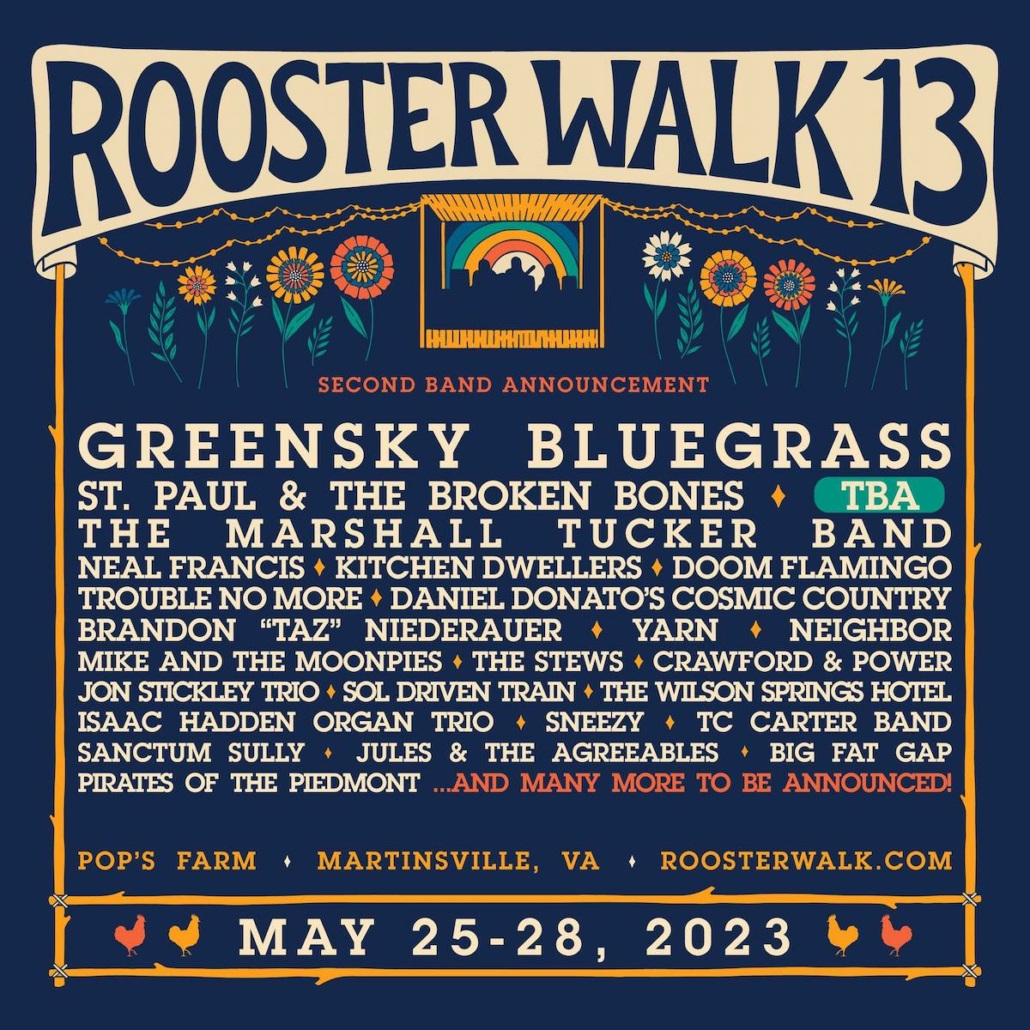 When: May 25-28, 2023
Where: Pop's Farm, Martinsville, Virginia
Genre: Various
https://www.facebook.com/roosterwalk/
"Making the most of a tragic situation, that's how Rooster Walk came about. The Rooster Walk Music and Arts Festival was created in memory of two of our best childhood friends who passed away while still in their 20s: Edwin "the Rooster" Penn and Walker Shank.
This festival celebrates life and the notion that you shouldn't waste a moment of it. When Edwin died in a dirt-bike accident in November 2007, and Walker passed from heart trouble while asleep in his apartment in December 2008, close friends decided a music festival was a fitting way to tribute. Rooster Walk was created, with the idea that proceeds from the festival go toward a college scholarship fund at their alma mater, Martinsville High School."
---
3) Lockn' Festival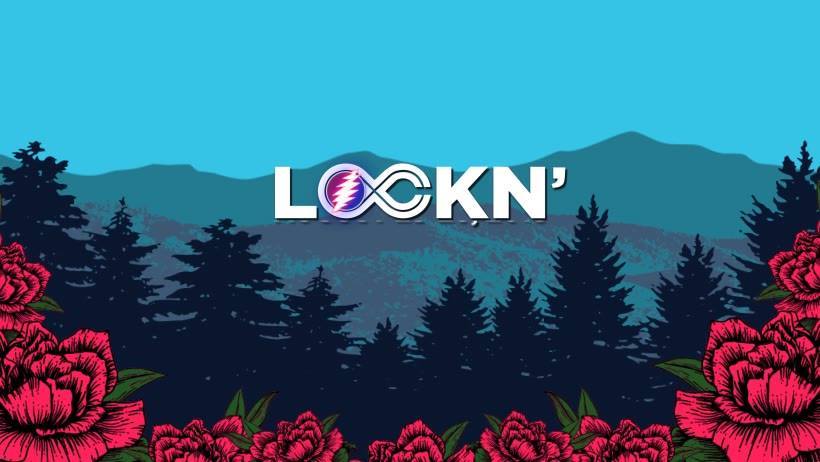 When: August 2023
Where: Arrington, VA
Genre: Jam band
https://www.facebook.com/LOCKNFestival
"With an emphasis on world class music, locally sourced food and sustainability, LOCKN' is held annually at the Infinity Downs and Oak Ridge Farm in the foothills of the Blue Ridge in Central Virginia.
LOCKN' was created by industry veterans Dave Frey and Peter Shapiro. Frey founded the HORDE Festival while Shapiro owned New York City's historic rock club, "Wetlands Preserve." He also produced U2's award-winning film U23D and currently publishes Relix Magazine as well as being the proprietor of Brooklyn Bowl in Brooklyn, NY, Las Vegas, NV, London and The Capitol Theatre in Port Chester, NY.
LOCKN' was named for traditions central to both Frey and Shapiro: The interlocking performances presented at Wetlands and the continuous uninterrupted music featured between the two stages at HORDE. LOCKN's conceptual theme will touch all elements of the event: "when something ends, another begins." LOCKN' is one of the country's most unique and dynamic events. Frey and Shapiro's sense for innovation and creativity together with the backdrop of this beautiful setting in the Blue Ridge Mountains makes for an unforgettable weekend."
---
4) Red Wing Roots Music Festival
When: June 23-25, 2023
Where: Mt Solon, VA
Genre: Roots
https://www.facebook.com/RedWingRootsMusicFestival
"Three days, five stages, and 40+ bands at the beautiful Natural Chimneys Park and Campground in Mt Solon, VA, in the heart of the Shenandoah Valley.
The towering limestone chimneys, reaching more than 120′ in the air, provide a spectacular backdrop for you to lounge in the Music Meadow and hear some great music in the great outdoors.
Red Wing focuses on the whole experience: an incredible variety of food, craft vendors, kids activities, camping, swimming, organized bike rides, yoga, runs, hiking adventures, and much, much more!"
---
5) Blue Ridge Rock Festival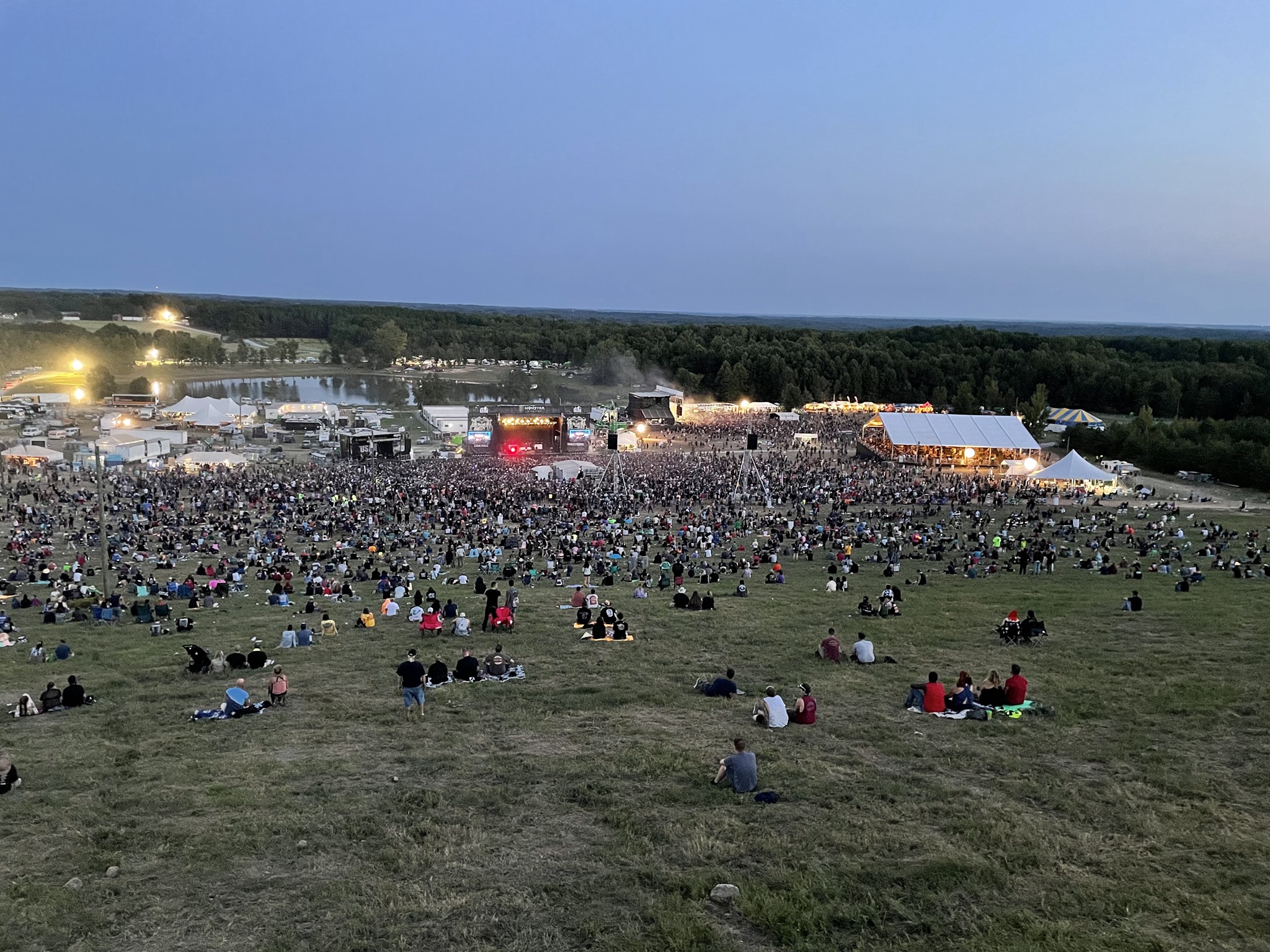 When: September 7-10, 2023
Where: Danville, VA
Genre: Rock
https://www.blueridgerockfest.com/information
https://www.facebook.com/BlueRidgeRockFest/
Blue Ridge Rock Festival: The FAN DRIVEN Rock Experience
Featuring the LOWEST GA Ticket, Camping, & Drink Prices of Any Major Rock Festival
Featuring one of the largest line-ups and camping sites in the state, Blue Ridge Rock Festival is a fan-favorite! Their 2021 edition sold-out within 4-days of their line-up announcement, and I know their return in 2023 will be bigger and better than ever!
---
6) Shenandoah Valley Music Festival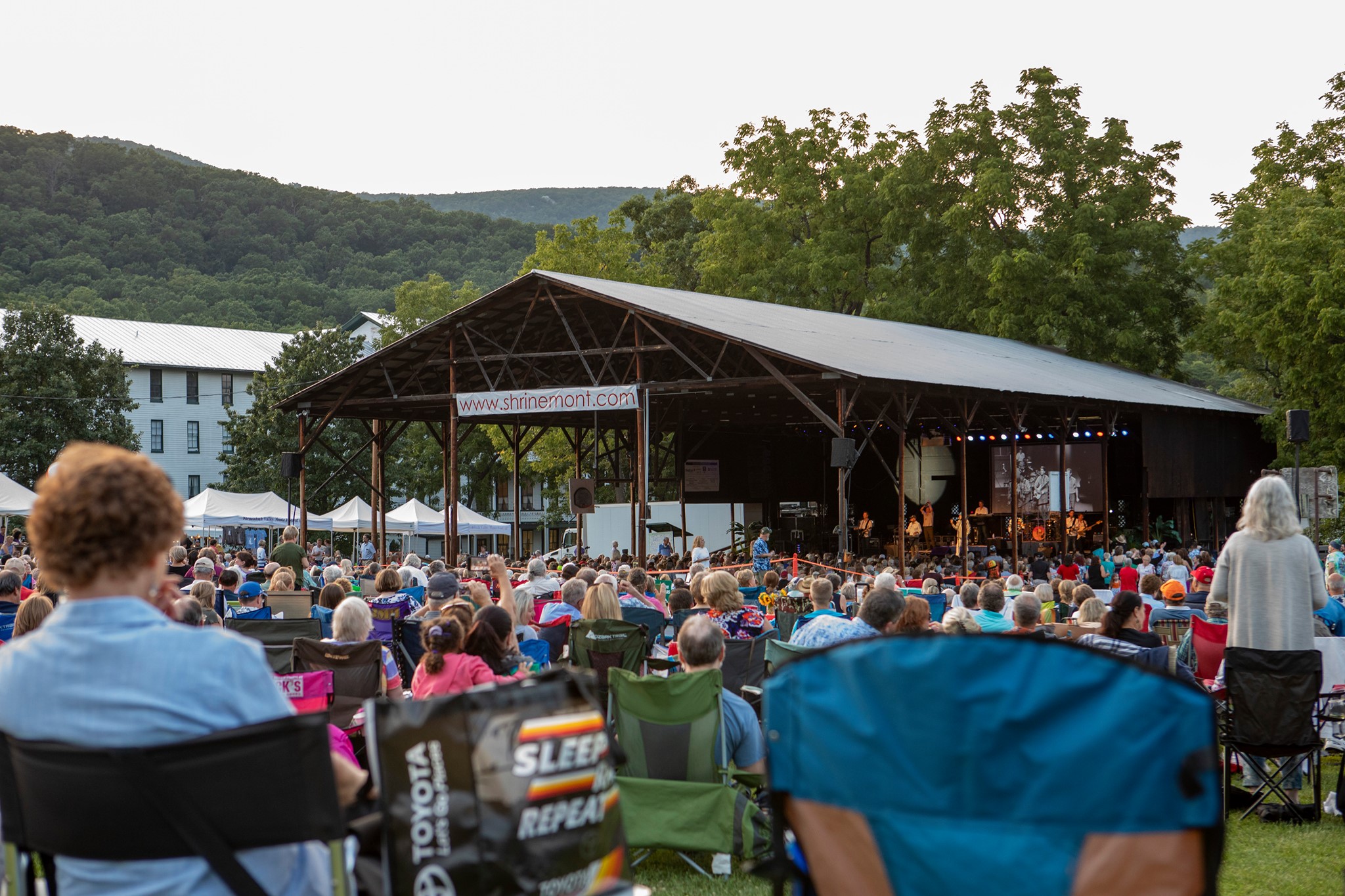 When: July – September 2023
Where: Orkney Springs, VA
Genre: Various
"Shenandoah Valley Music Festival is a series of live-concert performances that take place over July, August and September at Shrine Mont in Orkney Springs, Virginia. Dating back to 1963, the Festival has a long history of bringing quality music to the Shenandoah Valley. The Shenandoah Valley Music Festival, is held in the secluded town of Orkney Springs, Virginia. A rustic, open-air pavilion on the grounds of a historic mineral springs spa and resort hotel, is home to the Festival's summer concert series."
---
7) Richmond Jazz & Music Festival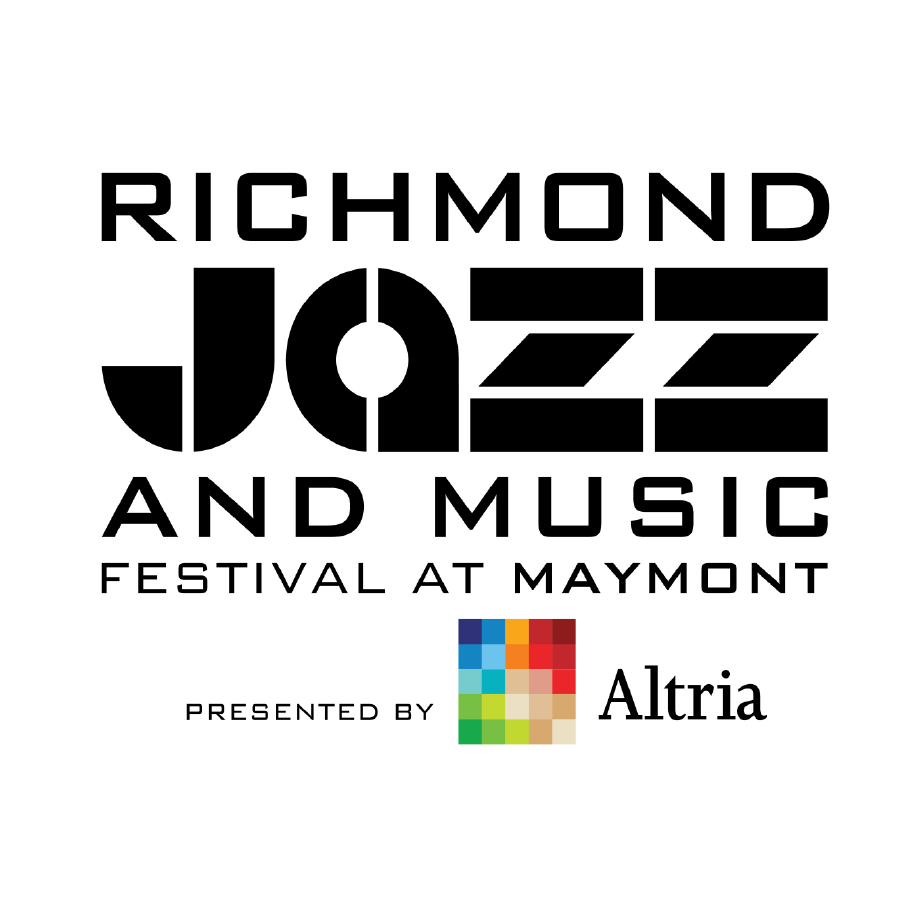 When: August 2023
Where: Richmond, VA
Genre: Jazz
https://richmondjazzandmusicfestival.com
"One of the largest music festivals on the East Coast, the 9th Annual Richmond Jazz Festival at Maymont boasts a lineup of Grammy Award-winning international and national talent. The Richmond Jazz Festival is an interactive and sensory driven journey into music and culture, featuring some of the most talented and iconic artists of the time."
---
8) American Music Festival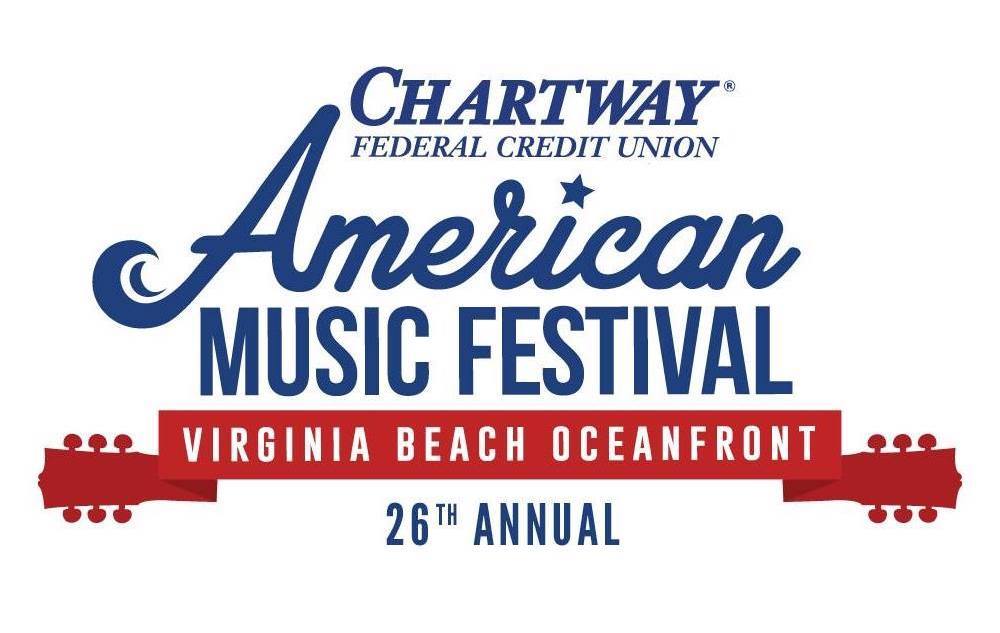 When: August / September 2023
Where: Virginia Beach, VA
Genre: Various
"The sounds of rock, jazz, country, blues, R&B and more flood the oceanfront for three sun-filled days over Labor Day Weekend at the Chartway Federal Credit Union American Music Festival, presented by Cruzan Rum.
The largest outdoor music event on the East Coast, the American Music Festival brings together national, regional, and local acts to play on a giant stage on the beach at 5th Street, as well as stages in all the parks along the boardwalk. With just about every music genre, there's "something for everyone."
---
9) Richmond Folk Festival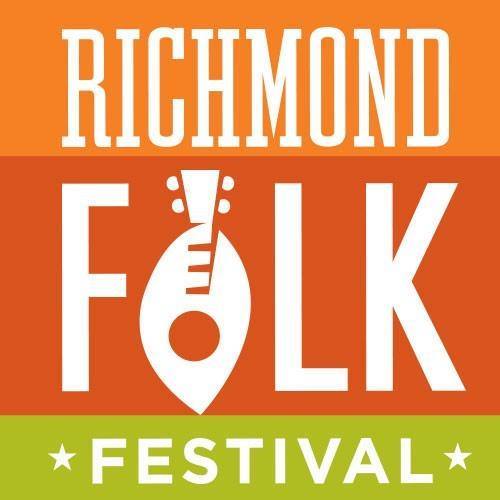 When: October 2023
Where: Richmond, VA
Genre: Folk
http://richmondfolkfestival.org
"The Richmond Folk Festival is one of Virginia's largest events, drawing visitors from all over the country to downtown Richmond's historic riverfront. The Festival is a FREE three-day event that got its start as the National Council for the Traditional Arts' National Folk Festival, held in Richmond from 2005-2007. The Richmond Folk Festival features performing groups representing a diverse array of cultural traditions on seven stages."
---
10) Progress Festival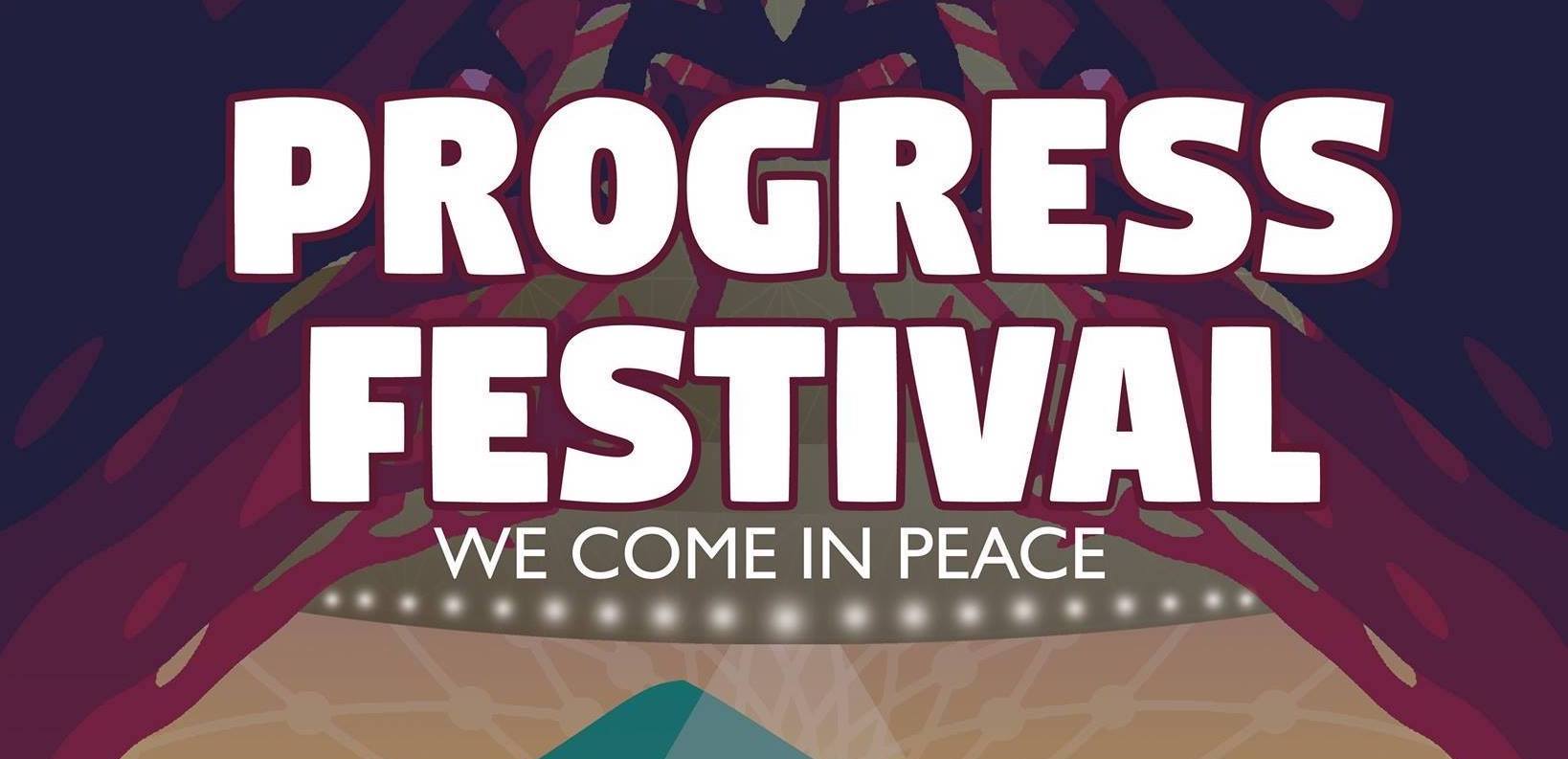 When: May 2023
Where: Dublin, VA
Genre: Various
"Progress Fest is a three day, two night music and arts festival, celebrating undiscovered artists' work, and paying the everyday artist to be creative and express themselves. We strive to create the *perfect* weekend (May 18th – 20th.) It is illegal to worry at Progress Fest. All violators will be tossed into the fun zone for rehabilitation, a 1×1′ area full of coloring books, petting chickens, and bubbles."
---
11) Chesapeake Bay Reggae Fest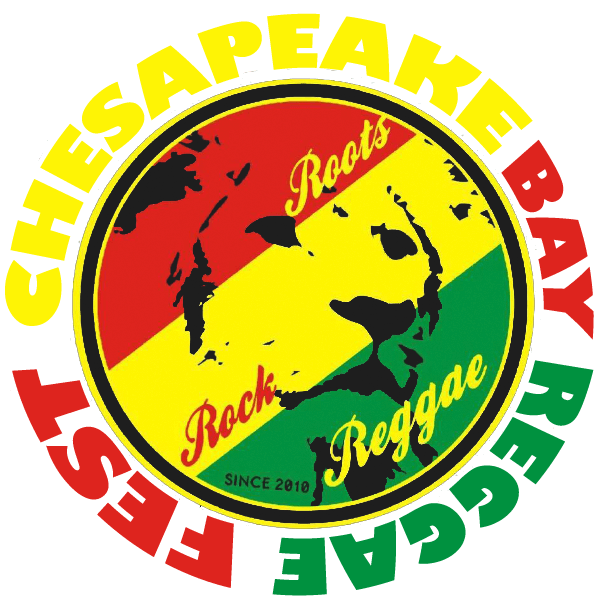 When: June 2023
Where: Hampton, VA
Genre: Reggae
http://www.visithampton.com/event/9th-annual-chesapeake-bay-reggae-fest/
"Sounds of reggae will be blasting from downtown Hampton this weekend as the Chesapeake Bay Reggae Festival returns for its seventh year. More than a dozen acts, both regional and international, are performing on two stages at this year's festival in Hampton's Mill Point Park. The festival began in 2011 as the Buckroe Beach Reggae Festival before changing its name in 2015 after moving from Buckroe to the larger downtown venue."
---
12) Supernova International Ska Festival
When: May 2023
Where: Fredericksburg, VA
Genre: Ska
https://supernovaska.bandcamp.com
"The Supernova International Ska Festival is dedicated to a fully DIY festival that brings people together through ska music."
---
13) Stuart Beach Music Festival
When: June 8-10, 2023
Where: Stuart, VA
Genre: Beach music  
http://www.beachfestival.com/location/
https://www.facebook.com/beachmusicfestival
Follow the Music, We'll be Waiting for You!
Beach Music Festival — Hot Fun in the Summertime!
"Held the second Saturday in June each year, this is our 38th year providing entertainment to folks near and far.  The club brings new energy, fresh ideas, and volunteers to help make this the BEST time you'll ever have… 'til next year. We have a great lineup with award winning performers of the beach music genre, on-site camping at Wayside Park, friendly faces to welcome you to beautiful Patrick County."
---
14) The Festy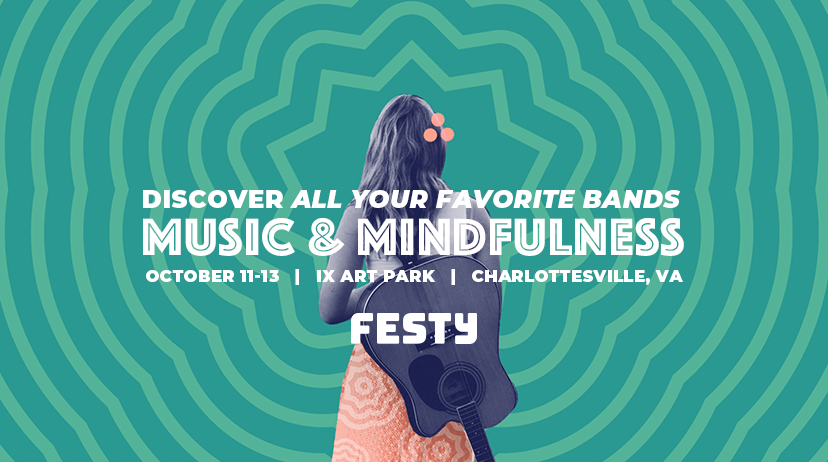 When: September 2023 (TBA)
Where: Charlottesville, VA
Genre: Various
FESTY is an Outdoor, Concert Series beginning in September.
Relax in the Meadow and listen to the melody. 
Join us for our "backyard music and friends" Festy gatherings at Chisholm Vineyards. The peaceful 2 acre outdoor GA meadow site with a gorgeous Blue Ridge Mountain backdrop is a one-of-a-kind venue that provides ample space for you and your friends to comfortably enjoy an evening of music. Bring your chairs and your blankets and we will have all the tunes ready for you!  
---
15) Devils Backbone Hoopla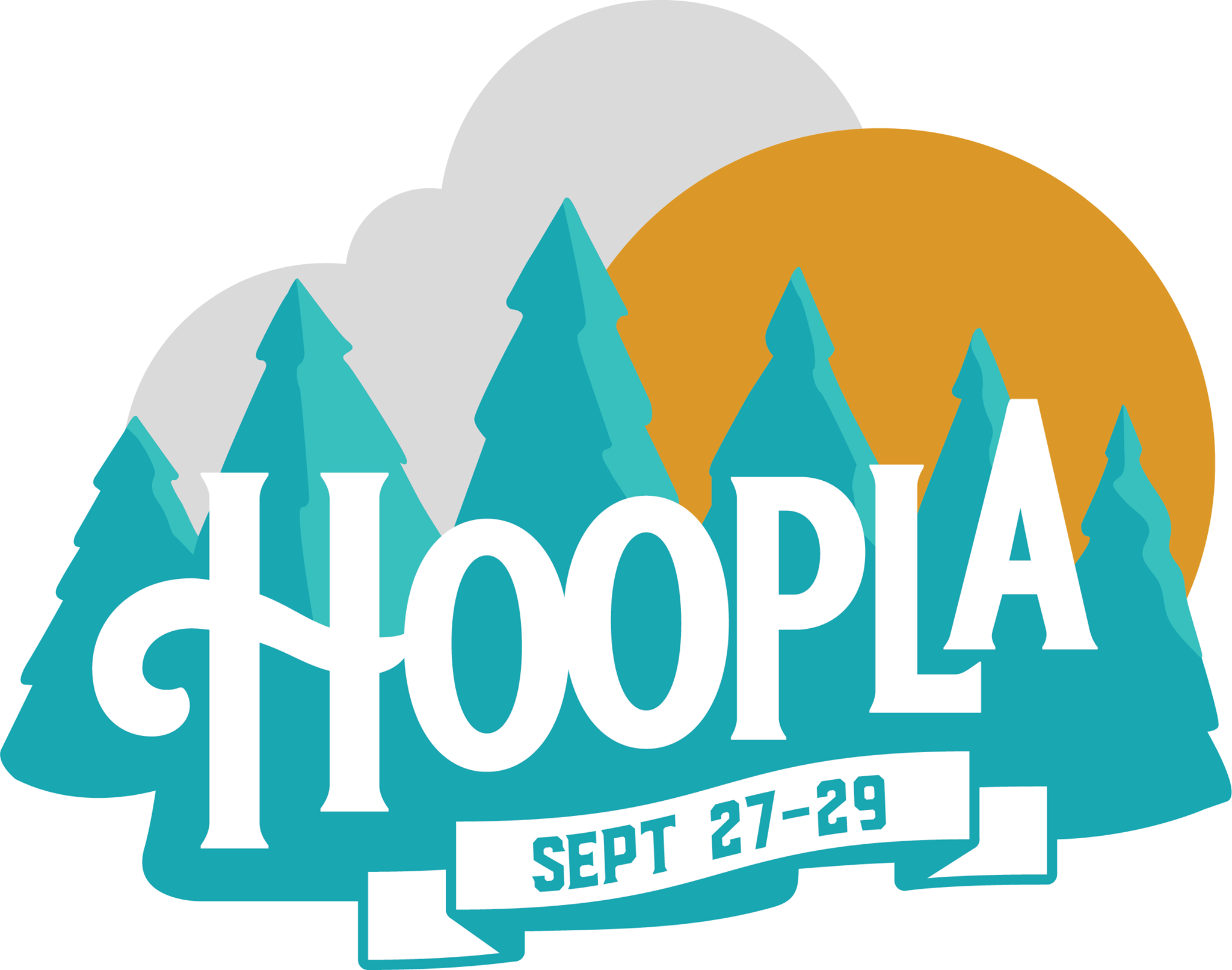 When: September
Where: Roseland, VA
Genre: Various
"COME JAM WITH US IN NATURE. With music, food, and beer. Join us in September for live music, award-winning beers, camping, and fun for the whole family.  The weekend includes pop-up beer tastings, outdoor adventures, property tours, crafts, great eats, and tons of incredible live music!"
---
16) Patriotic Festival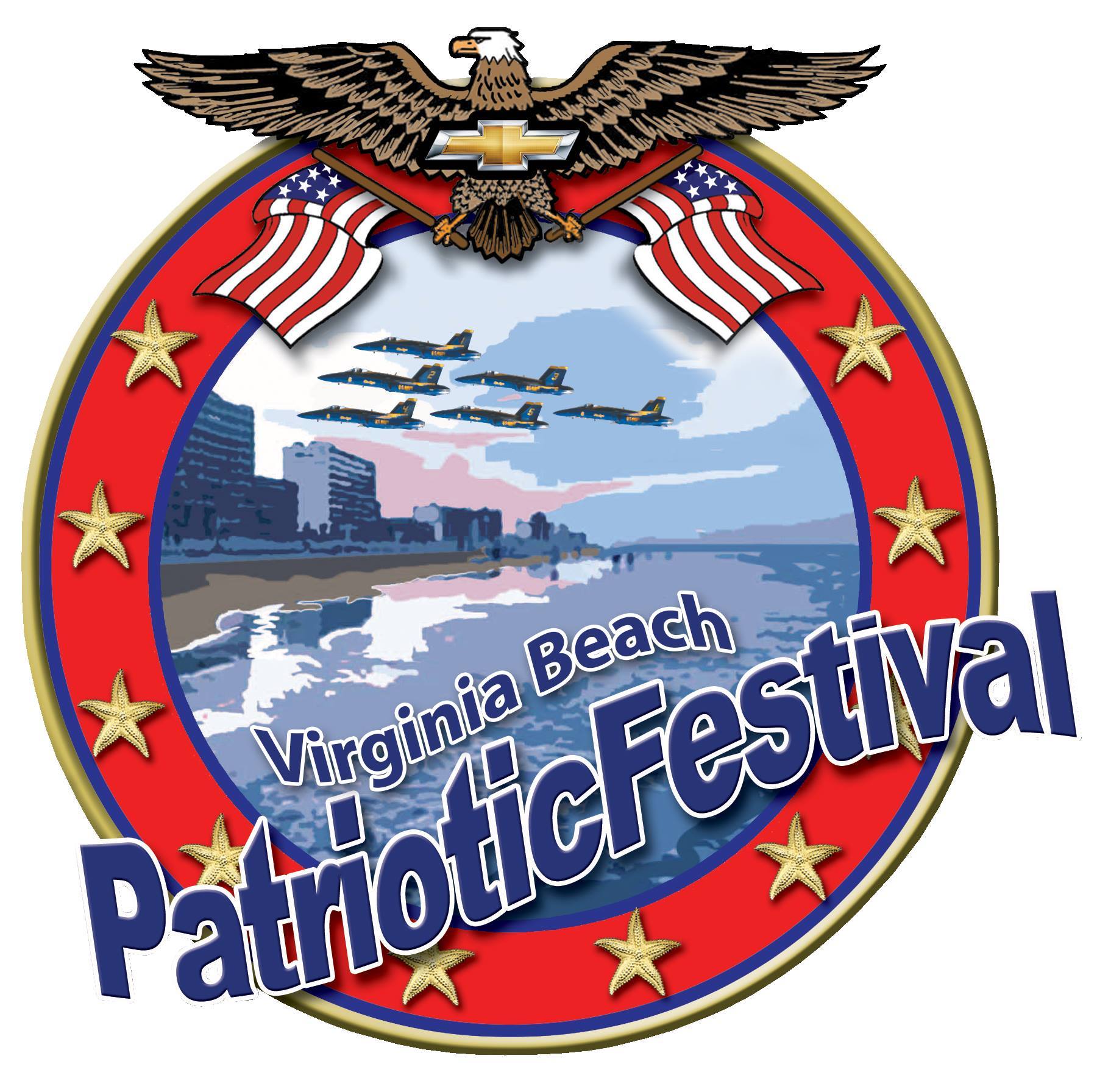 When: May 26-28, 2023
Where: Virginia Beach, VA
Genre: Various
http://www.patrioticfestival.com
"Hampton Roads, VA is home of the largest military bases in the USA.  Virginia Beach, the largest resort city on the east coast is hosting The Patriotic Festival—A Military Celebration to honor our armed forces personnel and their families.
PATRIOTIC FESTIVAL celebrates THE MILITARY at The Virginia Beach Oceanfront for three days of National Touring Artists Concerts, Military Expos and Displays. The Concerts will be at 5th Street and Oceanfront Friday and Saturday Evening and Sunday Afternoon. The USO Military Expo Village at 17th Street & Oceanfront will showcase the mission, equipment and personnel through exhibits, demonstrations and displays on Friday, Saturday and Sunday from 15th Street to 20th Street. All branches of the military: Army, Navy, Air Force, Marines and Coast Guard will be participating."
---
17) Bristol Rhythm & Roots Reunion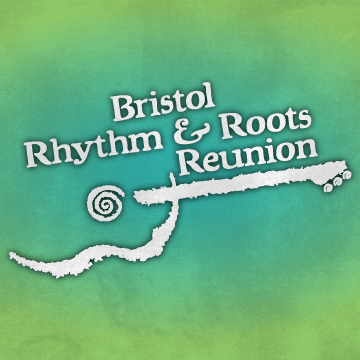 When: September 8-10, 2023
Where: Bristol, VA
Genre: Rhythm / Roots
https://www.birthplaceofcountrymusic.org/festival/
https://www.facebook.com/bristolrhythm/
"Bristol Rhythm & Roots Reunion music festival is an electrifying music experience that features the very best roots music. Held annually the third weekend in September in historic downtown Bristol TN/VA, the three-day music is amped to the beat of Appalachia's past, present, and future.
The Festival digs down deep into the roots of the traditional Appalachian sound and lifts its branches to new heights. It all happens in the heart of the Birthplace of Country Music."
---
18) Tomtoberfest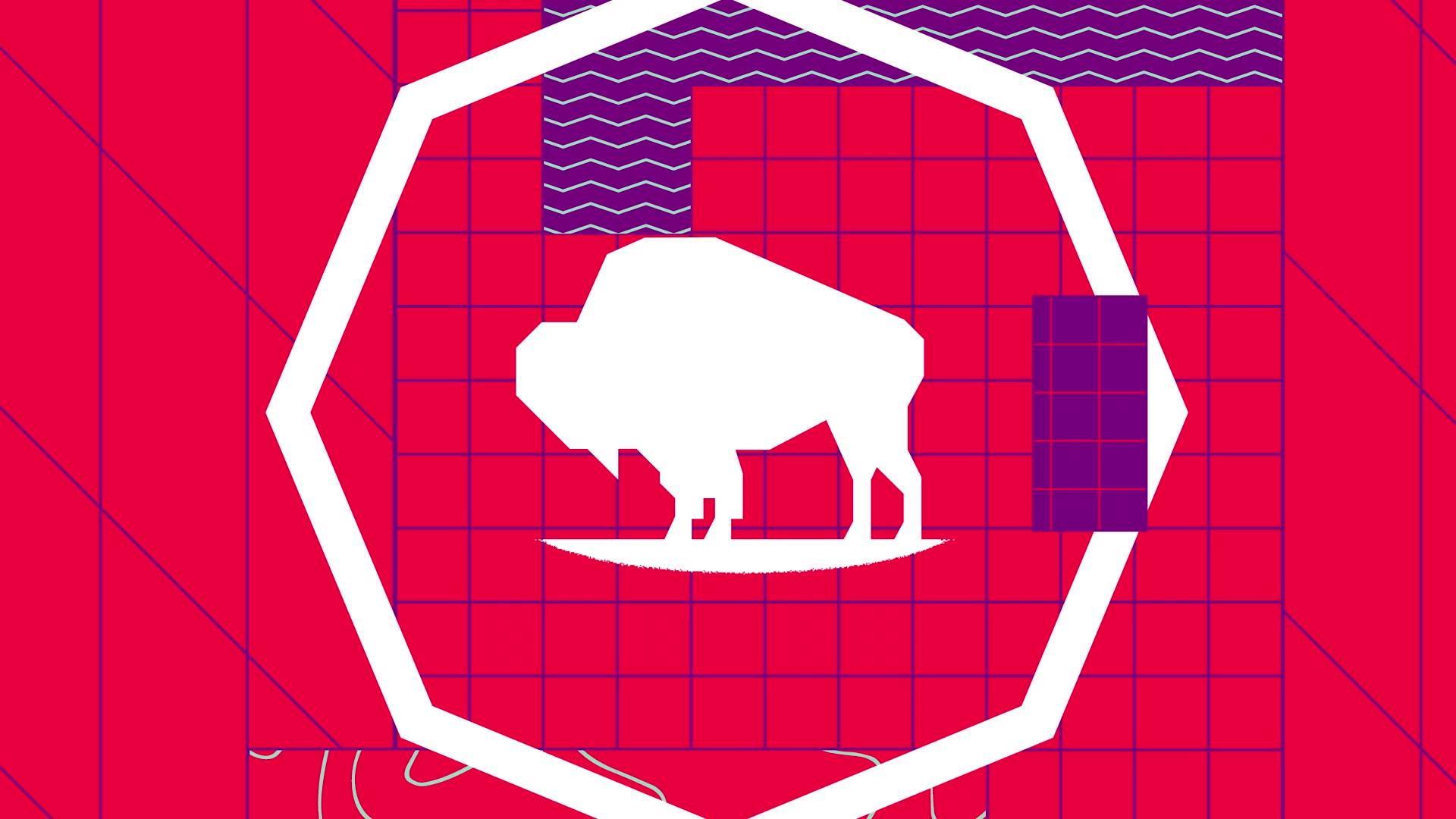 When: September
Where: Charlottesville, VA
"A day long celebration of Charlottesville creativity, innovation, and community filled with free concerts, games, craft beer, food trucks, art, and expos. Co-hosted by C-VILLE Weekly and New Belgium Brewing. Tomtoberfest is entirely FREE!
But you can support us by volunteering, making a donation, or buying an "upgraded ticket." These packages are loaded with great merch and other perks."
---
19) Virginia Chili, Blues, n' Brews Festival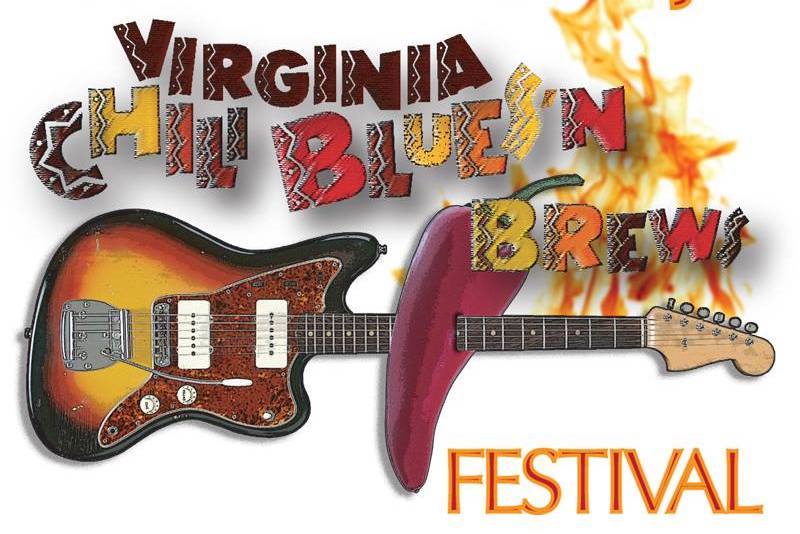 When: September
Where: Waynesboro, VA
Genre: Blues
https://www.virginiachili.com/event/
"Join us for the 12th Virginia Chili Blues 'n Brews Festival – an evening of chili tasting, amazing blues, artisans and exhibitors and micro and mega brews in Waynesboro, Va. Free Chili tasting with ticket (while it lasts…once it's gone…it's gone). What better way to top off the festival than with an assortment of carefully selected brews. You'll understand why we include "Brews" in the name."
---
20) Appaloosa Festival
When: September 2-3, 2023
Where: Front Royal, VA
Genre: Bluegrass / Americana / Celtic
"Every Labor Day Scythian hosts its own festival, Appaloosa, which features the rising stars in Bluegrass, Americana and Celtic Music. Located in Alex and Dan's hometown of Front Royal (Just 1 hour from DC) Appaloosa takes place on a horse ranch campground nestled in the Shenandoah Valley. We're celebrating 15 years as a band in conjunction with the 5th Annual Appaloosa Festival, so it'll be an event you don't want to miss!"
---
21) Graves Mountain Festival of Music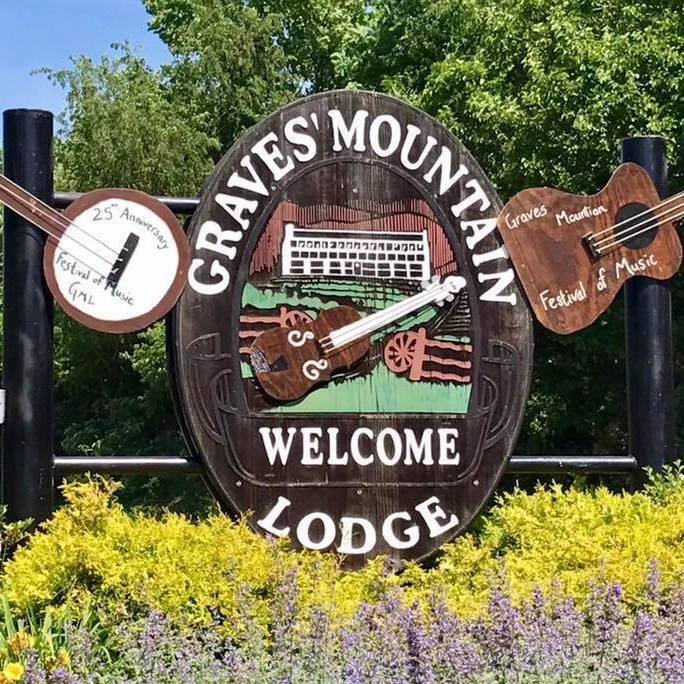 When: May / June
Where: Syria, VA
Genre: Bluegrass / Roots / Americana / Country
https://www.gravesmountain.com/events-calendar/festival-of-music/
Music in the Blue Ridge of VA – Living LOCAL Music Making, Learning, Jamming, and Festival
"3 Days. 21 Bands. Bluegrass, singer songwriter and country in the Blue Ridge of VA. 1100 acres by a mountain stream and camping on 70 acres. Fish, hike, horseback ride, pick up a banjo or just sit by the stream and listen to the echo of the valley. Performances running from late morning through to 10:30 PM, when festival goers pull out their own fiddles and banjos back at their RVs."
---
22) Hampton Jazz Festival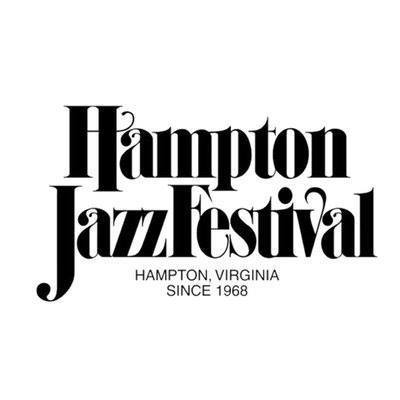 When: June 23-25, 2023
Where: Hampton, Virginia
Genre: Jazz / Pop / Blues / Soul
https://www.hamptonjazzfestival.com
https://www.facebook.com/HamptonJazzFest/
"Hampton Jazz Festival has brought the best of jazz, pop, blues, soul, and R&B for 50 years. Each year the event is more exciting than the last. The event is brought to you in partnership by Hampton University, the City of Hampton and the Santangelo Group, Inc.
The annual Hampton Jazz Festival presents the opportunity for us to marvel and appreciate the many visitors who journey here to enjoy American music at its best. This annual gathering has become more of a reunion – a celebration a friends, family, culture, music, and life."
---
23) Galax Old Fiddler's Convention Festival
When: August 7-12, 2023
Where: Galax
Genre: Fiddle / Bluegrass
http://www.oldfiddlersconvention.com
"Before the second weekend in August each year, lovers of country and mountain music leave their homes in time to be in Galax, VA for the Annual Old Fiddler's Convention.  For some this means hundreds of miles of travel, while for others it will be a short trip from their nearby homes. Most of these people don't play music, and come just for the listening and renewing old acquaintances. However, a few hundred come with their instruments to show their skill, and compete for the cash prizes which total thousands of dollars.   But most of them would come without the prizes being offered. They want to see and be seen, and hear and be heard. The instruments vary from mouth harps in pockets to bull fiddles strapped on top of cars. Many of these musicians have played in most of the conventions since 1935, but this group is growing smaller by the year."
---
24) Staunton Music Festival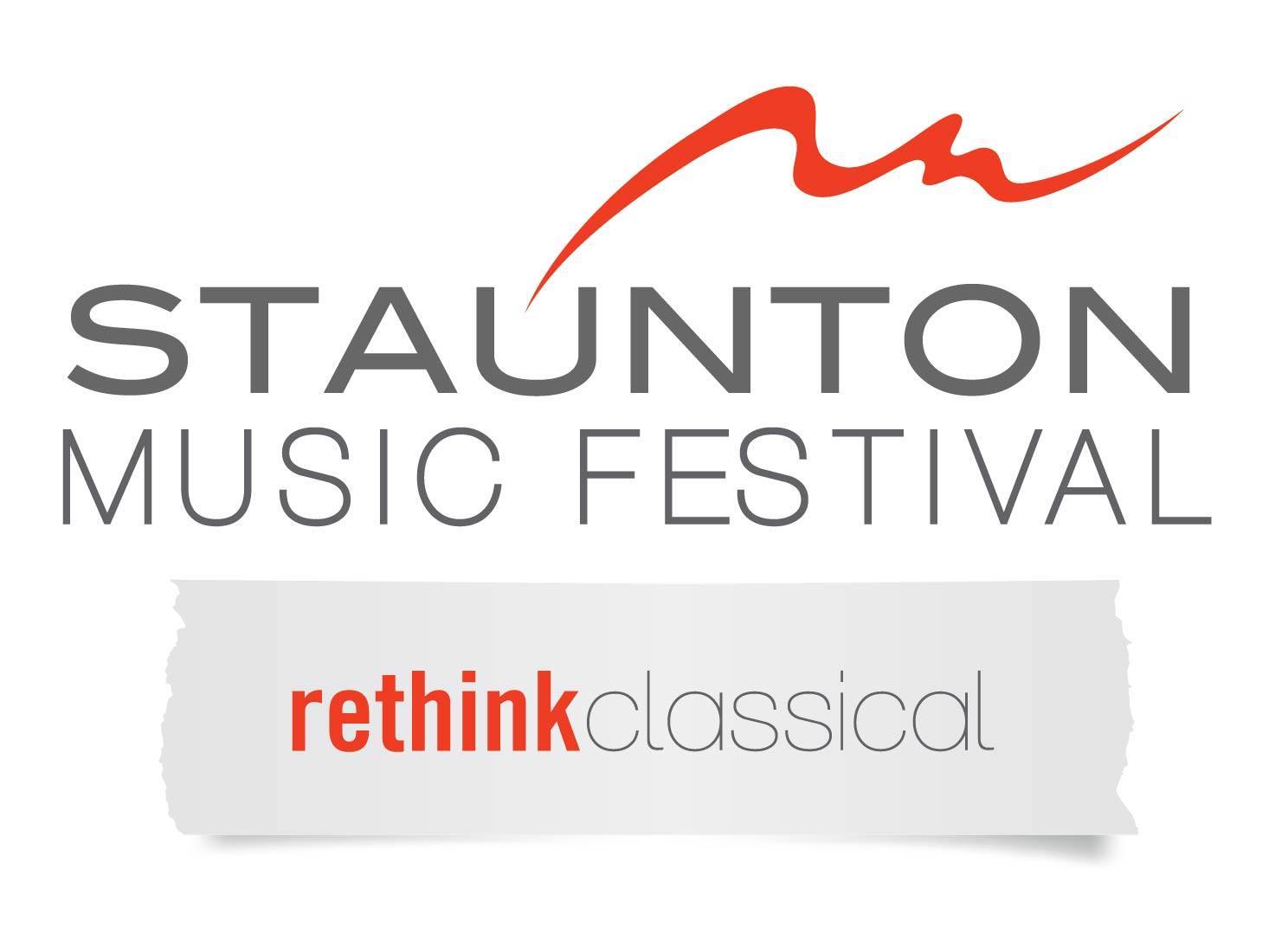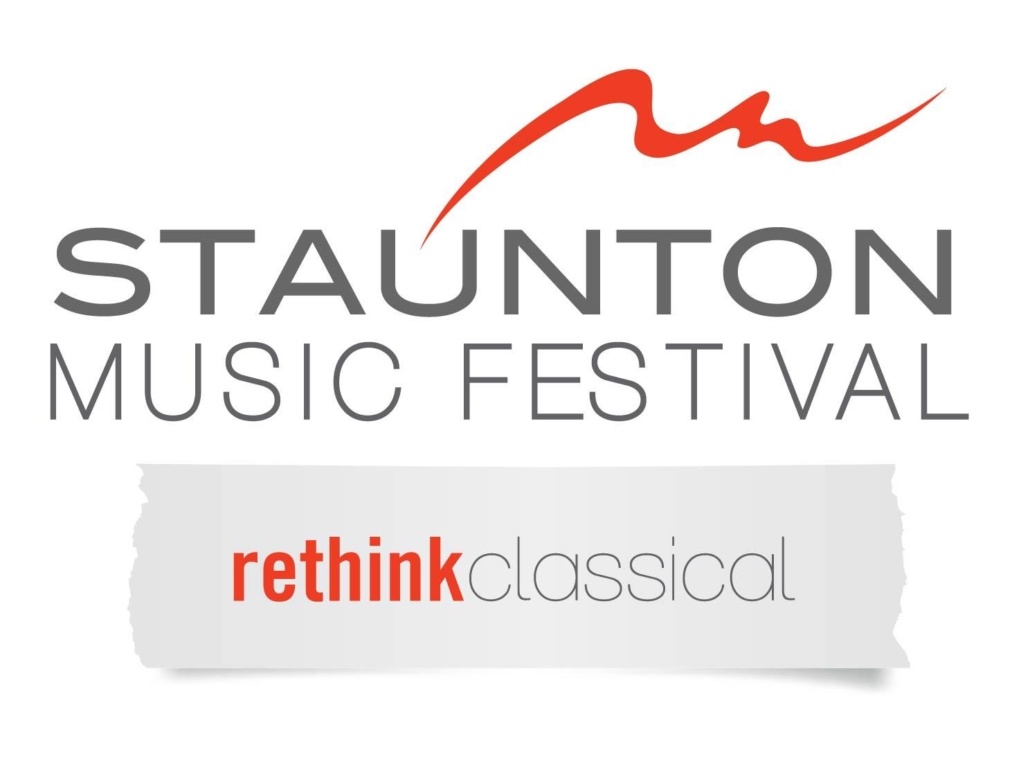 When: August 11-20, 2023
Where: Staunton, VA
Genre: Classical / Chamber
http://www.stauntonmusicfestival.org
"This year's program will bring together over 100 incredible works of music performed by 80 world-class artists. Highlights include a staged presentation of Handel's masterpiece, Theodora; world premieres by composers-in-residence; Bach's St Matthew Passion on period instruments; music by everyone from Hildegard to John Hilliard and from Beethoven's Eroica Symphony to Bernstein's West Side Story.
With 30+ concerts over 10 days, there is something for every music lover to enjoy. We invite to you to join us and RETHINK CLASSICAL!"
---
25) Devils Backbone Hoopla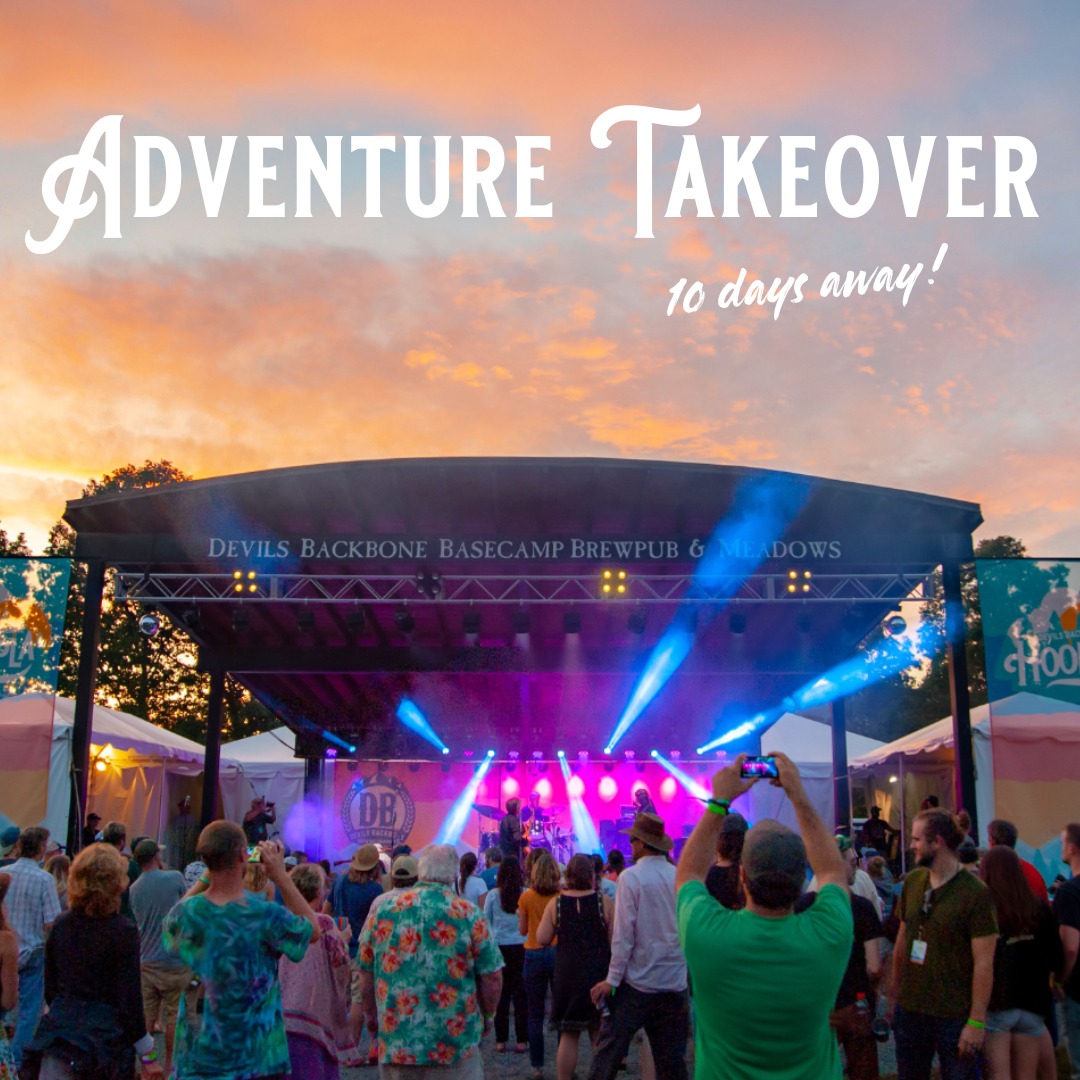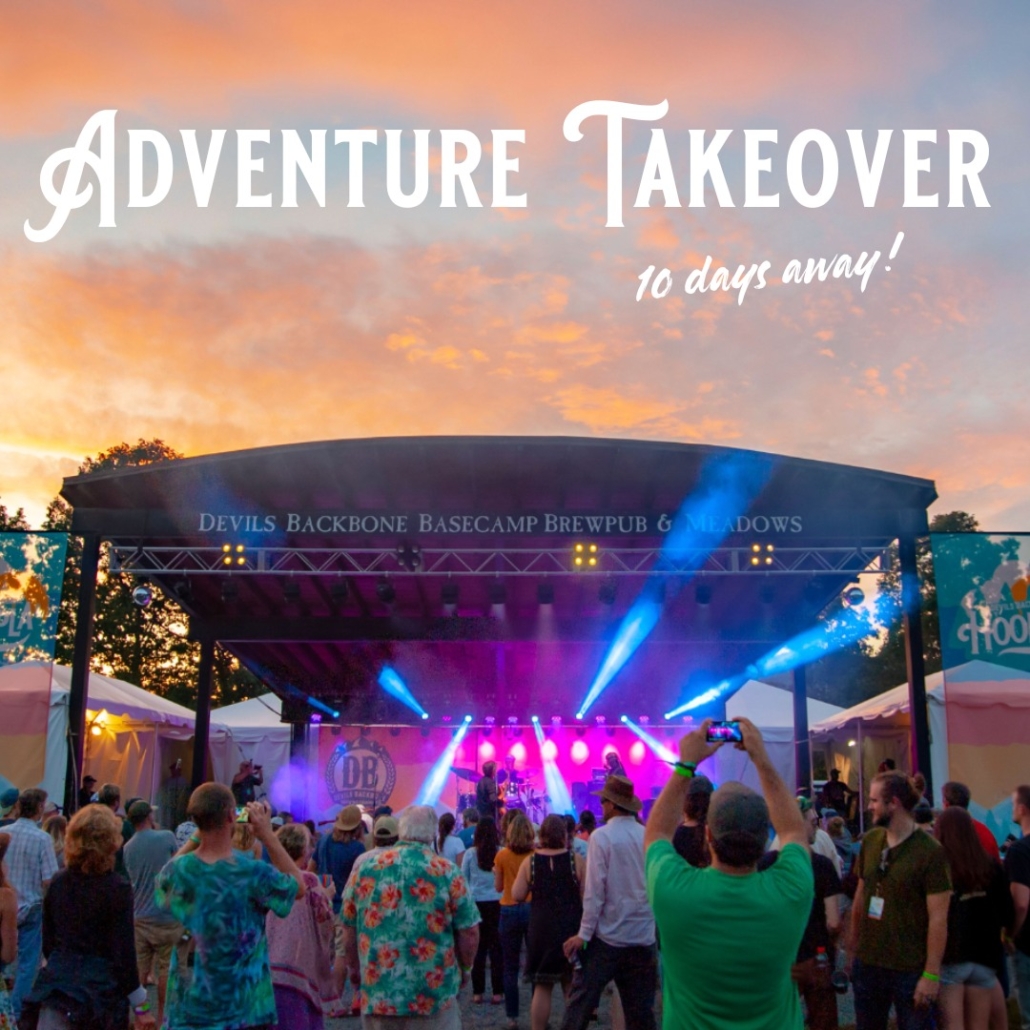 When: October 2023
Where: Roseland,Virginia
https://www.facebook.com/DevilsBackboneHoopla/
https://www.dbbrewingcompany.com/
Devils Backbone Hoopla is a festival that will bring folks together to craft an adventure at Basecamp Brewpub & Meadows (200 Mosbys Run).
Devils Backbone Hoopla attendees can camp out, enjoy workshops and outdoor activities alongside an incredible lineup of live music, award-winning craft beer and great eats. Tucked away in the valley of Nelson County on 100 acres surrounded by Blue Ridge Mountains, Basecamp Brewpub & Meadows provides a picturesque backdrop for the four-day event.
Organized by the Devil's Backbone brewing company, this is a family-friendly gathering that's guaranteed to be a highlight of your Fall fun!
---
Virginia Music Festivals Possibly Returning in 2023
A lot of festivals have struggled some hard times, but I wanted to give them some recognition in case they decide to return! Here are a few that might come back.
Houstonfest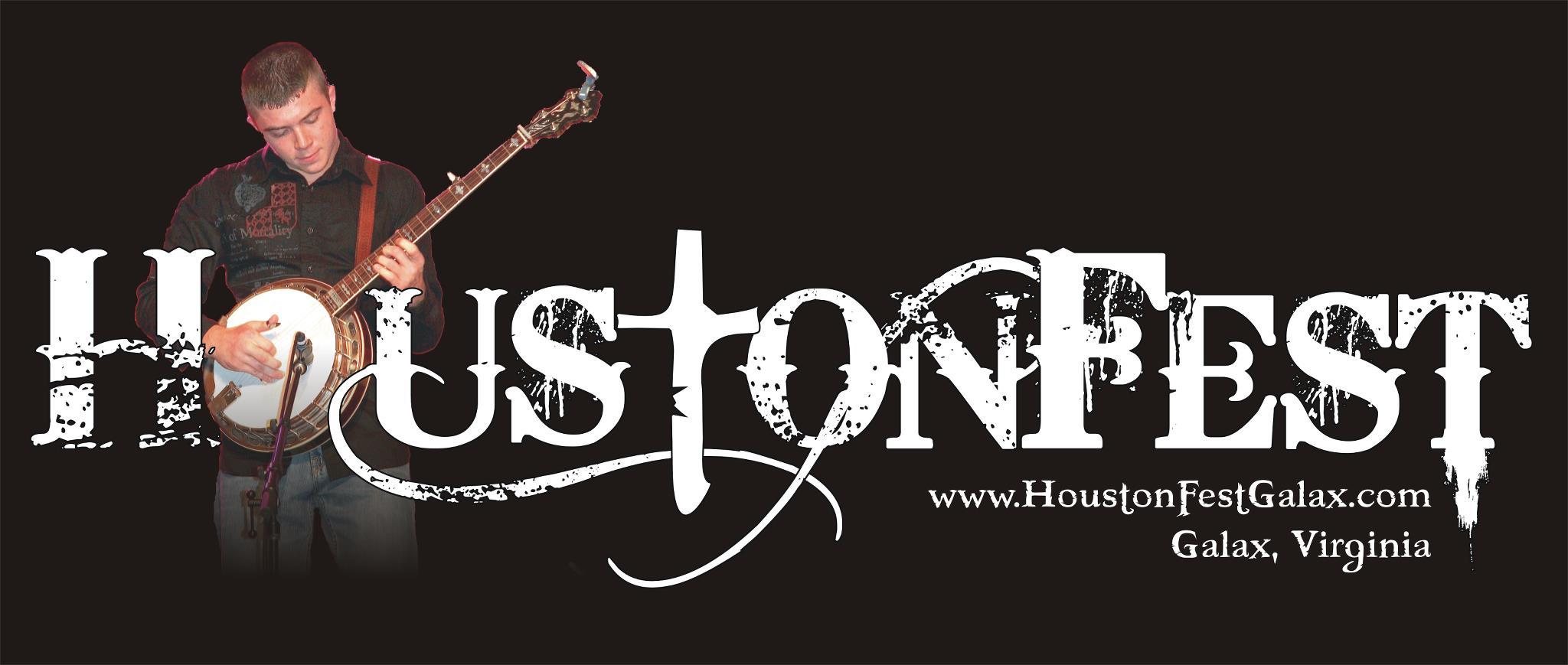 When: June 2022
Where: Galax, VA
Genre: Bluegrass
http://www.houstonfestgalax.com
"Houstonfest was created in memory of Houston Caldwell, who passed away on April 30, 2010. He was only 18 years old, but his musical legacy, passion for the continued growth of our musical heritage, and his spirit of community service will live on as we continue to fulfill his vision. Join us as we use the power of music and community service to transform lives as well as provide inspiration and avenues for regional youth to pursue their artistic endeavors preserving the musical heritage of this region."
---
Pasture Palooza Music & Arts Festival
When: September 2022
Where: Berryville, VA
Genre: Various
"Pasture Palooza Music & Arts Festival is an annual weekend festival and campout held in beautiful Berryville, Virginia. What started as an outrageous party has turned into Virginia's premier grassroots festival. Come out for a weekend of live music, camping, eating, and good times. The main focus of our efforts is to make sure each and every visitor has a wonderful and unforgettable experience. We promise you'll have the time of your life!"
---
Mountains of Music Homecoming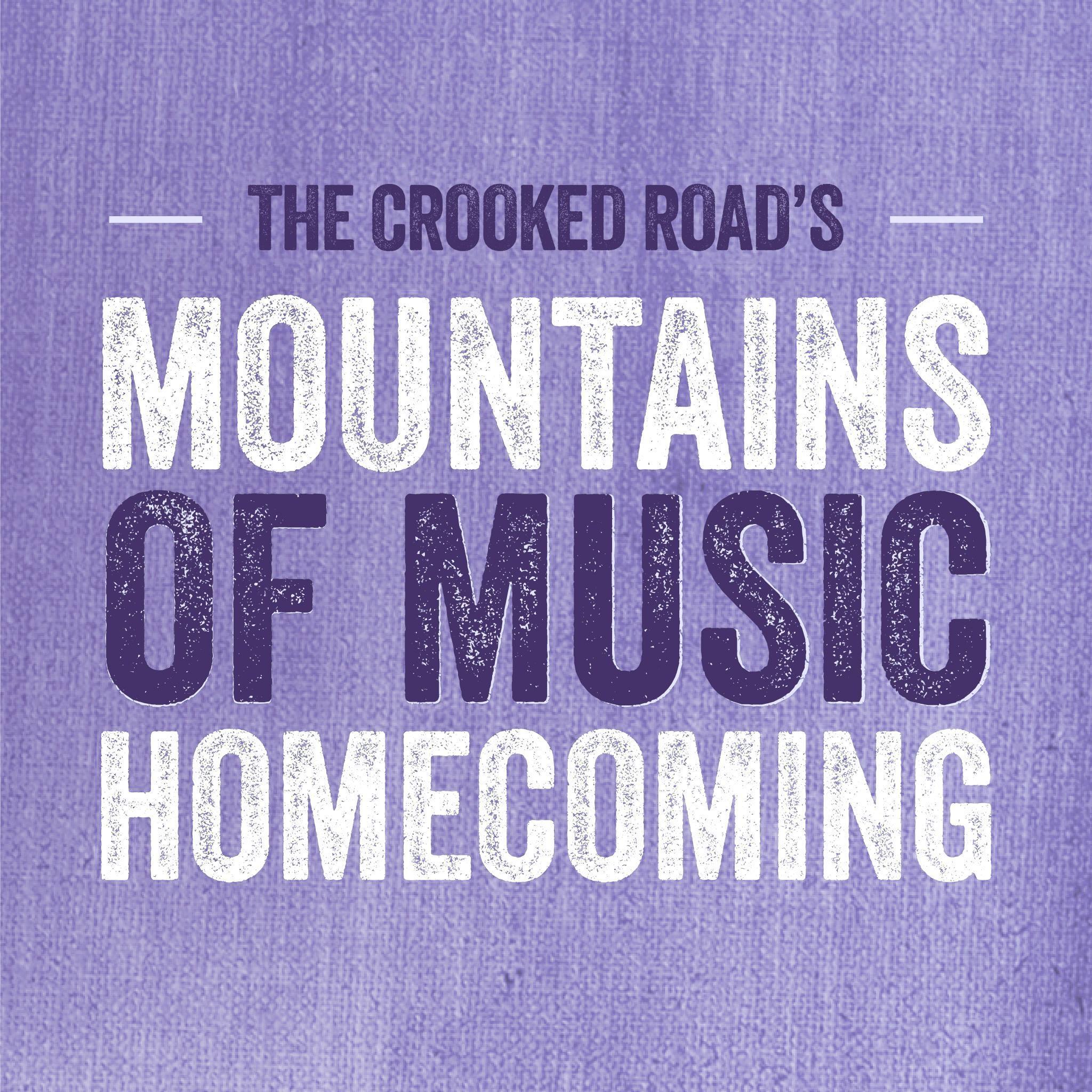 When: June 2022 (Dates TBA)
Where: Abingdon, VA
Genre: Old Time / Bluegrass / Gospel
"The Crooked Road is a celebrated year-round destination for traditional music lovers. Make plans to follow the music and join us for the fourth annual Mountains of Music Homecoming along the Crooked Road. Concerts celebrating old-time, bluegrass, gospel, traditional singing and dance, and many other styles will be presented in over 40 different communities where this musical heritage lives and breathes.
Come for the evening concerts and stay for a wide variety of cultural experiences, including community meals, gallery exhibits, history walks, artisan demonstrations, outdoor adventures, scenic drives, workshops, educational opportunities and much more."
---
Am I Missing Any Awesome Virginia Music Festivals…?
Wow! Virginia is quite an amazing state that is filled so many different fun-filled music festivals all summer long!  This was such a fun post to put together, but I'm sure it's possible that I missed one or two awesome festivals in Virginia!  Please, let me know if you think I need to update this article with any new upcoming events!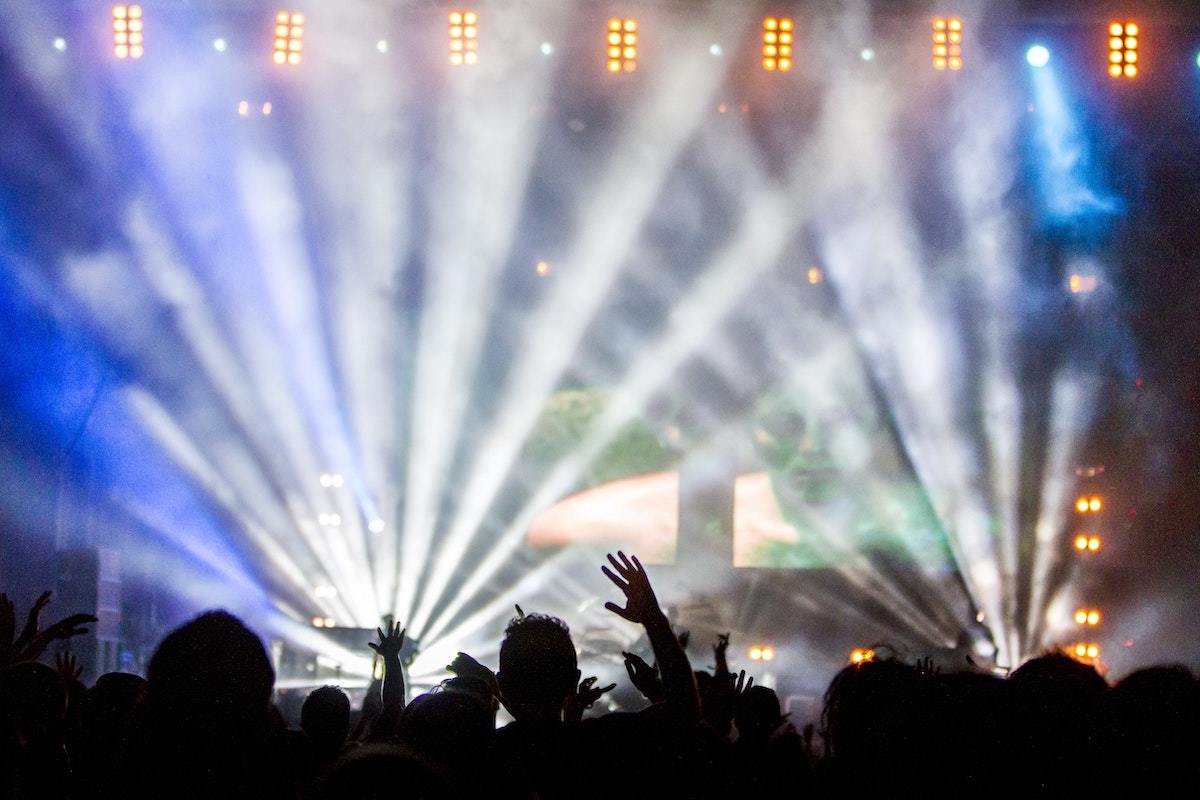 ---
Looking for more festivals in the U.S.A & Around the world…?
My website is filled with articles just like this, so check out a few of my favorite blog posts below, and start planning your next music festival adventure!  So many epic parties and festivals to choose from!!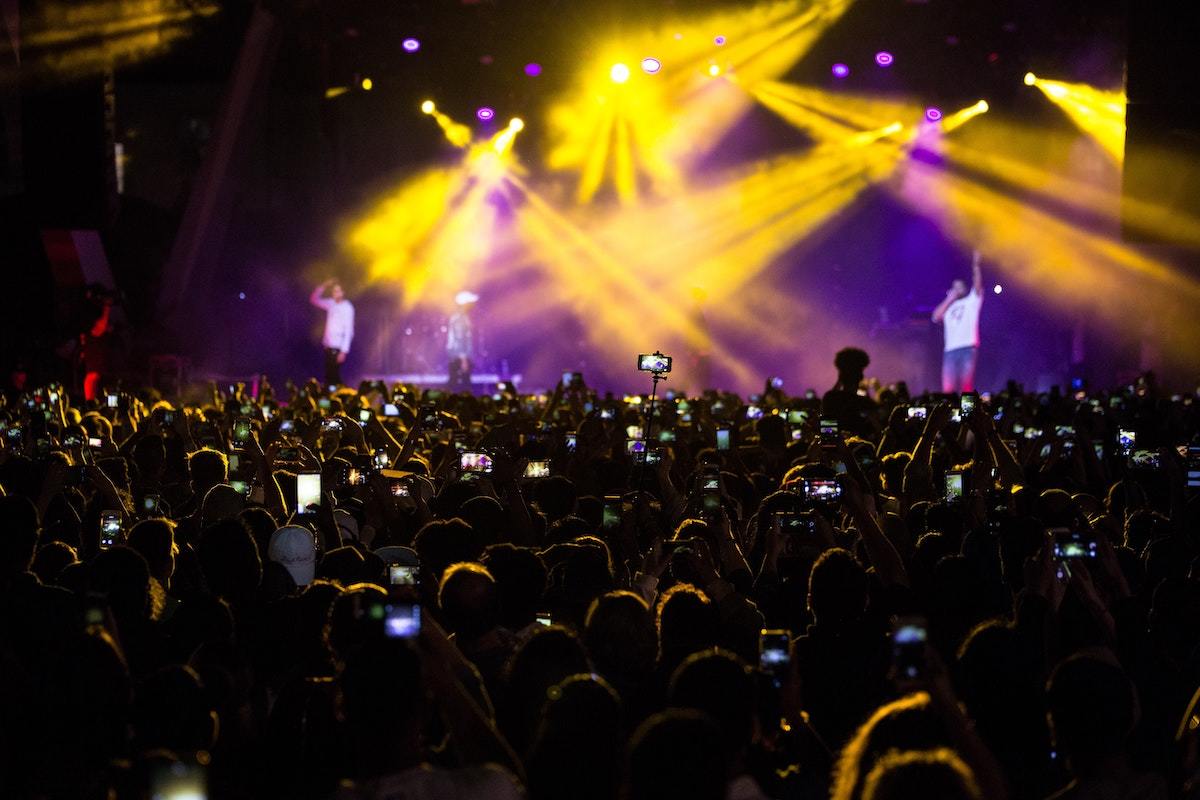 ---
Thanks for reading about these Virginia Festivals in 2019!
Share this article with your Virginia Festival squad!!