Kick scooters are great fun, excellent for developing motor skills and encouraging the kids to go outside and useful for the school run, so it's no wonder that they have been insanely popular for so long. If you happen to be on the hunt for a new kids scooter for your son or daughter and are feeling a little overwhelmed by the sheer choice on the market, you are not alone! They all look colourful and snazzy but can range in price from £25 to a few hundred! So, how do you decide which model is right? We hope our guide to buying a kids scooter that is safe and durable and will bring your youngster years of enjoyment will come in handy:
Understanding the Types of Kids Scooters:
If you are not an expert, you will quickly realise that there are, in fact, numerous types of kids scooters on the market and few suppliers use the same terminology to describe them! So, shopping for a kids scooter can get very confusing. Let's start with the basics, so you know what to look for when buying a scooter for your kid:
Street Scooters:
As the name implies, these types of scooters can be used on the street and are suited for general outdoor play and the school run. They often have big wheels and are slightly wider than stunt scooters for good balance. You can get 2-wheel scooters as well as 3- or 4-wheel versions for better stability and safety. The 2-wheel scooters are usually fastest, but even a 3-wheel model can be ridden at astonishing speed. Street scooter are the most commonly bought scooters for young children.
Stunt Scooters:
These scooters, also known as trick scooters, are designed for kids who love to do tricks and little stunts. The wheels are usually smaller to make the scooter more manoeuvrable. They also have a metal core for sturdiness and safety reasons. Visually you cannot always tell the difference as these scooters look very similar to street scooters.
Skatepark Scooters:
If your kid loves using their scooter in the skate park, you should consider buying them a skatepark scooter for some proper freestyle scootering. These scooters are lighter with cut offs at the back of the decks. They glide better and are naturally faster than street scooters.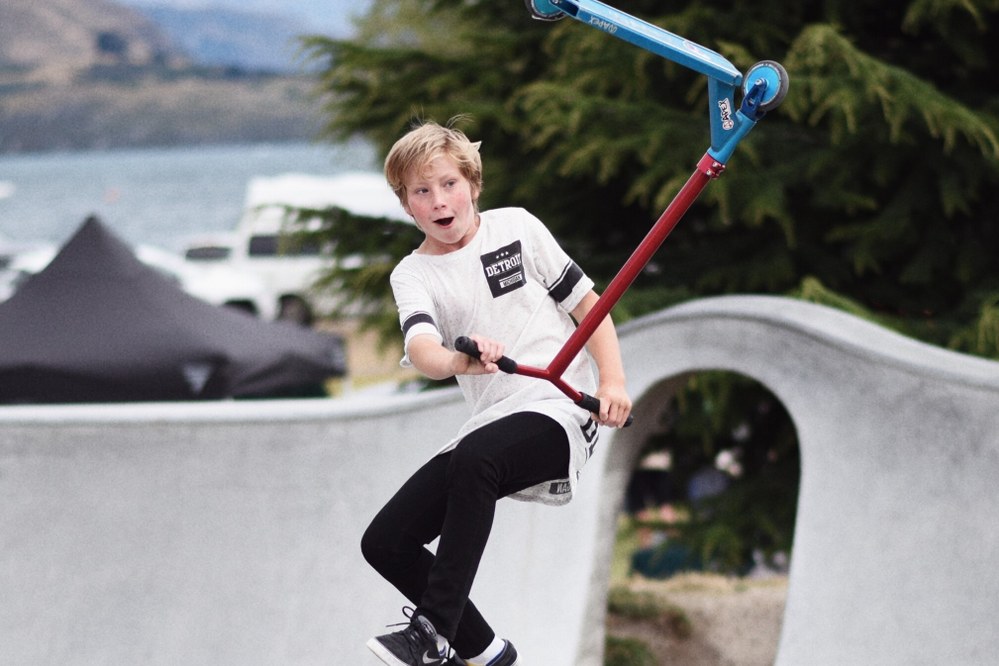 Other popular types of kids scooters include hoverboards, parent handlebar scooters, off terrain scooters, and balance bike scooters.
Things to Consider when Buying a Kids Scooter:
When shopping for a kids scooter, these are some of the things to look out for:
Size:
First, you need to get the size right. Buying a scooter that is too small or too big, will make it not only difficult to handle, but also dangerous. Look for an adjustable handle, so the scooter can grow with your child. The deck – the platform on which your child stands – should be able to accommodation your child's foot and more, so they have plenty of room to move around and balance on the scooter. Young children often put both feet on the deck, so a wide deck is preferrable if you have a toddler.
Safety:
When shopping for a kids scooter, safety should be a top priority. Buy a kids scooter suitable for your child's age range and weight. You should also look for models with safety features, such as brakes and possibly reflectors. The deck should be long and wide with an anti-slip area. Don't forget to consider the wheels: These should have a metal core and be bouncy. Also, depending on your child's age and balancing skills, you might want to consider buying a 3-wheel or 4-wheel scooter before moving on to a 2-wheel model when they are older and more skilled.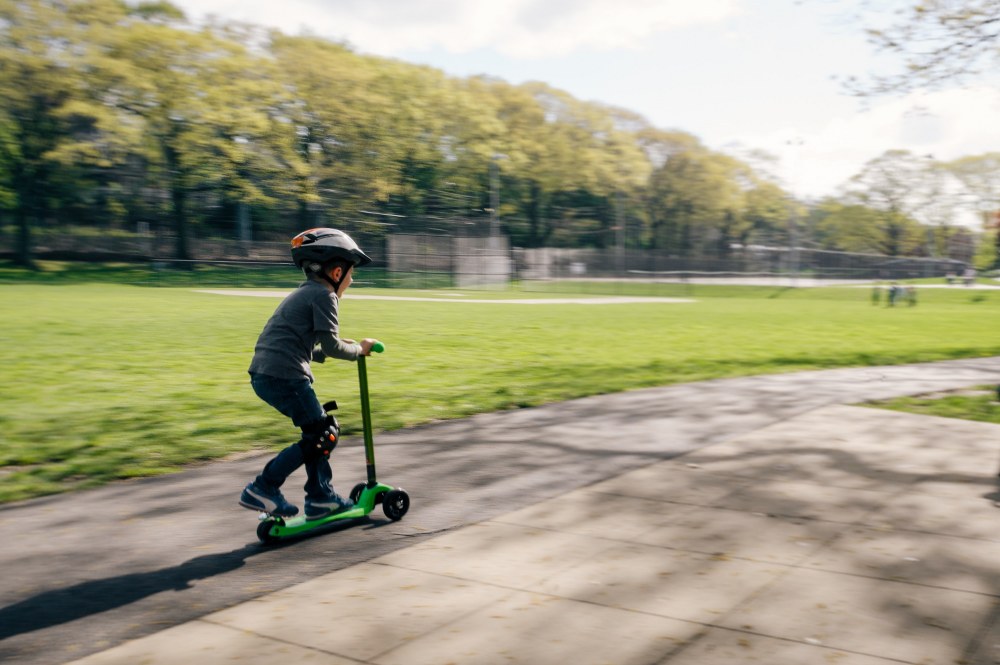 Durability:
If your scooter is going to get a lot of use and you want it to last a good few years, make sure the scooter looks stable and well-made. It should have a sturdy frame and reliable brakes. Don't be put off by weight as heavier scooters are usually stronger – a necessity if you purchase a stunt scooter, for example. Bear in mind that the wheel parts are likely to be the first to break, so check that the materials of tyre and bearings are of superior quality. Only buy a scooter with plastic wheels if have a toddler.
Use:
Will your child ride the scooter near their home or on their way to school? Or are they already pretty skilled and starting to do tricks? Do you need a foldable model to take on a city trip (to stop the kids from moaning about aching feet), or on one of our holidays for single parents? Always buy a model that suits your youngster's age and skill level and is suited to the activity or environment in which it is used: If your child rides their scooter mostly on the street, you can go for a street scooter with standard wheels. If they might ride on more bumpy terrain, however, you should look for an off-terrain model with large, air filled tyres.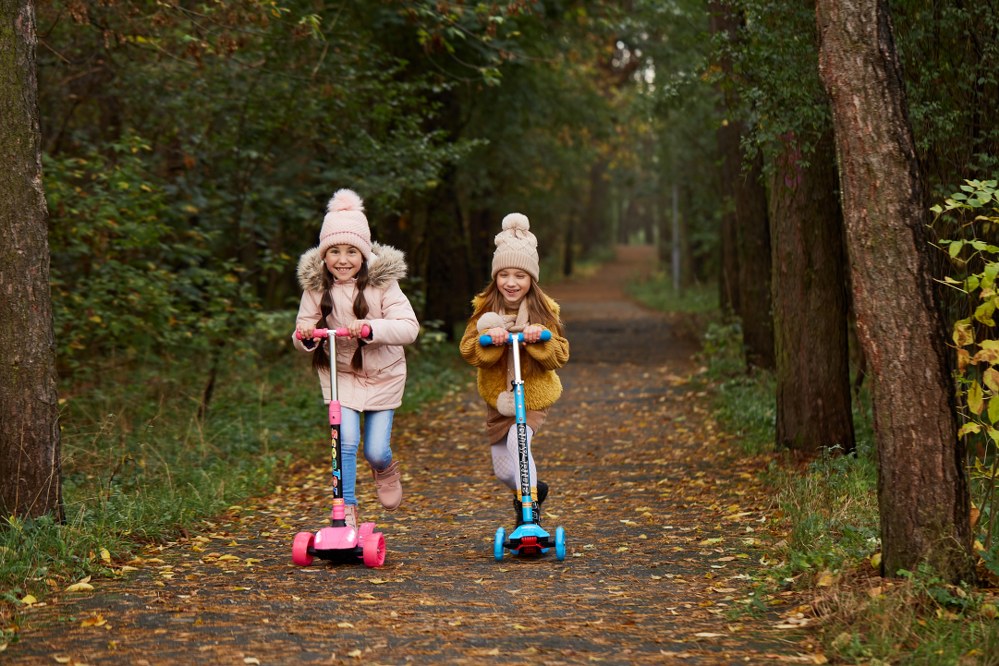 Budget:
For many single parents, an important consideration with any purchase is budget. Branded items often have better quality components and features, but you might not need them all. If your child is old enough, discuss what's important to them and to you and don't dismiss the cheaper counterparts outright. They might have the exact model you are looking for.
Conclusion
Knowing what to look for when buying a kids scooter can save you time and money, and we hope our buying guide was comprehensive enough to achieve that. Enjoy your shopping trip and don't forget the safety gear – a helmet is a must.
About the author:
Single Parents on Holiday is a niche tour operator offering single parent group holidays in the UK and abroad. For our single parent empty nester and any solo skiers we also provide a range of singles ski holidays exclusively for adults.