How to spend one day in Cortona, Italy? Is a day trip to Cortona possible? And is a day in Cortona worth it?
As cheesy as this sounds, and we may get an eye roll or two, Cortona, Italy, has been part of our list of destinations after watching Under the Tuscan Sun (many times). Some of you may relate. And if you've never watched the movie or read the book, add it to your to-do list.
We hadn't planned to go to Cortona during our three days in Tuscany, but we chatted about the possibility of driving there. During our third Tuscan morning, we decided to take a day trip to Cortona, Italy, and see what this much-raved-about Italian town had in store.
Cortona is located in the province of Arezzo in Tuscany, one of Italy's oldest towns. It's one of those picturesque hilltop towns in Tuscany (aren't they all?) and one of the few that has survived through the centuries without losing its charm.
We spent most of our one day in Cortona in the old town. The heart of town is filled with one-of-a-kind boutiques, art galleries, and cafes. The old town has winding cobblestone streets, surrounded by ancient walls and plenty of beautiful churches to keep you busy. It's one of those places where one can easily get lost as time passes by.
The town also has stupendous views from the walls, and on a clear day, you can see all the way to Lake Trasimeno, one of the biggest lakes in the Umbria region.
This post may contain affiliate links, which means we'll receive a commission if you purchase through our links, at no extra cost to you. Please read full disclosure for more information. We appreciate your support!
Cortona has a lot to offer. One day in Cortona is just enough to taste the town's charm. We spent a lovely day exploring Cortona, one of Italy's most beautiful towns and fell in love.
The province of Arezzo in Tuscany needs to be explored further. We will have to plan a separate trip.
This article will explore how to spend one day in Cortona, Italy, and the things to do in Cortona while you're there. And how to take a day trip to Cortona from Tuscany and other cities.
Day Trip to Cortona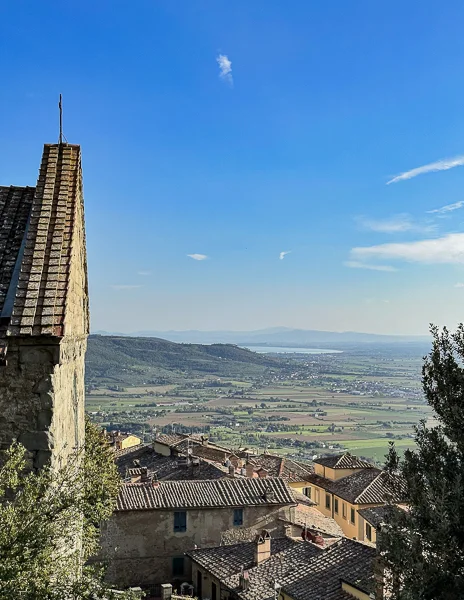 How to get to Cortona, Italy?
When planning your day trip to Cortona, consider what transportation you'll need.
Reaching Cortona is not Florence, Rome, or Bologna, where you can easily hop off the train, and you're in the middle of town. So it may take a bit of effort, but it's worth it.
Option 1: Rent a Car
Driving in Italy is not for everyone. But if you are up for it and feel comfortable driving, renting a car is one of the best ways to get there. With a car, you can explore the countryside, take the scenic route, and make stops along the way. It is also the most direct way to get there.
We already had a car rental during this portion of our Italy trip.
Find a car on rentalcars.com.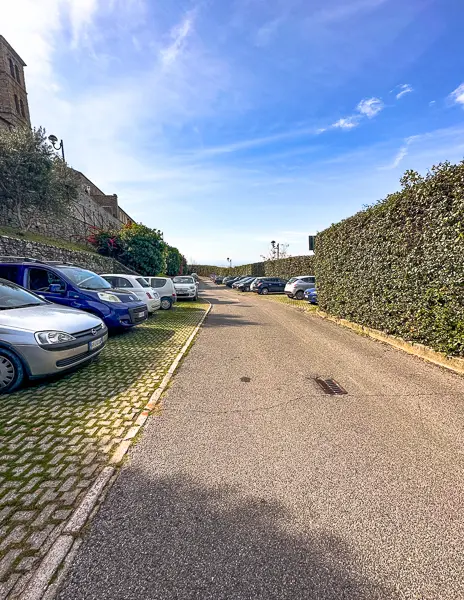 Where to park in Cortona, Italy? There are number of small parking lots around the walls of Cortona, but we parked Parcheggio Pubblico that left us right outside the entrance of Piazza Mazzini that leads to the center of town. Also just minutes from where we had lunch.

Parcheggio Pubblico: 52044 Cortona, Province of Arezzo, Italy (Google Map It)
Option 2: Take the Train & Bus
You can take the train and bus to Cortona. The closest train stations to Cortona are Terontola Stazione and Camucia Stazione. From there, you can take a bus or taxi to Cortona. You can also take a 30-minute walk from Camucia Stazione to Cortona but be aware that you will be going uphill.
Examples:
Day trip from Arezzo to Camucia Stazione is a 19 min train ride one-way. Camucia to Cortona is a 10 min bus ride or 4 min taxi ride.
Day trip from Florence to Camucia Stazione is a 1 hr 22 min train ride one-way. Camucia to Cortona is a 10 min bus ride or 4 min taxi ride.
Day trip from Perugia to Camucia Stazione is a 1 hr 10 min train ride one-way. Camucia to Cortona is a 10 min bus ride or 4 min taxi ride.
Book your tickets in advance. Click here for train schedules and info; if a bus transfer option is available, it will come up.
Option 3: Book a day trip that includes Cortona or hire a private driver.
Tour Ideas
From Rome: Cortona & Arezzo Full-Day Small-Group Tour [book here]
Private Tour from Florence to Cortona & Arezzo [book here]
Assisi and Cortona Day Trip from Florence [book here]
One Day in Cortona, Italy
Whether planning one day in Cortona or two days or more, these highlights in Cortona will help you explore this wonderful city. However, the more time you spend in a location, the more you can appreciate its culture, history, and food.
How long to spend in Cortona?
Cortona is one of those places where you can easily spend a day exploring at a leisurely pace. You don't have to rush from one attraction, church, or to another supposedly must-see spot.
But you can also extend your time here if you wish. We recommend one day to enjoy the town and one day to explore the nearby countryside of Tuscany.
Is Cortona walkable?
Yes. The old town of Cortona is easily walkable. Wandering its charming streets, admiring the views, eating gelato, and going in and out of boutiques are enough to keep one busy during one day in Cortona.
Just keep in mind that if you want to explore further into the old city, there is some uphill to be done.
Tour Ideas:
Cortona Private Walking Tour [book here]
Easy Guided E-bike Tour Around Cortona [book here]
Dining Experience at a local's Home in Cortona [book here]
Things to Do in Cortona
Explore the Cobblestone Streets of Cortona's Old Town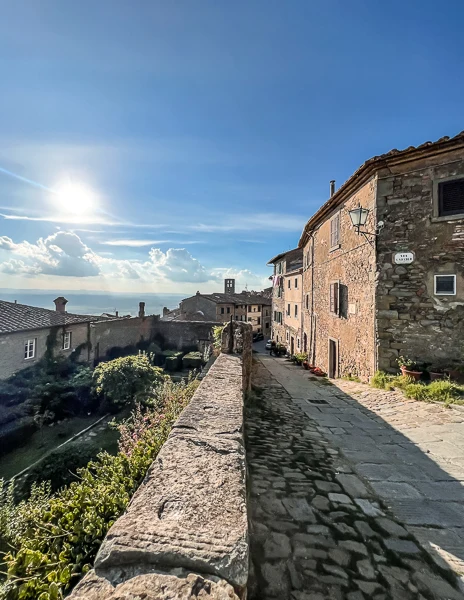 The old town of Cortona is one of the most charming places. You can easily get lost in its narrow streets and admire the city's unique architecture, stone homes, and charming shops.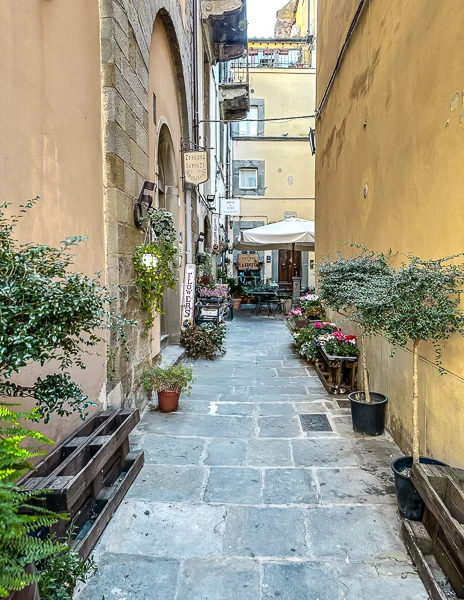 We eventually lost ourselves amongst Cortona's meandering residential streets delighting in new sights as every turn revealed something unexpected. The Nonnas were outside the front of their homes, chatting amongst each other, smiling in return as we passed them.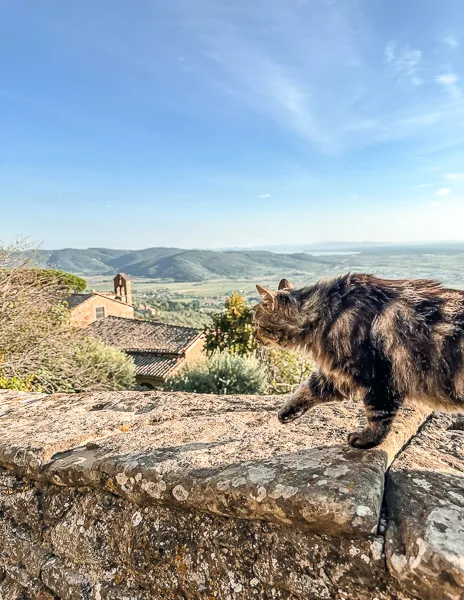 There were many cats in these parts, lounging in the sun or seeking attention. We soon realized all these cats congregated close to Convento di San Francesco, where a surviving object that belonged to St. Francis of Assisi is currently homed.
St. Francis of Assisi is the patron saint of animals.
Admire Piazza della Repubblica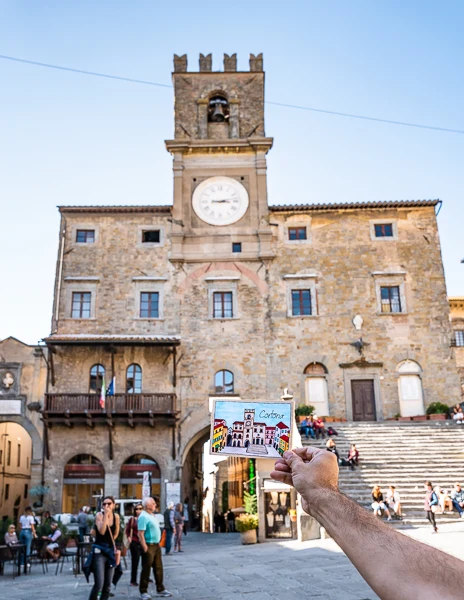 During your walk, you won't miss Piazza della Repubblica. It is the main square of Cortona, and you will not miss it as you explore the old town. Here you can admire its enchanting city hall Palazzo Comunale di Cortona with its clock tower, as you ascend its grand steps to get a better view.
This piazza is a great spot to grab a cafe or find a seat to take in the atmosphere of one of the most beautiful cities in Italy.
As you're standing in the middle of this piazza and looking around, remember that it has been part of Cortona since Etruscan times. Way before Jesus was born.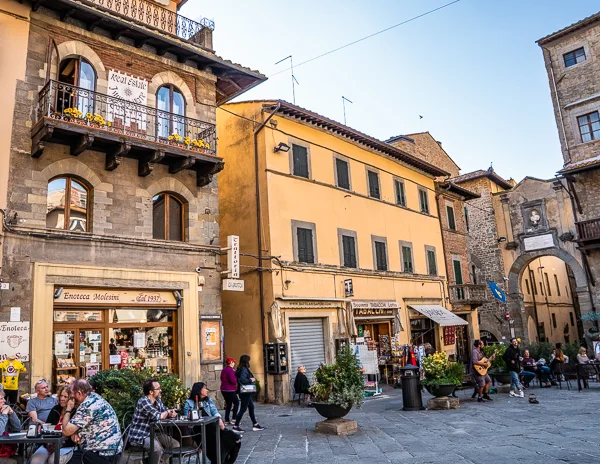 From the Piazza, you'll have to choose which narrow street to take, one of the many that will eventually lead you to a beautiful view, or one of the many attractions you should see in Cortona.
In case you're wondering, in Under the Tuscan Sun, in this piazza it is where Diane Lane's character is shopping in the outdoor market, ends up buying grapes, and she sees the blonde lady holding the duck.
One Day in Florence, Italy
Are you planning a day in Florence, Italy? We have compiled three itinerary options for a day in Florence that can easily turn into three days. See how to spend a wonderful day in the city of Renaissance.
Visit Piazza Signorelli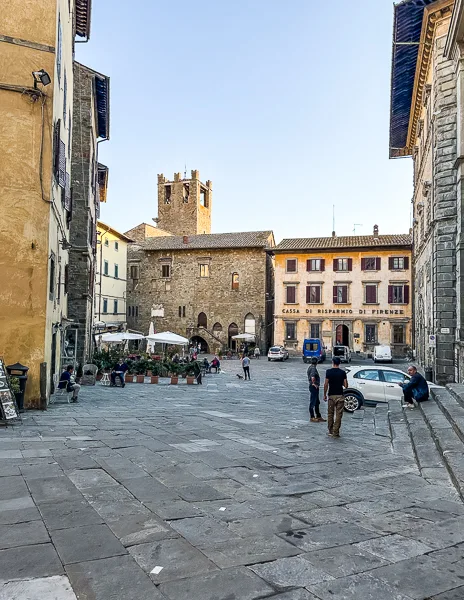 Piazza's are one the best parts of Italian cities. And Piazza Signorelli, a small beautiful piazza in Cortona, is one you'll come across as you explore Cortona. It's right around the corner from Piazza della Republica.
We mention it because we had walked through it a couple of times, and only on the second round did we realize that it's where the infamous fountain scene from Under the Tuscan Sun took place. However, the fountain was a prop built specifically to film that scene.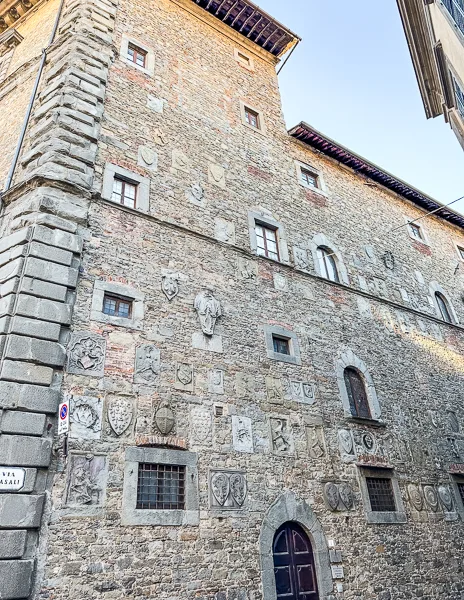 While that is fun and interesting, Piazza Signorelli's history is much older and richer than that one moment in the movie. The piazza once served as the headquarters of the Florentines that controlled the city.
Named after one of its most famous residents, Luca Signorelli (1445-1523) was one of the Renaissance's greatest painters. He is most known for the frescoes painted in the Apocalypse and the Last Judgment in the Cathedral of Orvieto.
In Piazza Signorelli, the structures that surround it are the Signorelli Theatre, the Municipal Palace, and the Casali Palace.
Shop Along the Via Nazionale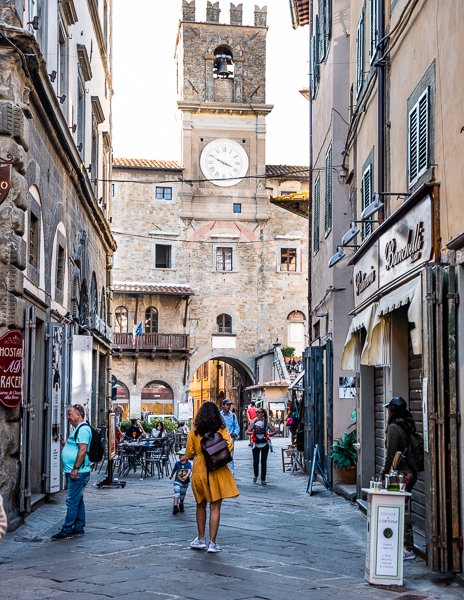 The one street in Cortona that you should be sure to explore is Via Nazionale. You may think the stores are simply for tourists, but some treasures can be found.
The specialty food stores here are one of the best things to explore. We stopped in Mafuga Shop to taste their award-winning olive oil, which we ended up purchasing 2 bottles of along with some truffle butter. The shop attendant was so nice and personable; she even helped make us dinner reservations at her favorite restaurant in town.
We also stopped by a leather shop where we purchased a belt and a beautiful leather backpack.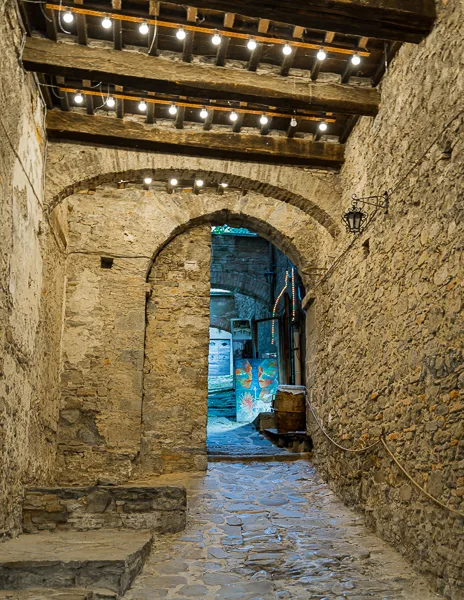 As you explore, you will also find artists' galleries and shops of one-of-a-kind pieces created by their talented hands.
Eat Gelato at Dolce Vita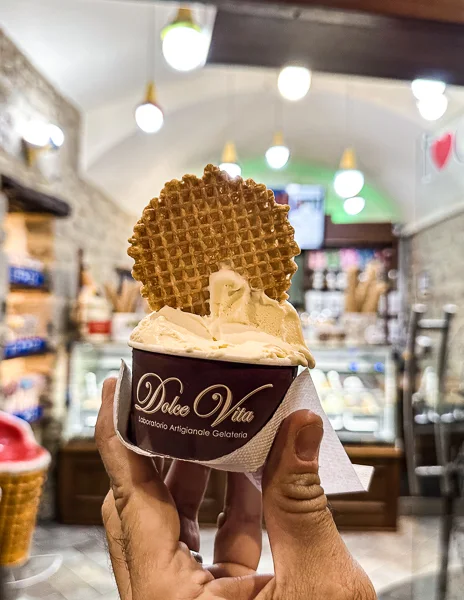 We were told at the olive oil shop that we had to try the artisanal gelato at Dolce Vita as they had fresh olive oil gelato from their brand. Of course, we couldn't miss out on that.
You may not find olive oil gelato year-round as the flavors change with the season. However, the gelato at Dolce Vita was one of the best we've had.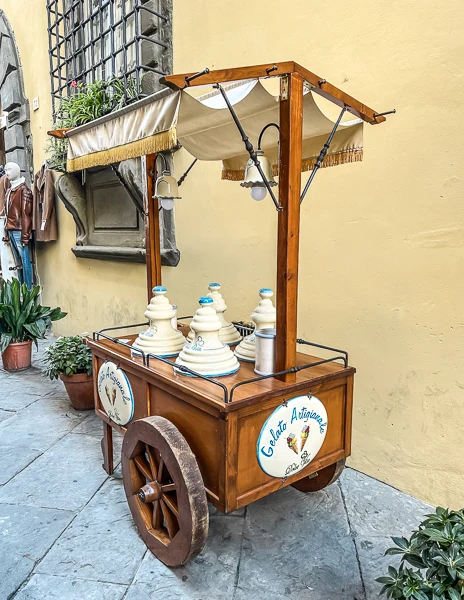 Treat yourself to one of their delicious flavors. After all, one day in Cortona (or any Italian city) can't be as fun without a scoop or two of gelato.
Convento di San Francesco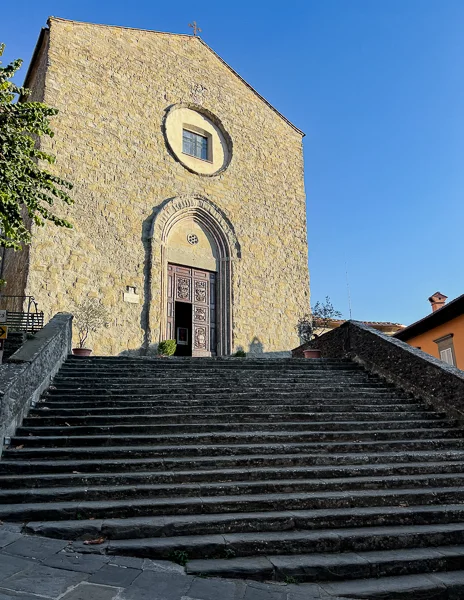 As mentioned earlier, we stumbled upon Convento di San Francesco during our one day in Cortona.
It was one of the smaller churches and an interesting one as it had a couple of belongings of St. Francis of Assisi's: the tunic he wore during his death and the cushion his head laid on during the funeral.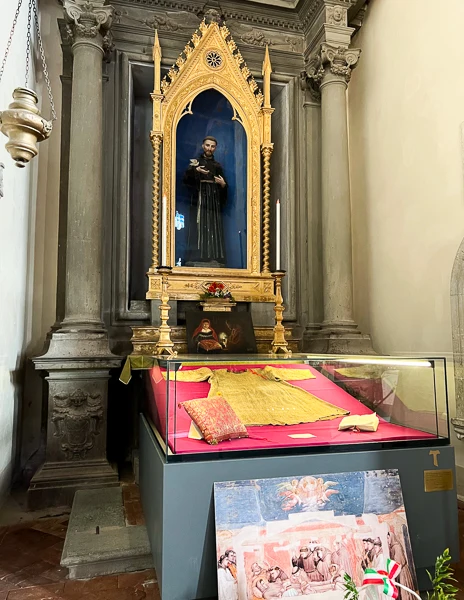 St. Francis of Assisi is the patron saint of animals, so we found it even more interesting that there are many cats around the area where this church is.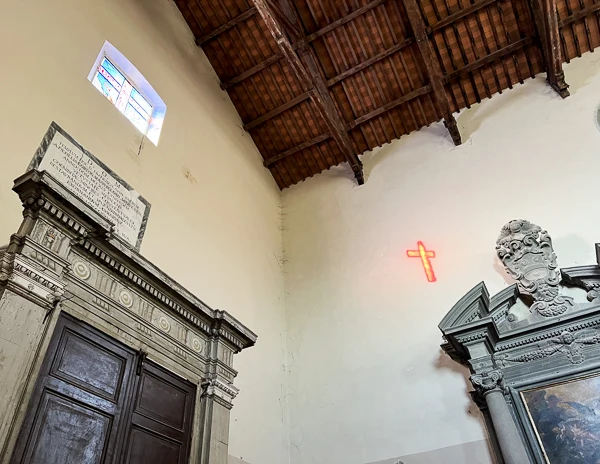 If you enter the church during the afternoon, when the sun is hitting the stain-glass window, the rays filtering in mark a red cross on the wall.
Optional: Duomo di Cortona
The small churches in Cortona are remarkable and have a distinct charm that should not be understated, but if you have time left in your one day in Cortona, visit Duomo di Cortona across the Diocesan Museum.
It's located in Piazza Duomo, a beautiful square with restaurants and cafes, the Duomo di Cortona, also known as Cathedral de Santa Maria de Assunta, is one of the oldest churches in Tuscany.
The Duomo's location goes as far back as the 11th century when it was a Roman temple before it was destroyed and built over it. Since then, it has undergone multiple restorations, and one of the most recent ones was in the 18th century.
One can admire multiple works of art inside the Duomo, such as "Adoration of the Shepherds" by Pietro da Cortona.
Visit The MAEC – Museum of the Etruscan Academy
If museums are your thing, add the Etruscan Museum to the list of things to do in Cortona. The MAEC is one of Tuscany's most important Etruscan museums, showcasing many archaeological artifacts.
Inside the museum, you'll find a vast collection of Etruscan and Roman artifacts, historical exhibits, and art pieces. It's a large museum with four floors to be explored.
Is it worth visiting Cortona, Italy?
Absolutely! Cortona is one of Italy's most beautiful mountain towns with history and preserved architecture that dates back to the Etruscan period. Its picturesque setting and vibrant culture make it one of the most interesting places to explore.
Is Cortona a good base for Tuscany?
Yes, Cortona is one of the most popular bases for exploring Tuscany. It's centrally located within one hour of other popular cities like Siena, Arezzo, and Perugia. Additionally, its convenient location makes it an ideal place for one day trips to nearby towns like Montepulciano and Chiusi.
– Find and Book Accommodations in Cortona –
Where to Eat in Cortona
Cortona, Italy, is full of fabulous restaurants, two of which we enjoyed during our one day in Cortona. Now for lunch, you won't have a hard time finding a place to eat. However, for dinner, we highly recommend reservations ahead of time.
We thankfully had a local from one of the shops insist that we try one of her favorite places to eat in Cortona. She called and begged in Italian to find seats for us. Had we shown up, they probably would have turned us away.
Trattoria Dardano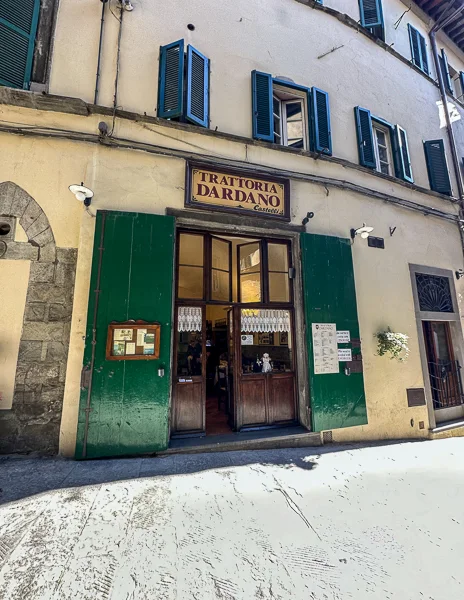 Trattoria Dardano is family owned Tuscan trattoria located in the heart of old town. We landed here for lunch and were kindly seated inside the cozy establishment next to other locals.
It's always a good sign when you are amongst locals. So much so that you fall in love with the sight of the dishes brought out to them that you order the same.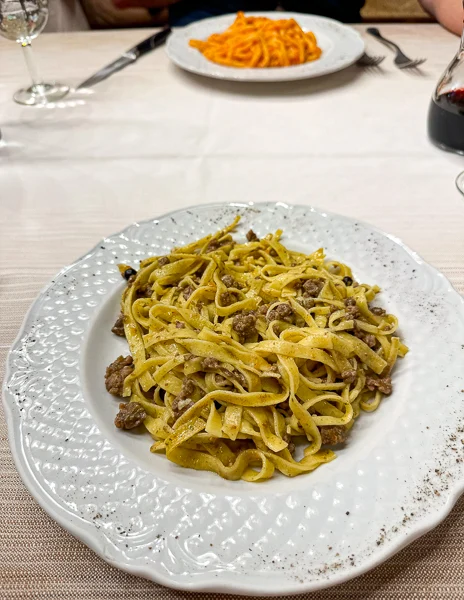 We ordered Pappardelle al Cinghale (wild boar) and Pici all'anatra (a duck ragu), which were both fantastic. The pasta was fresh with a nice bite to it, and the flavors of each dish were savory, hearty, and comforting. It fulfilled the hearts in our stomachs.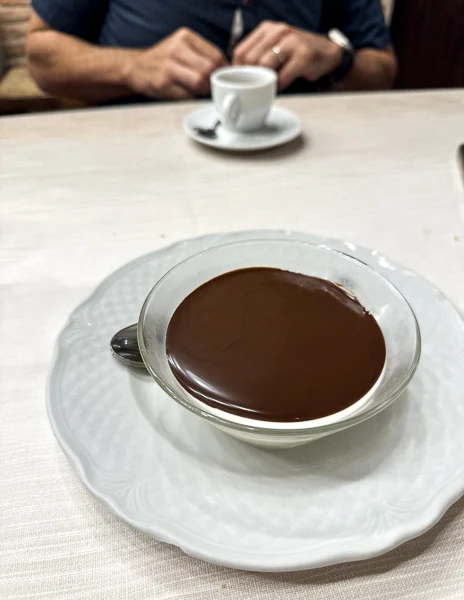 For dessert, we shared budino al cioccolato which is like a panna cotta with nutella. At first, we weren't sure about it because we normally do not like panna cotta here in the states, yet Italy is completely different. It's creamy and lush, yet light. And you can taste the sweetness from the milk they used, and the Nutella just added to it. Suffice it to say; we polished it off.
What also surprised us was how cheap our lunch was, less than 30 euros, including a glass of wine. Delicious food, fair pricing, and wonderful service make for a fantastic combination.
Trattoria Dardano | Via Dardano, 24, 52044 Cortona AR | Google Map It
Osteria Le Rughe di Cortona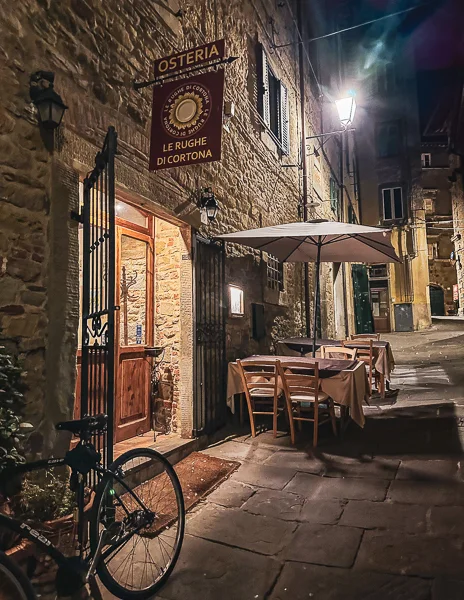 For dinner, we ended up at Osteria Le Rughe di Cortona. This restaurant came highly recommended by a local with whom we purchased olive oil and had a fantastic conversation. She was so excited to share one of her favorite places with us that she called and begged them to seat us, even if it was early.
Osteria Le Rughe di Cortona is a small osteria situated down one of those sidestreets you probably would not have noticed walking around on your own.
The women at the shop kept going about their crostata Toscana, technically crostini Neri or black crostini, crusty bread with a chicken liver pate. She said it was the best around.
We didn't order it because, as many crostini Neri's as we've tried, we can't get past that odd liver aftertaste. But we share her enthusiasm, so you can go ahead and perhaps order it.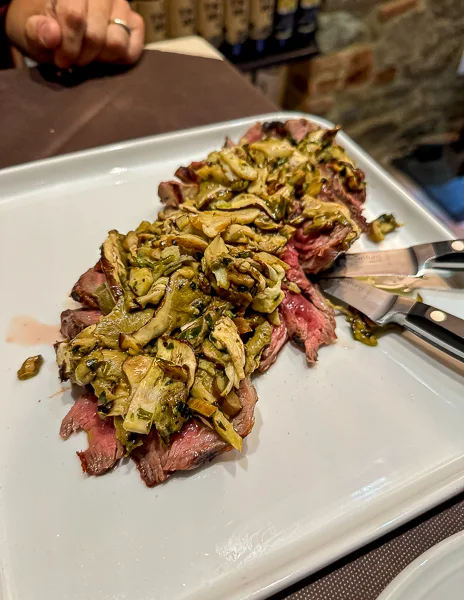 We did have a fantastic meal here, ordering their special for the night: a steak with porcini mushrooms (which were in season) with a side of rapini. It was one of the best pieces of meat we had throughout our trip, cooked perfectly rare, tender, and seasoned well.
Those porcini mushrooms are always a delight. We don't get to have rapini often, and we truly enjoyed it as a side.
Always ask what the specials are. It is usually what's in season.
While we were seated early, before locals ate, it was full of Italians by the time we left.
We do recommend making reservations in advance.
Osteria Le Rughe | Vicolo Mancini, 10, 52044 Cortona AR | Google Map It
Tip: Download The Fork app before your trip to Italy.

It is their version of Open Table and Resy. Just like it is here, you won't find all restaurants, but sometimes it does help in a pinch to get same-day reservations or farther in advance. We successfully found a couple of excellent restaurants here during our travels in Italy. 
Don't forget to share the love on Pinterest:
Don't forget to share the love on Pinterest: