London's legendary pub scene is something worth experiencing at least once. From places pouring the best craft ales to some of the country's oldest public houses, you'll find a fantastic bar to enjoy a proper pour.
Here's a well-rounded guide to the best pubs in London — from modern pubs with breezy beer gardens to century-old spots — where you can drink everything from Guinness to award-winning IPAs. There are no bad options, so look below for more!
Find Places To Stay In London
The 15 Most Amazing Pubs in London, England
Ye Olde Mitre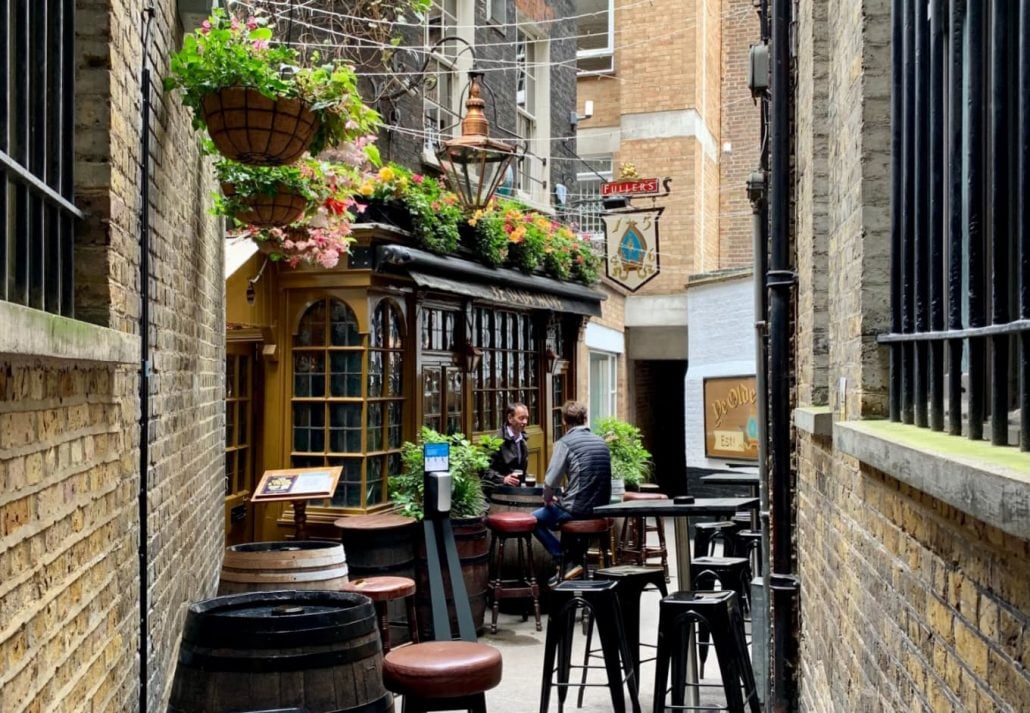 Ye Olde Mitre is a traditional pub in a tiny alleyway off Hatton Garden Ely Court, northwest London. Built in 1546 for the servants of the Bishops of Ely, the pub is famous for serving multi-award-winning beers (often considered some of the best in London) and seven real ales on tap.
You can also order pork pies, toasties, and other bar snacks to pair with your pint.
Address: 1 Ely Ct, Ely Pl, London
Ye Olde Cheshire Cheese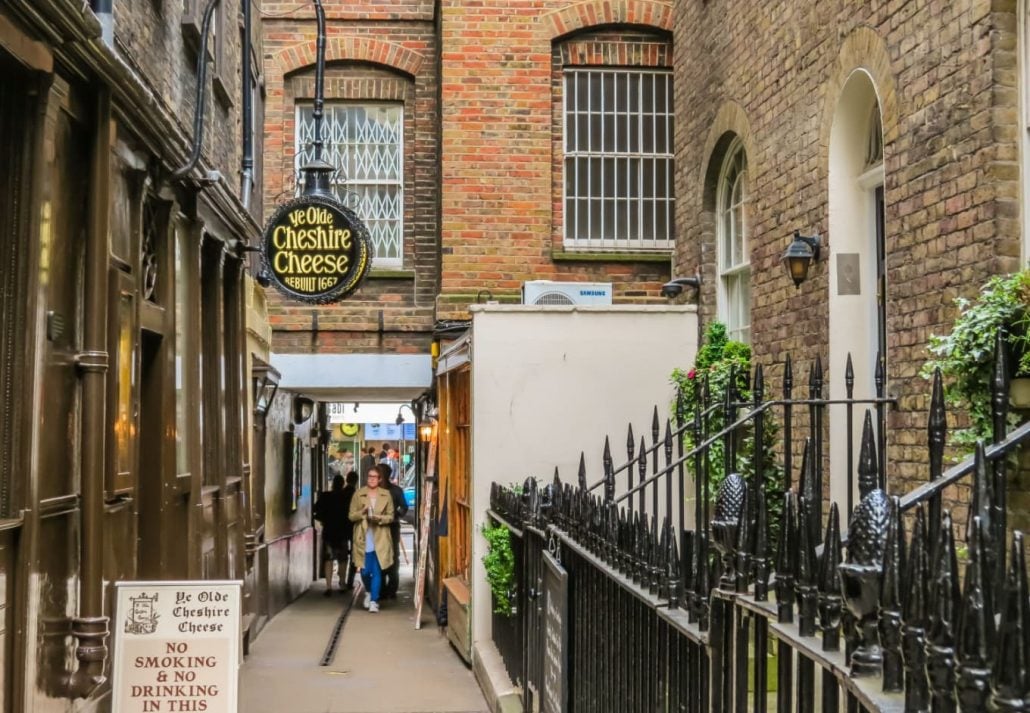 Ye Olde Cheshire Cheese is one of London's few remaining 17th Century chophouses. Located on Fleet Street in central London, this legendary pub was rebuilt in 1667 after the Great Fire of London destroyed the original. It has welcomed prominent guests like Mark Twain, W.B. Yeats, and Charles Dickens.
Nab a table at one of the pub's several rooms, and get yourself a pint (all beers here are brewed by Samuel Smith's at the Old Brewery in Yorkshire, solely from authentic natural ingredients).
There's also a selection of wines, ciders, and cocktails.
Address: 145 Fleet St, London
The French House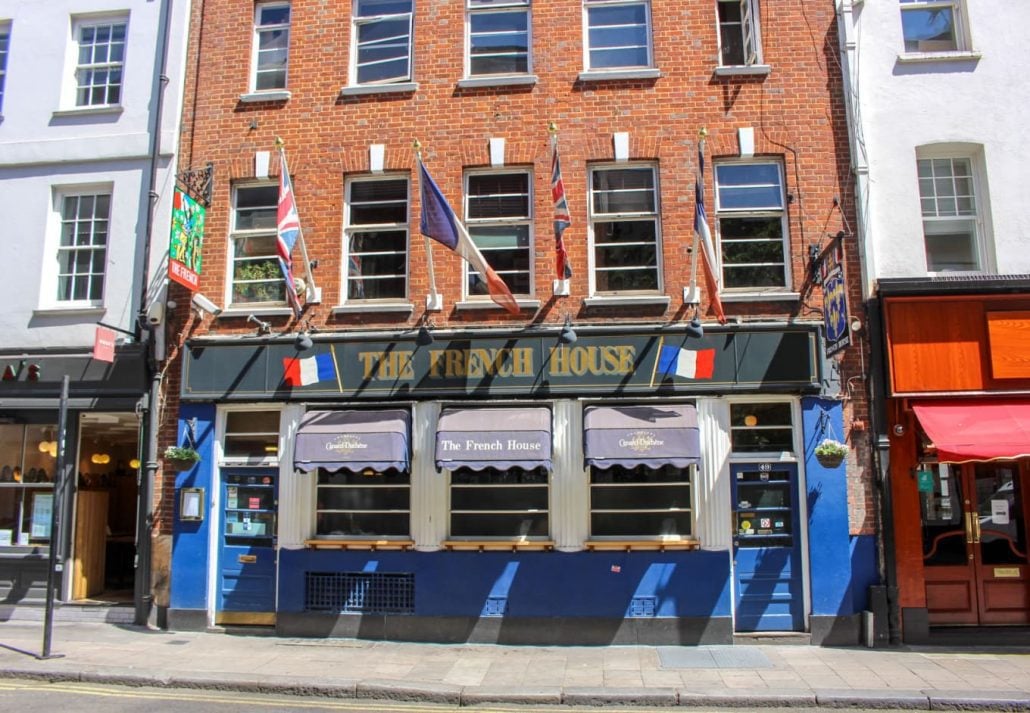 Famous among actors, writers, and artists, The French House is one of the most disputed pubs in the West End of London. Previously called the York Minster, the pub was a meeting place for the French Resistance in the English capital during the Second World War.
With its dark and atmospheric interiors, The French House is not your typical pub. It refuses to serve pints and other pub classics and focuses on 30 types of champagne, traditional French cider, and superb wines.
The French House has an ever-changing menu with creative dishes made with high-class ingredients like oysters, scallops, artichokes, and truffles.
Address: 49 Dean St, London
John Snow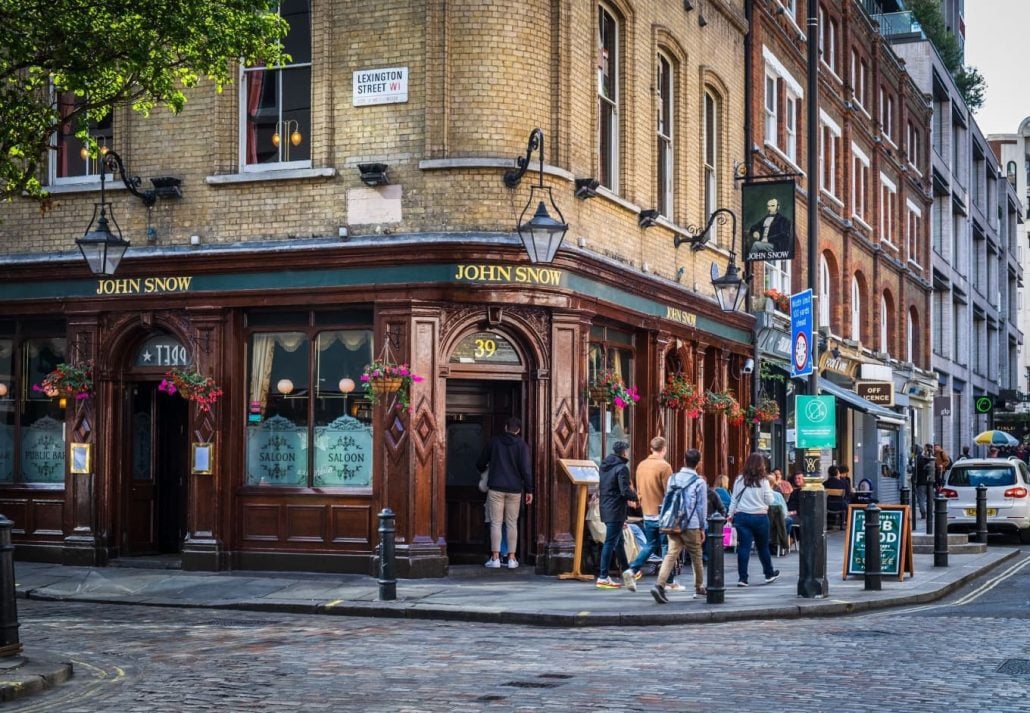 Named after Dr John Snow, the doctor who investigated London's cholera outbreak, this Victorian pub is a real gem. Its intimate interiors with mahogany partitions and dim lighting create a perfect setting for sampling Yorkshire ales and classic pub grub (liver, onions, kidney pudding, and steak pie).
Address: 39 Broadwick St, Carnaby
The Holy Tavern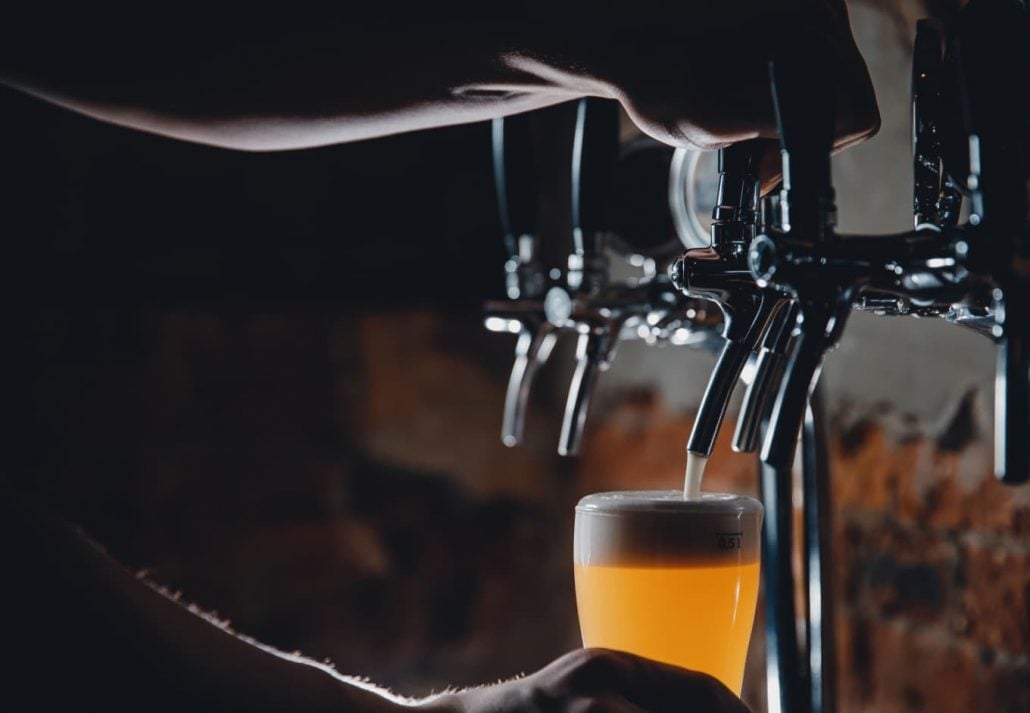 The Holy Tavern is located within the grounds of one of London's oldest hostelries -The Clerkenwell Priory. Formerly known as The Jerusalem Tavern, this fine pub preserves much of its interior wooden paneling, adding charm to the place.
Choose from 4 changing beers (these usually include: Anspach & Hobday, Southwark, and St Peter's), which can be perfectly paired with the pub's famous sausage rolls.
Address: 55 Britton St, London
The Bow Bells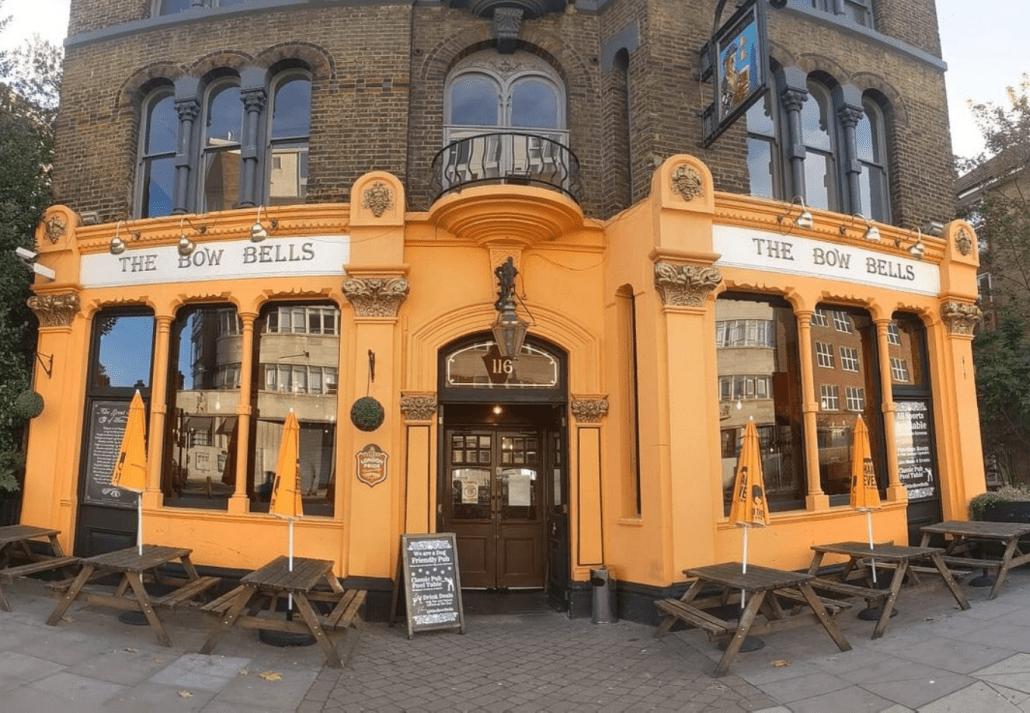 The Bow Bells is the perfect spot for an East End boozer. Set within a bright-orange building, this family-owned pub has been serving Londoners and visitors since the 1800s. Here, you'll find usual craft beers on tap and stone-baked pizza for nibbling. There's a working pool table inside, too.
Address: 116 Bow Rd, Bow, London
The Old Bank Pub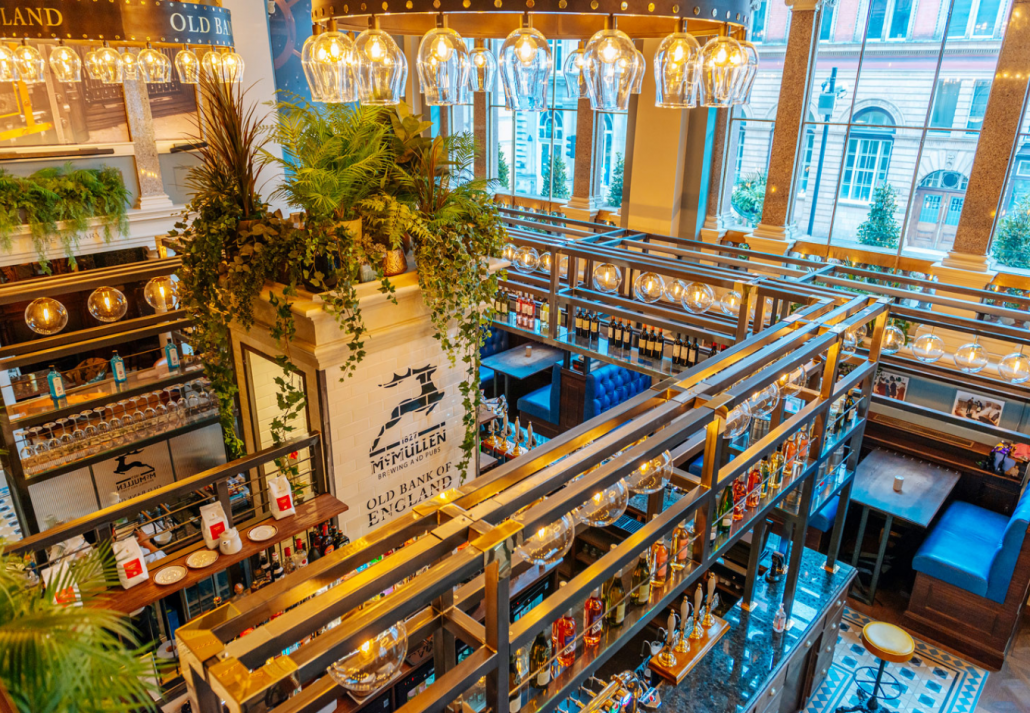 Welcome to the picturesque The Old Bank of England Pub". Housed in the old Law Courts' branch of the Bank of England, which operated from 1888 to 1975, this iconic spot serves honest pub grub and stellar Hertfordshire-brewed beers.
Curious fact: the building is sandwiched between the barber shop owned by Sweeney Todd and the pie shop owned by his mistress Mrs. Lovett.
Address: 194 Fleet St, London
The Devonshire Arms
The Devonshire has been an icon in West London since 1851. Situated in the heart of Kensington, one of the city's most elegant neighborhoods, this pub welcomes guests with its high ceilings, dreamy chandeliers, gleaming wooden floors, and exposed brickwork.
Beautifully restored, The Devonshire offers an array of tipples, including premium draught lagers, ciders, wines, and the finest artisan spirits. They also stock a unique selection of cask ales & bold craft beers, and limited-edition beers served on tap.
For eating, try The Devonshire's scrumptious Sunday roast.
Their great beer garden with tables outside makes for a handy little suntrap if it's a nice day.
Address: 37 Marloes Rd, Greater, London
The Marksman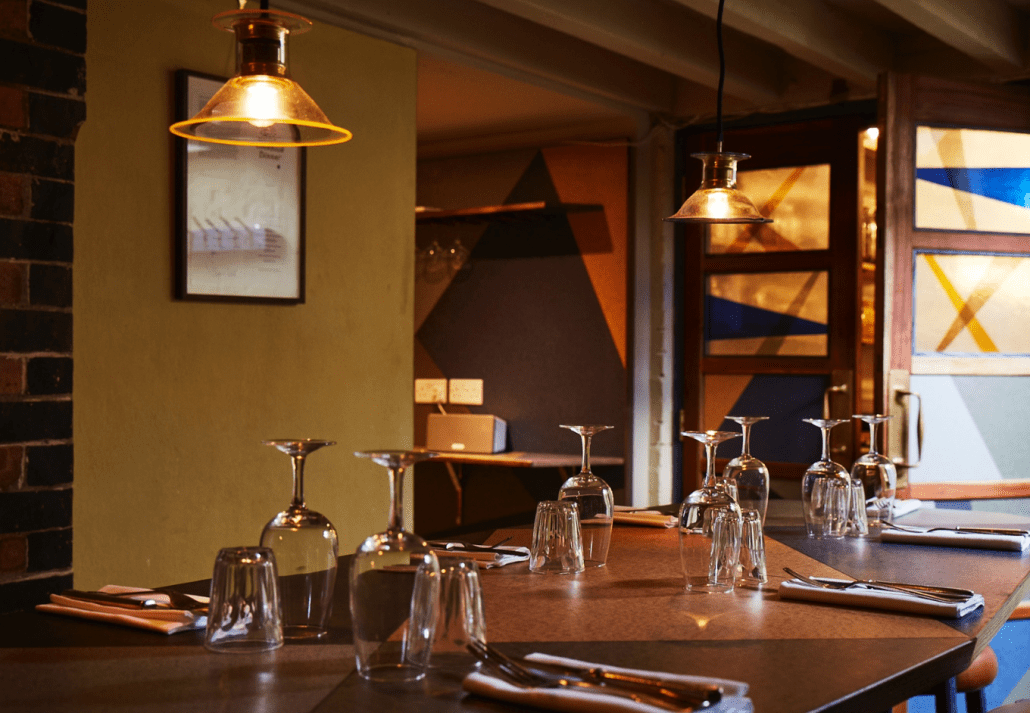 Located just a stone's throw from Hackney City Farm and Broadway Market, The Marksman was the first pub in London to be named the Michelin Pub of the Year.
Visit this stylish pub to sample high-class local beers, ales, fine wines, and artfully made cocktails (try their Negroni Sbagliato). To eat, The Marksman serves inventive dishes like Spenwood fritters with pickled Walnuts & watercress and grilled ox tongue with beetroot, cobnuts & horseradish.
Address: 254 Hackney Rd, London
Southampton Arms Ale and Cider House
The Southampton Arms Ale and Cider House is one of the finest pubs in North London. They have a unique menu showcasing açes and cider sourced exclusively from small independent breweries from the United Kingdom.
Serving comforting bar snacks like Scotch eggs and sausage rolls and featuring a cozy fireplace, Southampton Arms is the ideal spot for a drizzly day.
Address: 139 Highgate Rd, London
Prospect of Whitby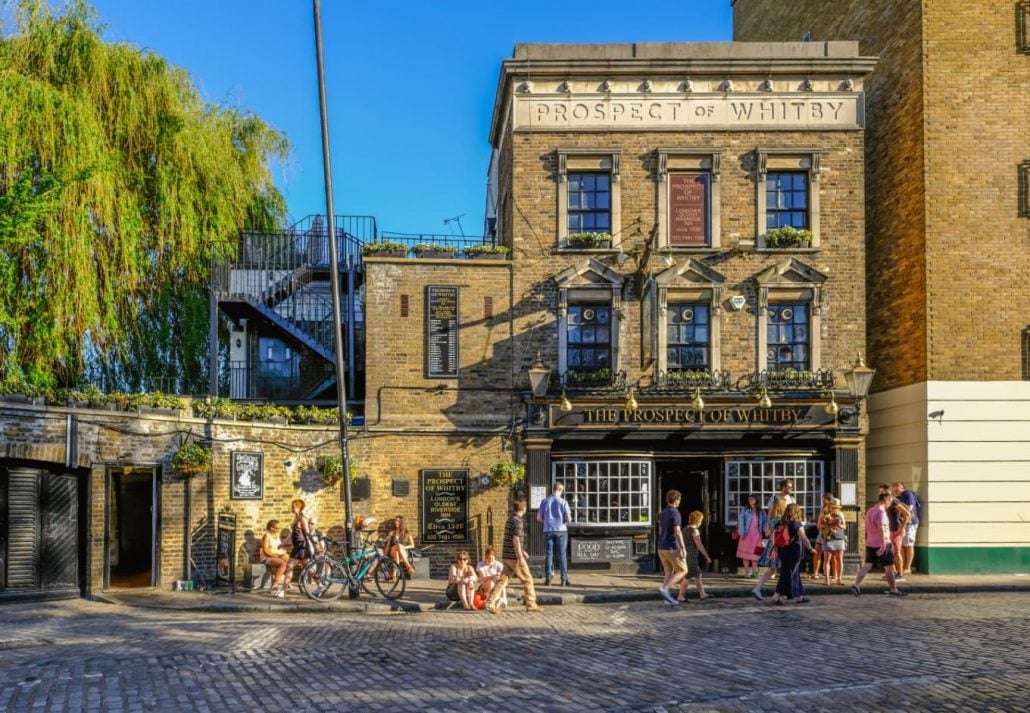 Dating back to 1520, the Prospect of Whitby is a time-worn pub between Docklands buildings. The pub, which preserves its original flagstone floor, was once a notorious meeting point for smugglers, thieves, and pirates!
Inside, guests are greeted with a picturesque ambiance (think of rickety stairs, stone-flagged floors, rum flagons, sailing ropes, and skulls-and-crossbones), an attractive main bar serving excellent cask ales, and traditional pub food.
Most areas of the pub, including the beer garden, have show-stopping views over the River Thames.
Address: 57 Wapping Wall, London
The Five Points Brewing Company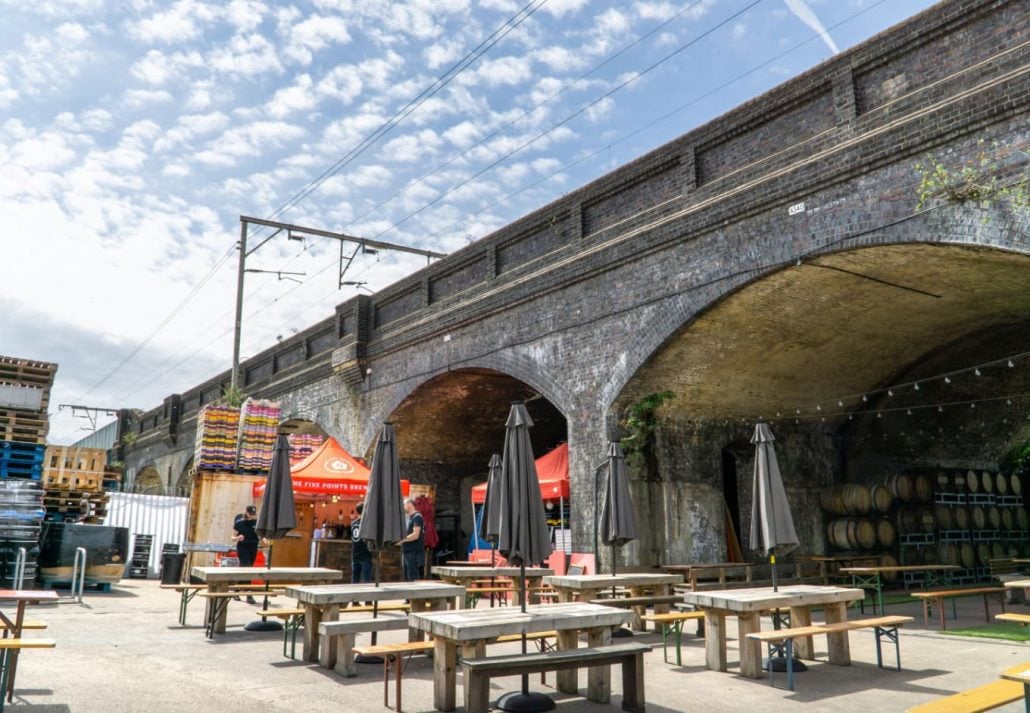 Beer lovers can't pass up the chance to visit The Five Points Brewing Company. Perched in the heart of Hackney, East London, this independent brewery is home to a pub where you can sample a range of award-winning beers that are unfiltered and unpasteurized for a finer flavor and aroma.
Feeling hungry? Then pair your choice of craft beer with Five Point's artisanal pizza, and you're good to go!
Address: 61 Mare St, London
The World's End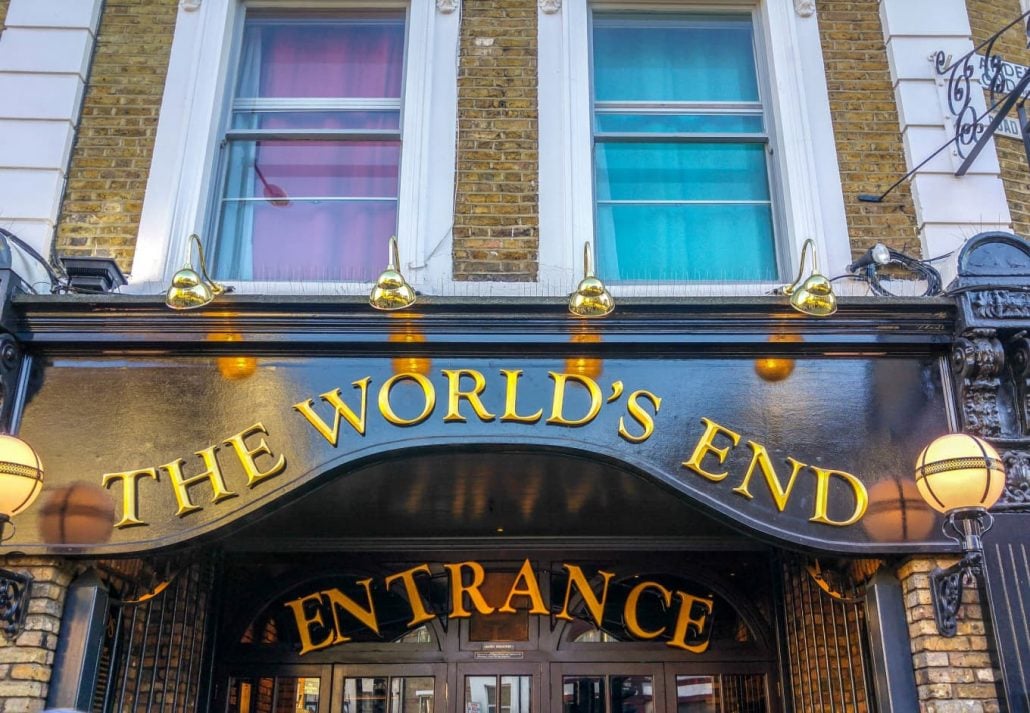 Just two minutes walk from Finsbury Park station, The World's End is an icon in the area of Camden. Visit this legendary pub to try the Staropramen Lager, delivered directly from the Czech Republic and served from a specialist tank, and feast on one of their stone-baked pizzas (Rock the Parma is a must-try).
The World's End also hosts live music concerts (mainly rock bands) and has welcomed bands like The Cranberries and Radiohead over the past years.
Address: 174 Camden High St, London
The Royal Oak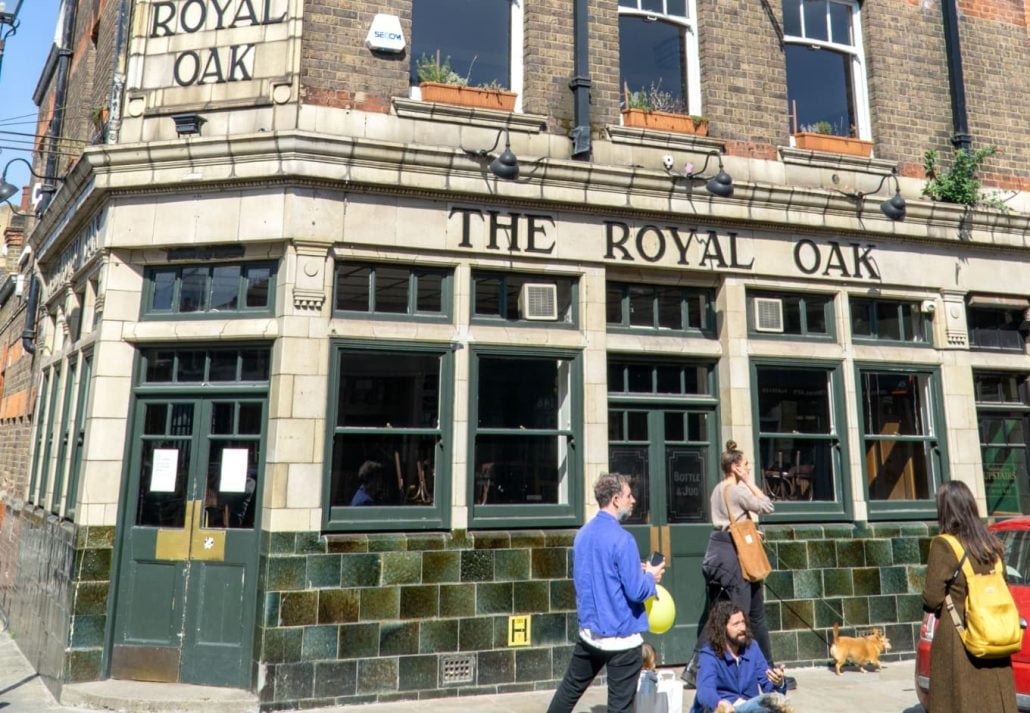 The Royal Oak is a gem located in the middle of Columbia Road's flower market. After browsing the market's colorful stalls on a Sunday afternoon, stop by this lively pub and sample one (or more) of their legendary beers.
Aside from refreshing pints, this fabulous East London boozer has an impressive menu filled with pub snacks.
Address: 73 Columbia Rd, Londo
The Market Porter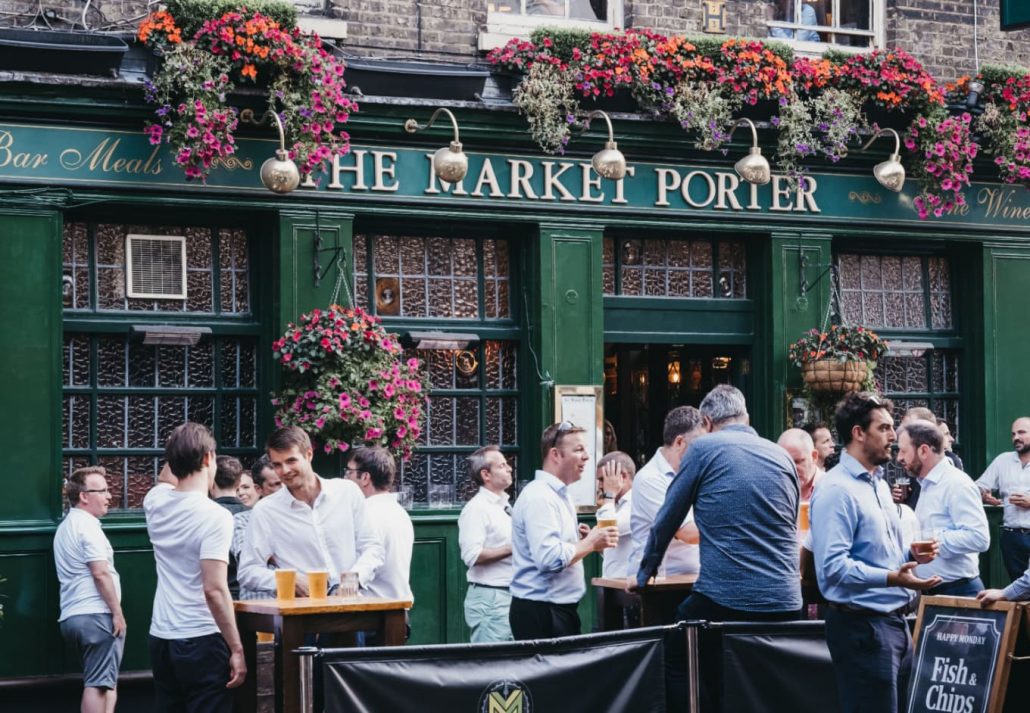 Located near Borough Market, The Market Porter is one of the oldest Victorian pubs in London. We recommend you visit this century-old pub on a Sunday to try their iconic roast, accompanied by craft beers and award-winning ales on tap.
Address: 9 Stoney St, London
FAQ
What is the most famous pub in London?
The best pubs in London are:
Ye Olde Mitre;
Ye Olde Cheshire Cheese;
The French House;
John Snow;
The Holy Tavern;
The Bow Bells;
The Old Bank Pub;
The Devonshire Arms;
The Marksman;
Southampton Arms Ale and Cider House;
Prospect of Whitby;
The Five Points Brewing Company;
The World's End;
The Royal Oak;
The Market Porter.
Which area in London has the best pubs?
There are good pubs scattered all across London.
What streets have the best pubs in London?
Bond Street, Tottenham Court Road, and Oxford Street are some London streets known for their various pubs.
Where do cool people hang out in London?
Some of the best areas for nightlife in London include Soho, Shoreditch, and Brixton.
Where can I find the best craft beers in London?
The best places for craft beers in London are:
The King of Prussia;
The Southampton Arms;
The Queen's Head;
The Five Points Brewing Company;
The Earl of Essex;
Stormbird;
Euston Tap.
Browse. Book. Stay.  
CuddlyNest provides all accommodations to all travelers at the best price. Find unlimited travel inspiration on our blog and social media channels.
You May Also Like:
How To Get To Stonehenge From London: 4 Easy Ways
Train From London To Paris: Everything You Need To Know
11 Fun Facts About The London Eye
How To Travel From London to Edinburgh, Scotland: 4 Easy Ways
Best Destinations for Family-Friendly Holidays in the UK
Top Attractions in London
A Guide To Visiting The Tower Of London
9 Amazing Free Things to do in London, England