Here are some notes and tips when traveling to Laos independently.
Traveling to Laos: the Good
Sandwiches
You can find them everywhere. In Luang Prabang, the most well-known place to have breakfast, lunch and dinner with a sandwich is the main road where the Night Market takes place. There are about ten stalls with almost the same menu and all of them make Laotian coffee, very good fruit shakes and some of them even offer crepes. Price: from 10,000 kips to 20,000 kips (1.20-2.50 USD) for a fresh sandwich, about 1.20 USD for a shake. Be ready for pushy vendors who constantly compete against each other as they wave their menu just in front of you, shouting out, "Sandwich, sir? Coffee, madam?"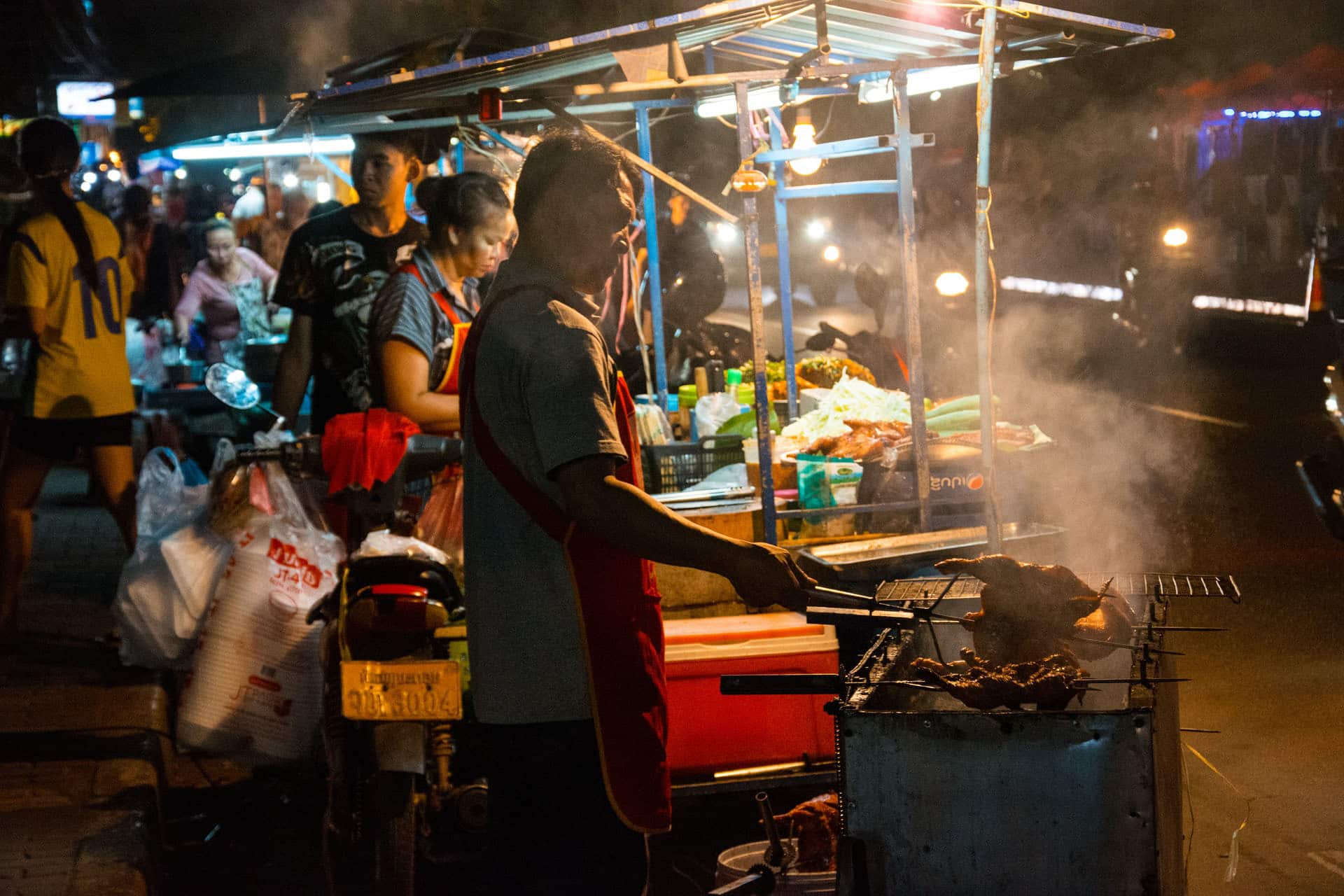 In Vang Vieng you'll find dozens of small shops and street stalls selling them. Prices are more or less the same as in Luang Prabang.
In Vientiane you will not feel the lack of the sandwiches at all. They serve them in many cafes, too, although there are much fewer street vendors.
Check out this Luang Prabang Itinerary: What To Do And What To See
Vang Vieng and Luang Prabang "stopped in time"
There are fewer cars, more motorbikes and bikes, smaller buildings and a noticeable impact of the French colonial style, especially in Luang Prabang. The towns "wake up" very slowly, as you can see just a few people on the street in the early morning. There are almost no advertisements on the streets, which gives these places definitely a relaxing and laid-back quality. On the other hand, if you are an active person who needs a lot of stimulation, you probably want to limit your stay to no more than two days.
Vang Vieng is perfect for chilling out, and being there allows you not to have any big plans ahead of time as you can do many outdoor activities.
Join one of the local yours in Luang Prabang:
Big Brother Mouse Project
Laotians do not speak as much English compared to Thais in bigger towns. But they want to learn and some of them put in hard effort to do so. If you wish to support them in "conquering the world" and helping them to improve their English, go for a two-hour chat in Luang Prabang  at the Big Brother Mouse Project. You will have a unique chance to learn more about their culture too, since it is more a conversation than a grammar lesson.
The students come to chat with foreigners either randomly or on a regular basis, mostly to practice what they have learned at schools. The majority of them are young students and Buddhist novices (monks do not visit these kinds of social gatherings). We have done it once and we loved it
What we learned about their culture was a bit shocking for us, however. We don't want to generalise the statement of one novice, but he tried to explain us the attitude of Laotians towards tourists in their homeland. He said, "You are all very rich because you are very smart, so we need to learn from you so that we are rich too." Well, the only thing we were able to convince the novice about was that learning a language can make him rich easily as well.
Traveling to Southeast Asia? Read on!
Best Hotels for Luang Prabang, Laos
This 5-star resort offers an airport shuttle, 24-hour reception, on-site spa and wellness centre. Check out the latest price on Booking.com
The hotel features a swimming pool and rooms have refrigerator, a mini bar and cable/satellite channels. Check out the latest prices on Booking.com
A 3-star accommodation with spacious and charming rooms, minibar, free bicycle rental and wifi. Check out the latest price on  Booking.com
Rivers
Floating on the Mekong or walking along the river is a highly pleasant experience, especially early in the morning, when everything is covered in mist and you can see just a few boats moving in absolute silence. In Luang Prabang, there are two bamboo bridges which you can cross for 5,000 kips (0.70 USD).
They take them down every six months before the monsoon season starts. By buying the ticket, you support a local family who builds the bridges every new dry season. Insider tip: when you come early in the morning, around 7 am, there is nobody there to charge you.
After you cross the bridge closer to the town, you can relax in a swimming pool (2.50 USD per day). If you cross the other one, you can have a nice walk to the so-called "Paper and Weaving Village". Apart from the houses that sell scarves, hand-made paper, notebooks and snacks, there is nothing appealing to see. However, you will find many ads in town to take a tour there.
Join one of the local tours in Vang Vieng:
In Vang Vieng, you can either do the famous river tubing (the rent for one inner tube is about 6.50 USD, plus a 7 USD deposit for one day), or kayaking. We did the second, and it was one of the best experiences we've had so far. We paid 8.70 USD per person for two hours of kayaking, with transport to the Nam Song river included.
Insider tip: if you do not have experience, ask for a guide to stay with you in the kayak. It's very helpful and if you are lucky and he speaks English, you can chat about the country and culture.
The scenery in Vang Vieng is spectacular, thanks to the river. Even if you do not feel like doing any activities, you can just lie down near the river, rent a small wooden platform and stay there all day, or bathe in the river too. Then just wait for the music coming from the night bars and dance, if you feel like it.
In Vientiane, you can have a stroll or go jogging on the promenade along the Mekong River, quite a busy place in the evening, with some souvenir and food stalls around. If you catch good light during the day, you might see Thailand in the distance.
Planning on combining traveling to Laos with a trip to Thailand? Check out our comprehensive travel guide THAILAND INDEPENDENTLY.
Best Hotels for Vang Vieng, Laos
A 5-star accommodation with multiple amenities located on the river's banks. This hotel features room service and a 24-hour reception. Check out the latest price on Booking.com 
A 2-star accommodation with elegant rooms with private bathrooms. The hotel features an outdoor pool, private balconies with marvellous views, double, twin, and family rooms. Walking distance from the center. Check out the latest price on Booking.com
Lovely, bright and affordable bungalows with a mountain view, outdoor pool and private bathrooms.Check out the latest price on Booking.com
Waterfalls
There are plenty of them and all the tuk-tuk drivers know very well where to take you. We chose the Kuang Si waterfalls near Luang Prabang. Together with our friends we shared a tuk-tuk for a day (6 USD per person). We left the town at 10 am, arrived there in about one hour and found the place, along with some tourists who had arrived earlier.
The entrance is 20,000 kips (2.50 USD). In case you are already hungry upon arrival, you can have some grilled snacks or sandwiches from the food stalls.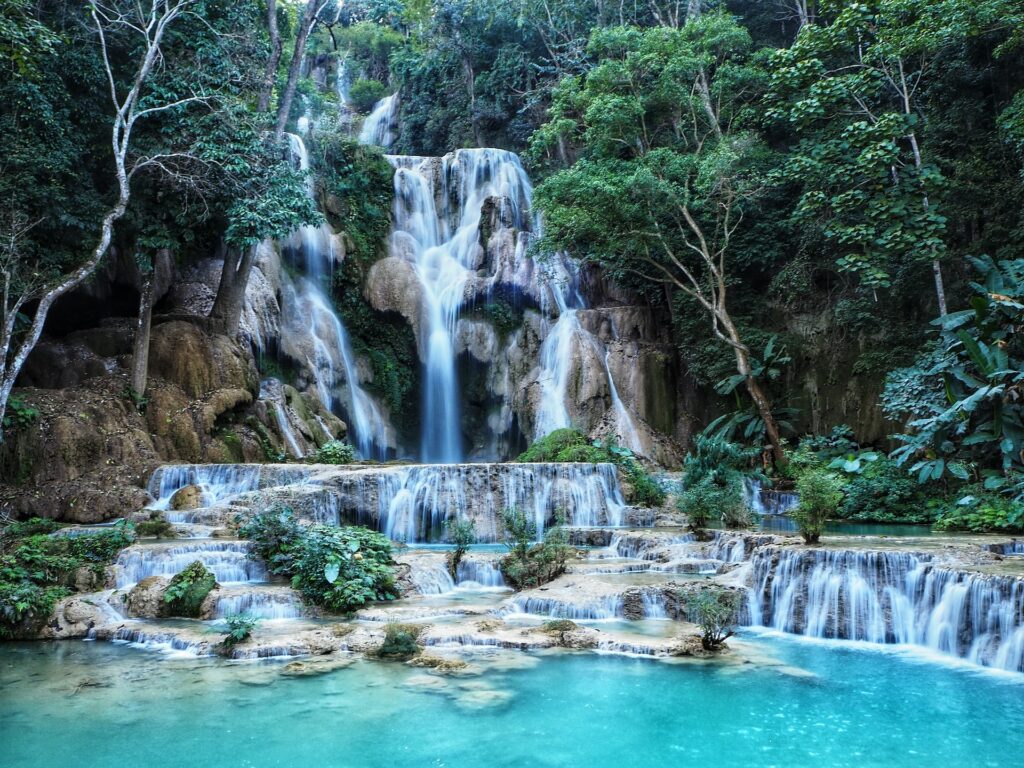 We really suggest going to the very top of the waterfalls, where you need to climb for about 20 minutes (bring a reliable pair of hiking shoes). The view from the top is a bit blocked by trees, but the hike itself is wonderful.
If you are brave enough and can withstand cool, turquoise water, swimwear is a must. There are a couple of places where you can swim at the Kuang Si waterfalls, and we did enjoy it a lot, although only for a short time, as the water was freezing cold!
More articles from Asia: 
Cinema
Although they opened a film production company (Lao New Wave Cinema Productions) recently in Laos, you will not find a movie theatre as we know it. We heard that apart from one family-run movie theatre in Vientiane, there is only one more cinema in Laos, in Luang Prabang. The place is called L'Etranger Books & Tea. They screen a movie each day at 7 pm, for free, and the only requirement is to order a meal or a cup of tea, find a good space on the comfortable floor mats, on the chair or on the bench, and watch the movie you pick from the weekly programme.
You basically watch the movie on a TV, and unfortunately, after a while, the techno or ska music from the neighbouring club blares a louder "soundtrack" than you might like. We chose "Blue Jasmine" by Woody Allen, which was not the best choice, but it was still a cool experience to watch the movie with 15 other people in a sort of cosy living room.
Walking
The nature of Laos is just breathtaking, relatively untouched and genuinely wild.
Either you walk slowly in the towns or along the rivers, or you just stroll around on forest paths. Whatever you choose, it is always enjoyable. The only thing is, it is highly recommended not to hike alone for long distances and definitely not on the unmarked areas.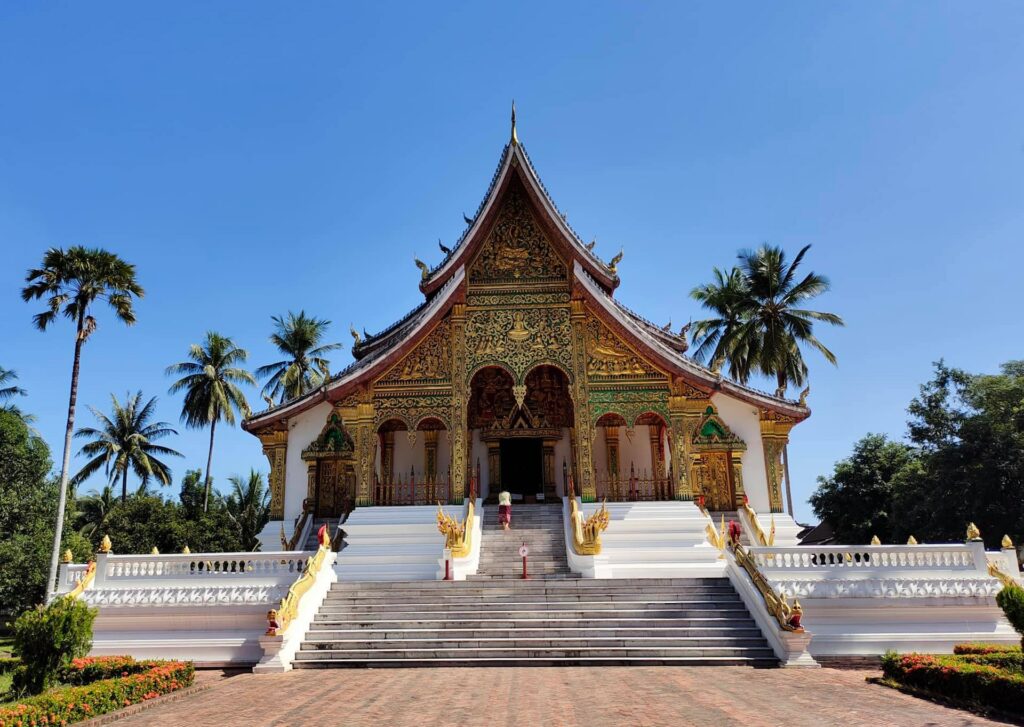 Laos was the most heavily bombed country in the world and they say 30% of the explosive munitions have not detonated yet. We simply took the pathways when it was clear that people had already walked through them safely.
Join one of the local tours in Vietniane:
Best Hotels in Vientiane, Laos
This charming family-run hotel has been open for 80 years! Very elegant rooms, an outdoor pool and a gym. breakfast included. Perfect option for those who desire to pamper themselves. Check out the latest price on Booking.com
Wonderful budget option. There is a shared kitchen, lounge, and a terrace to chill. Dormitory or double rooms with share bathrooms available. Check out the latets pice on Booking.com
Superb, modern and new hotel. The rooms are comfy,  with a/c, private bathrooms. Only 400 m from the center. Check out the latest price on Booking.com
Traveling to Laos: the Bad
Morning monks ceremony in Luang Prabang
Honestly, this was one of the saddest experience for us in Laos. We were not the only ones who woke up early to see the ceremony. Sadly, the tourists consider this event a "paparazzi photo shoot" opportunity. Despite the fact that suggestions on how to behave during the ceremony are displayed all around the town, the majority of the people simply ignores them.
Tourists approach the monks to a disgustingly close distance and they use flash (the mornings are still dark), even if it's forbidden. If you want to see Buddhist ceremonies so much, we can suggest going to any temple in the late afternoon when they chant and the atmosphere is much more peaceful.
Entrance fees for temples
A lot of them are closed during the day and are mostly open early in the morning and in the evening, when the monks go for chanting. Moreover, in most cases you pay a fee to enter.
Transport in Laos
First, it is more expensive compared to Thailand. If back in Thailand we paid 3 USD to hire a tuk-tuk for a day, here we paid double.
The roads are more "adventurous", not to mention the crazy drivers who sometimes seem like they're playing a Formula 1 video game with their minivans.
The bumpy, speedy five-hour drive from Luang Prabang to Vang Vieng was enough for me to appreciate the miracle of motion sickness pills. You really need to have a very strong stomach to cope with hundreds of curves and the insane speed of the driver. Apart from that, if you ride a motorbike, you will probably find the roads a bit too dusty and not ideal for long trips in some areas.
In another post we talked about our disappointment when we arrived to the "new" pier in Luang Prabang and had to pay an additional fee to get to the town. Well, this was not the first time we were dropped off somewhere other than expected. When we took a minivan to Vang Vieng, we stopped far away from the town and had to pay a tuk-tuk to get to the town (1.20 USD).
It was the same story with the VIP bus from Vang Vieng to Vientiane. Although it was written on the time table that the bus stops in the centre, we ended up at the bus station too far to walk, where some tuk-tuk drivers were already waiting for us to do us "a big favour" and take to us the centre (1.20 USD). Well, the issue was not about the price…but for 1.20 USD you can have a meal in Laos.
Food in Laos
We tasted different sandwiches for the first day and we loved them a lot. But if you travel on a budget and wish to try traditional, local food, there are not that many choices. A food market in an alley just near the Night Market in Luang Prabang serves different steamed veggies, rice, noodles and grilled meat and fish, but we were not that crazy about the options, because in the end they all tasted similar.
In Vang Vieng we kept eating sandwiches and two times we ate in Indian restaurant, which made us unbelievably happy.
In Vientiane we discovered a nice, local restaurant, the 'Three Sisters' opposite of Wat Chanh (side entrance), where they serve delicious noodle soups and some national dishes.
Begging kids in Laos
Unlike in Thailand, the small children run after you in Laos, touch your trouser pockets and ask for money. We had a very strange experience when walking back home in Vang Vieng across the rice fields along the river after the sunset, close to the bungalows area, but still a bit far from the main hustle.
Two kids around 8 years of age blocked our way with a 1.5m-long bamboo stick and asked for money. We managed to pass without paying "fees", but being there alone as a woman, I am not sure if I would have refused to pay them.
Internet in Laos
The internet connection is painfully slow. In some places you connect, but it simply doesn't work. Therefore, Laos is not a country for digital nomads or people working online.
Anonymity and fakeness
It is nothing new to say that the capital of Laos, Vientiane, is just a town to stop on your travels or to do the visa-run. We knew that and we were ready for all the downsides of it. So, not surprisingly, for us, it was a soulless town with many shopping malls, banks mixed with abandoned buildings, fountains that do not work and lots of concrete around.
On the other hand, Luang Prabang, famous for being a UNESCO World Heritage Site, does not give you a better feeling of the original Laotian culture, but rather the opposite. We had an impression that it was all set up just to bring in tourists and show them beautiful textiles, waterfalls and caves, or tasty sandwiches and croissants, but is this all that you can discover about Laos?
Being in Laos for two weeks does not make us experts on the country. We know we have visited just a tiny part of it, but from what we saw, heard and observed, we came to the conclusion that it is indeed a beautiful country to travel to, but that it all depends on what you are looking for.
This time, we found the bright and dark sides of it and that the latter was caused not by the undeveloped nature of the country, but rather by western influence and bad mix of genuine traditions and natural sights that were somehow fake and unfortunately crowded.
Like it? Pin it!
Pack & travel:
Best books to read about Laos
Lonely Planet Laos
BUY NOW

A short history of Laos
BUY NOW

The rough guide to Laos
BUY NOW